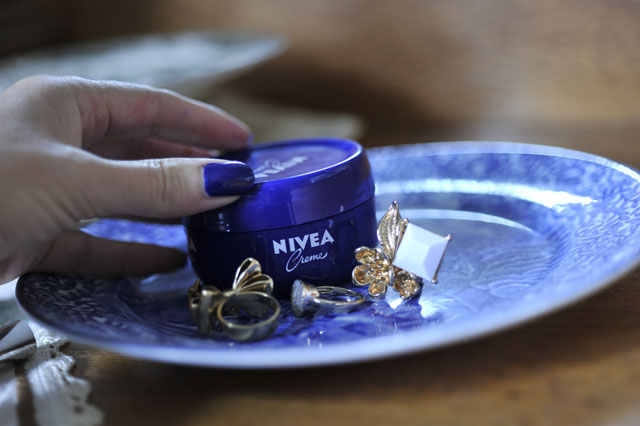 A contemporary classic – Nivea
If I say "tried and true classics", what comes to mind? In the world of fashion, you think of the LBD, blue jeans with a white shirt, and ballet flats; in makeup, you think of a winged eye and a red lip. And in the world of face creams, it might well be the little blue pot of Nivea. It's one of the only skincare creams that your mother's mother would have used that is still going strong today and along with a tin of Elnett hairspray I remember seeing the metal tin when I was a small child. This blue pot has a long history as a favourite skin care product and it's something your grandmother probably used and loved. I just read about its history and found it fascinating, here are the highlights…
As far back as the start of WWI in 1911, pharmacist Dr. Oscar Troplowitz, owner of the Beiersdorf company, and  dermatologist Prof. Paul Gerson Unna, made the discovery of a white cream after combining water, oil, glycerin, citric acid with a new ingredient – "Eucerit" – in a butter churn.  Prior to scientist Dr. Isaac Lifschütz's discovery of emulsifying agent Eucerit, water and oil couldn't be used together so this discovery allowed it to combined into a long-lasting, stable base for use in ointment and so on. Dr Troplowitz employed Dr Lifschutz and together they developed the world's first durable oil and moisture cream, called NIVEA Creme, after the Latin for "snow white." It spread in popularity during the 20s and 30s and used as a multi-tasker. During WWII, in the early 1940s, it became hard to come by, in fact, until 1946, it had to be sold in cardboard containers instead of tin as there was such limited access to aluminium, nevertheless throughout, hospitals had a steady supply. In the booming and prosperous years of the 1950s, it was ubiquitous in every handbag. In the 1960s apparently hip teenagers found a new use for the white cream; on their lips to recreate Twiggy's pale shimmer. At the close of the 1970s, NIVEA Creme was sold in 94 countries and the blue container is famous to each generation since.
Below: Essential blues- MAC mascara, Karen Walker bangle and necklace, Levis denim jeans, earrings by Zoe & Morgan, OPI nailpolish, Nivea creme.
My new discovery – this CC Colour Correction cream with Q10 Anti-Wrinkle by Nivea – it gives you a lovely quick and easy natural warm glow with a hint of colour and feels very hydrating. I am wearing it now instead of foundation and it looks great.
Something old, something new, something borrowed, something blue.
Below: a skincare champion throughout the generations. The classic, and the contemporary.
Now, they've released the brand new Nivea Q10Plus Anti-Wrinkle Energising Day Cream, retailing in New Zealand at $19.99. The famous Coenzyme Q10 has added goji berry extract to give your skin a fresh and radiant look, while visibly reducing the first subtle signs of ageing. This superfood has been used in traditional Chinese medicine for thousands of years and hailed for reinvigorating the body both inside and out. High in vitamins C, B and E and rich in anti-inflammatory properties, goji berries have been proven to enhance the skin's mineral uptake, helping to nourish beautifully glowing skin.
"At NIVEA we understand that women have different skincare needs at different stages in their life. As women transition past their mid-twenties, their skin might not show visible signs of ageing such as wrinkles, but the stresses of their modern lifestyle and impact of the environment especially from the sun, can leave their youthful skin looking tired and dull." said Robyn Hutch, NIVEA Skincare expert.
Q10 and Creatine are powerful actives found naturally in the skin. With age their levels decrease leaving the skin with less energy to regenerate. Over time it is more prone to wrinkles and other signs of ageing. Protection from external influences such as sunlight is essential to keep the skin healthy and youthful looking.
Megan Robinson
6th June 2015
Recommended