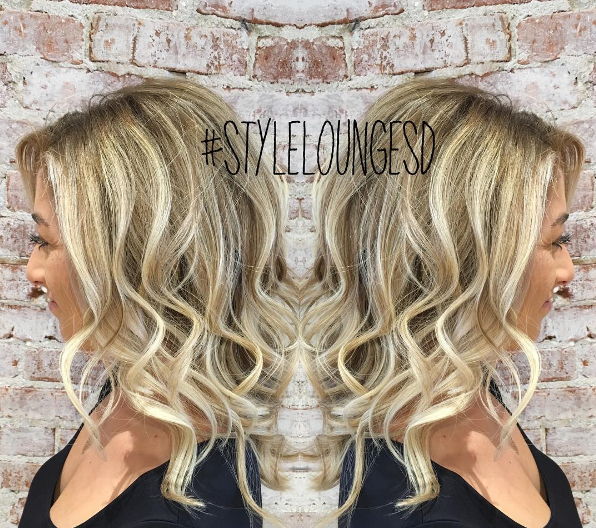 Beautiful Brides: Hairstyles for Beach Weddings
Beautiful sandy beaches are a one of the most popular places to tie the knot. And why not? Beaches are romantic and picturesque without having to add a single decoration. All you'll have to focus on is getting yourself glammed up for the big day.
One of the top concerns for beach brides is hair. To get the perfect wedding day look you'll need to start preparing your hair in advance and pick out a style that suits your personality and the locale. This may require doing a few trial runs beforehand to make sure everything is photo-ready.
The coif specialists at Style Lounge Blow Dry Bar in Downtown San Diego have helped countless brides look fabulous for their local beach weddings. Here are a few of the classic looks and latest trends they're using this wedding season.
Beachy Waves
No hairstyle is more closely associated with the beach than waves. It's loose and carefree while still looking naturally beautiful. But achieving this style takes a bit more than rolling out of bed and scrunching up your hair with a salt spray.
This is where your hair preparation will really pay off. Doing a "natural" look like beachy waves works best when you have thick, healthy hair. If you weren't blessed with a luxuriously thick head of hair you can fake it with clip-in extensions.
Synthetic hair has improved over the years, but you'll want to invest in real hair extensions for your wedding. They can be color matched perfectly, and your stylist can use heat tools to give the extensions the same waves as your real hair.
Get Sun Kissed Color With Balayage Highlights
Sometimes the color of your hair is just as impactful as the style. Balayage highlights are all the rage right now because of how soft and natural they look, as if they were created by the sun. The technique is also universally flattering on ladies with hair of all lengths.
Balayage highlights were given the name because of how the color is applied. Instead of carefully sectioning out strands from the root like traditional highlights, the stylist paints on the color with a brush. They'll usually start at about eye level with a thin wisp of color around the face that gradually fans out as you go down the hair.
Another advantage of balayage is that it still looks good when your roots grow out since the color starts further down. That means you can have balayage done up to a month before your wedding without worrying about a touch up.
Perfectly Messy Buns the Wind Can't Mess With
Let's be real – sometimes the beach is a bit windy. This can wreak havoc on certain hairstyles. That's why some brides opt for a bun. No matter how windy it gets this is one style that will keep looking fierce.
Some brides may worry that a bun will look too formal or uptight for a beach wedding. But that's where the purposely messy bun really shines. It looks chic without looking overdone. You can also make the bun look a little more relaxed by incorporating braids and letting tendrils hang loose around your face.
Braids For Days
What is better for the beach than a mermaid braid? If you typically wear your hair in a ponytail instead of loose and flowing then a braid style is an excellent option. You'll have a hairstyle that's out of your face and relaxed without looking like it was an afterthought.
There are so many ways you can incorporate braids into a hairstyle. One fun option is to make a braid not far from the edge of the hairline that acts like a natural hairband. If you want something more intricate there are numerous ways a hairstylist can interweave multiple braids together. You're only limited by your imagination!
Big, Loose Curls + Headband
The cousin of the beachy wave is big, loose curls. It's a little more "done", but the style is still soft and touchable. Right now it's en vogue to pair long, loose curls with an intricate headband that takes the look from pretty to head turning. This look will wear well throughout the wedding, and if you lose some of the curl you'll have beachy waves!
No matter what style you choose you can have fun with sea-inspired accessories like a coral clasp and fresh flowers. The main goal with beach wedding hair is to look effortlessly beautiful like the natural setting.
18 June 2016
Article courtesy of Jenna B.
Recommended