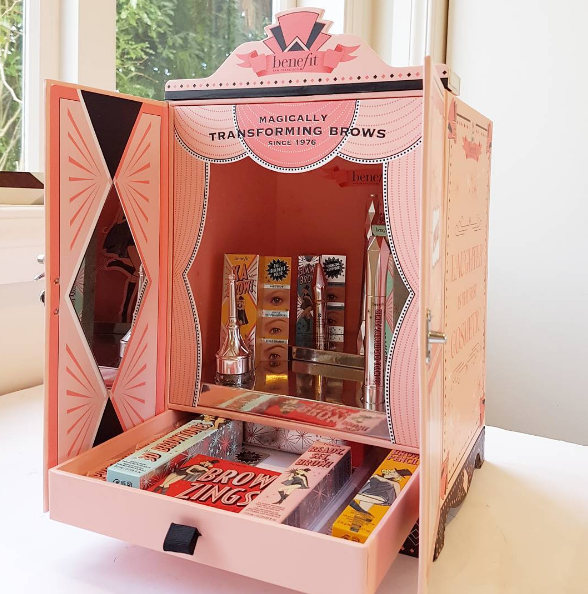 Benefit Cosmetics magically transforming brows
"Hocus Pocus, brows are our focus!" says Benefit, and they're the focus of any self-respecting makeup fan of late, too. If you've been following the big beauty bloggers and vloggers, you can't help but have seen the excitement over the Benefit Cosmetics brow launch, notably with New Zealand Youtuber Shaaanxo flying to cover it in Las Vegas on her channels.
Benefit Cosmetics has been magically transforming brows since sisters Jean and Jane Ford opened in San Fransisco in 1976 and the brand now has 1800 BrowBars in 49 countries, including at Smith & Caughey's in Auckland.
The adorably packaged magician's wardrobe pictured above is full of brow products I received at the New Zealand launch to have a play with – some new releases including Goof Proof brow pencil and Browvo conditioning primer; and some beautifully repackaged classics such as Gimme Brow and Brow Zings.
The launch party at SkyCity Auckland Twenty-One Bar was incredible – from the arrival with magician assistants in bowties taking our names at the door and giving us pink cocktails (I had a pink Mojito!), to the live magic show, to the big reveal if the curtain opening and a team of Pink Ladies Benebabes ready to assess our individual brow colouring and match us to the perfect brow product to take home. Well done Benefit on a great event.
THE PRODUCTS 
Some are classics and some are new; all are in the silver faceted magic wands packaging.
Ka-BROW! – a cream-gel brow colour with brush. This is perhaps my personal favourite (okay, alongside Gimme Brow) as I do love a brush-on brow colour for intense pigmentation and rich colour. The creamy gel defines perfectly and comes in six shades of brown from light to dark. The stem of the lid clicks open halfway ip to reveal a cute brush – perfect!
High Brow and High Brow Glow – highlighting pencils. These are not for your brows per se, but for under them; to highlight the upper eye area for a brighter and youthful appearance. High brow has a creamy finish, and High Brow Glow has a luminous finish.
Ready, Set, BROW! -a  24-hour invisible shaping and setting gel. If you have trouble getting your brows to stay put, this is the product for you: it is a clear shaping and setting gel on a mascara-style wand applicator that you apply to hold stray hairs in place.
3D BROWtones – subtle brow-enhancing highlights. A lightly-coloured mascara wand to highlight your brow colour. Quite subtle, not shimmery.
Goof Proof Brow Pencil – a super easy brow-filling and shaping pencil. This has a mascara brush at one end to shape hairs perfectly, and an angled wind-up colour at the other end that does not require sharpening. The thicker, angled shape makes it easy to apply and it's lovely and soft.
Precisely, My Brow Pencil – an ultra-fine brow defining pencil. This is a thinner version of the Goof Proof Brow Pencil above, without the angled shape. It is also wind-up, does not require sharpening, and has a mascara brush end. It is designed for those who like to do individual separate hair strokes for a natural look.
BROWVO! Conditioning Primer – a nutrient-rich primer for fuller-looking brows. This is a really unique product and I haven't used anything like it; it has an angled, rubber bristled applicator and you wind up the tool to release the gel. It conditions and enhances longevity of product.
Brow Zings – total taming and shaping kit for brows. This is another repackaging of a classic; a wax and powder duo compact that comes with tweezers, and a clever jointed brush which folds out making it easier to hold and control. You first pluck stray hairs with the tweezers, then shape and define with the pigmented wax, and lastly fill and set with the medium brown powder.
Gimme Brow – This brow volumizing fibre gel is a much-loved classic product, that is now available in 3 shades, with a medium shade.
Below: I'm at Benefit brows launch with Melissa Jack of The Best Nest.
Megan Robinson
17th July 2016
Recommended