Best of Beauty – Editor's Picks for 2014
Sorry this is a bit late – as I've been on holiday – but when I asked on Twitter as to whether you'd like to see my "Best of Beauty Awards" Editor's Picks for 2014, all the responses said "yes", so here it is; better late than never. These are my personal products that I use at home; all the tried-and-tested products that I recommend. There's a variety of price ranges and a variety of natural and non-natural products, and boutique as well as mainstream products. Some are purchased and some are pr samples – but nothing has paid to appear. Here's the thing with me; I go for natural skincare as a rule, I go through bottles of moisturiser, I favour day creams with SPF, I have a simple eye makeup daily regime, but I wear a LOT of lipstick. Mostly, a lot of MAC lipsticks, so I have tried to just show one of each brand here to show a selection of brands rather than every shade of MAC.
Best Beauty Products Awards 2014- The Editor's Picks
LIPS
Karen Murrell in racy.rata – the perfect berry shade and all-natural.
Maybelline New York Color Drama Intense Velvet Lip Pencil in Fab Orange – a great price and they really stay put.
Clarins Lip Balm Crayon in Delicious Plum – the creamiest most comfortable lipgloss/balm out.
Australis Velourlips matte lip cream metallic edition in Grandmaster Pash  – this is exceptionally matte and long-lasting and has a good metallic sheen to it.
TOPSHOP Lipstick in Tease – very good matte creme consistency lipsticks priced well.
TOPSHOP Lip Crayon in Arcade – I have the plum which is rich and dark, and bright orange, which is vibrant and longlasting.
Designer brands Lavish Lip Gloss in Pink Rose – pleasantly surprised at how good these were for the low price. Rich strong colour for a gloss.
Smashbox Always Sharp Lip Liner in Violet – Intensely good colour, and it sharpens itself! Win.
L'Oreal Paris Glam Matte Intense Matte Gloss in Zip It Rouge – The oxymoronic 'matte gloss' is just that; a lipgloss that is matte rather than shiny. Good rich colour.
MAC Lipstick in Bad Girl Riri– a beautiful daytime shade and being MAC, an amazing consistency lipstick that feels comfortable on, looks great, and lasts well.
Elizabeth Arden shimmering lip gloss in Intriguing Violet – I love this vivid purple shimmery lipgloss, and quite fashion forward for this classic brand.
MAC in Scarlet Ibis – this is a dupe for Lady Danger, a fave of mine, and packaged in this cute Marilyn Monroe case.
Mineralogie lipstick in Belladonna – absolutely love this; natural formula, well-pigmented colour and a rich creme.
BLUSHER & BRONZER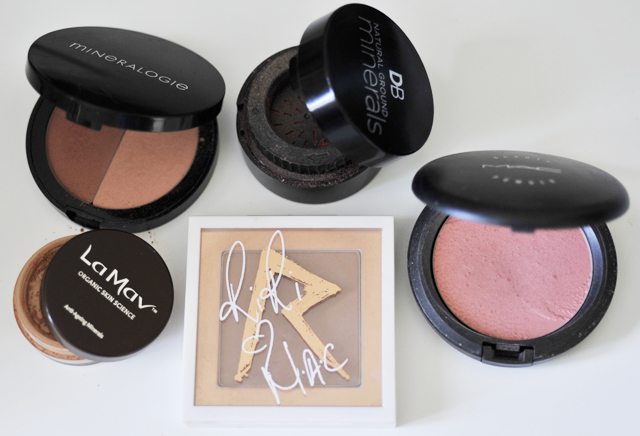 Mineralogie Pressed Mineral Blush in riviera & sunset – this has more of a bronzer shade for me on the left and a blusher on the right but the idea is to blend your brush across both, tap off excess, and achieve a warm-yet-rosy complexion with the mix.
La Mav Sunkissed Bronzer – a lovely warm bronzer, but loose powders always make a mess with me so I just wish it were pressed and it would be perfect.
MAC Riri Bronzing Powder – the golden "R" has now long gone off the top off this bronzer surface but it's still a gorgeous classic terracotta shade.
Designer Brands Natural Ground Minerals Blush – I liked the fresh grind mechanism of this blush and this brand is a great price, from pharmacies.
MAC Beauty Powder in Shell Pearl – the classic beauty powder to finish your look.
SUNCARE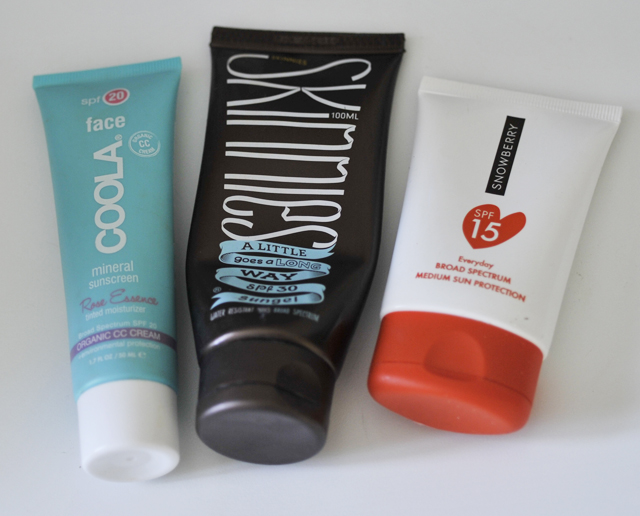 Coola mineral sunscreen rose essence tinted moisturizer SPF 20 organic CC cream – I have worn this cream literally every day this summer often with no other makeup as it gives a nice tinted finish by itself as well as a sun protection factor.
Skinnies SPF30 Sungel – I'm on to this for the second year in a row now and love the clear gel which absorbs well and has no white finish.
Snowberry SPF15 Everyday Broad Spectrum medium sun protection (also available in SPF30 high protection) – I have been using this on myself and on the children as it's all natural. A nice little size for the handbag, too.
CONCEALERS & HIGHLIGHTERS
Osmosis+ Colour Age Defying Treatment Concealer in Fair – this is the bEST concealer; it has a Vitamin E stick at one end to hydrate under-eye skin, and a concealer at the other.
Benefit Fake Up Crease Control Hydrating Concealer in Medium – this clever little concealer has a hydrating balm core down its centre. Really good colour too.
Inika Cosmetics Light Reflect Highlighter Creme – one of the only natural cosmetics highlighters I've found. A small tube, but it goes a long way. Cream texture that needs good blending in.
Smashbox Photo Finish Luminizing Oil-free Foundation Primer – makes your skin look all healthy and glowy.
EYEBROWS AND SHADOWS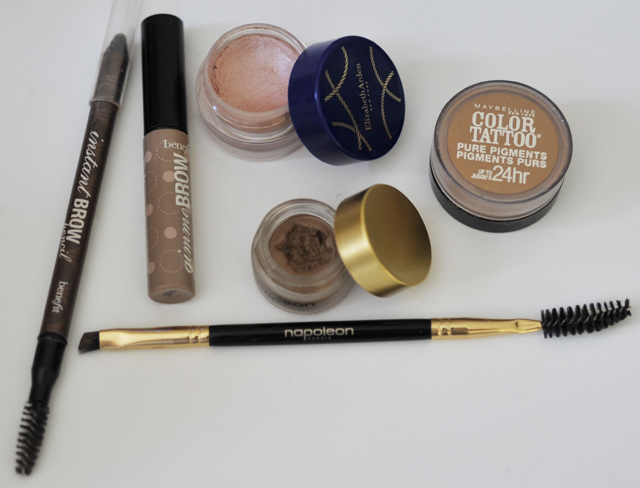 Benefit Instant Brow Pencil – incredibly soft and creamy pencil that glides on over brow hairs and fills in for a fuller look.
Benefit Gimme Brow Volumizing Brow Gel in light/medium – my go-to in a hurry, as it is very forgiving and easy to use.
Napoleon Perdis Browtox and brush – needs a steadier hand and gives a gorgeous creamy defined line.
Elizabeth Arden creme eyeshadow tub in Sand Dollar – my favourite eyelid base colour in a cream to powder finish. Really cute nautical tub, too.
Maybelline Color Tattoo Pure pigments 24hr in Buff & Tuff – Good golden shade that's almost like a bronzer.
FOUNDATION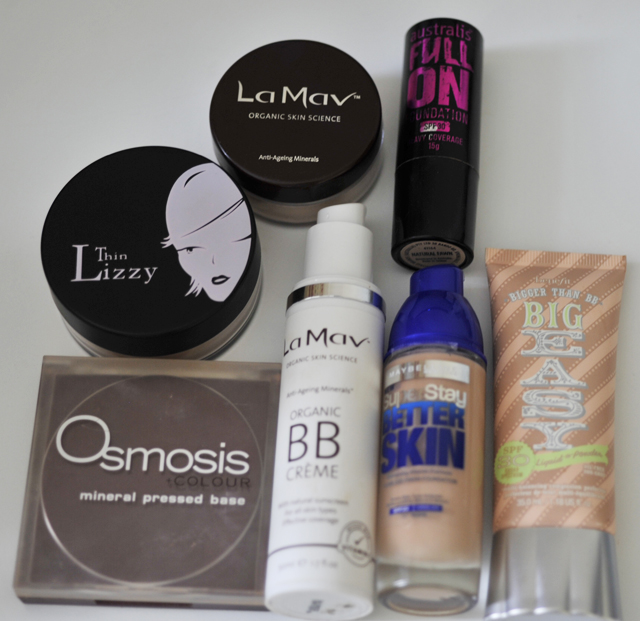 Osmosis+ Colour Mineral Pressed Base in beige light – my favourite pressed powder makeup.
Thin Lizzy powder in Light – I'm wearing this today, great price and easy to find in stores everywhere; covers imperfections well, and pretty much failsafe.
La Mav Organic Skin Science Mineral Foundation in Light – A great quality natural powder, a bit hard to get out of the container though so I'd prefer a pressed powder again for this. Is the lightest of all the 'Light' shades – they do vary a lot between brands.
La Mav Organic BB Cream – Perfect for days when you want a lighter coverage and all-natural product.
Maybelline SuperStay Better Skin SPF20 – Really such a great coverage for this price, I have gone through a few bottles of Superstay!
Australis Full On Foundation SPF30 Heavy Coverage in natural fawn – the best full coverage foundation stick I have ever tried and only $18. Excellent cover and colour.
Benefit Big Easy liquid to powder SPF30 in medium – Always the cutest packaging, Benefit! This is a more matte, 'dry' look finish as though you've applied powder to set your makeup.
SKINCARE – FACE

Pai Rosehip Bioregenerate Oil – I'm on to my second bottle of this facial oil as I love it so much. Pai, meaning Maori for good, is from the UK and is organic, vegan, and rich in bio-active botanicals.
Sodashi Samadara Ultimate Age-Defying Elixir – this is the little bottle of goodness that I said in my reveiew earlier was "like being kissed by the god of beauty with lips covered in nectar." It has natural botanical ingredients including white tea, gotu kola, rosehip, arnica, jasmine, camellia, damask rose, sandalwood, and neroli along with two rose quartz crystals per bottle, to boost the skin's natural renewal cycle to lessen lines and pigmentation.
Linden Leaves Essential Facial Moisturizer – when my skin was going through a crazy period of sensitivity and taking no prisoners, this moisturiser was lovely and calming and didn't cause any irritation at all.
Grown Geranium leaf Bergamot and Rosebud Facial Cleanser – I actually prefer foaming cleansers over milky cleansers as they feel more 'clean' and this one was perfect, effective without stripping skin. It's an Australian bio-active and organic skincare line you can get at Flaunt Store.
The Herb Farm echinacea and blackcurrant radiant face cream – a rich, herb-fragranced cream by a New Zealand brand who grow all their own herbs on site. My dream is to visit their herb farm and have a facial there.
Prevage Anti-Aging Neck & Decollete Firm & Repair Cream – the high powered neck version of Elizabeth Arden's dream cream, because we can't neglect our necks.
Jojoba 100% Natural Makeup Remover
SKINCARE  – BODY

LUSH Celebrate Body Lotion – whilst strictly speaking a Christmas edition, this body lotion with citrus scents from orange and lime and almond oils in a cocoa butter base is too good to only use once a year. As it's so absolutely luxurious and rich, I'd term this a body butter rather than a lotion as it's so thick.
Oxygen Skincare hand & body creme – I am always on the lookout for vanilla scented body lotions since falling in love with one in New York City years go, but they are really hard to come by in New Zealand – until I found this Oxygen skincare lotion.
Trilogy Aromatic Body Oil – I think this is a massage lotion, but I use it to hydrate dry skin and it feels amazing.
BATH & BODY WASH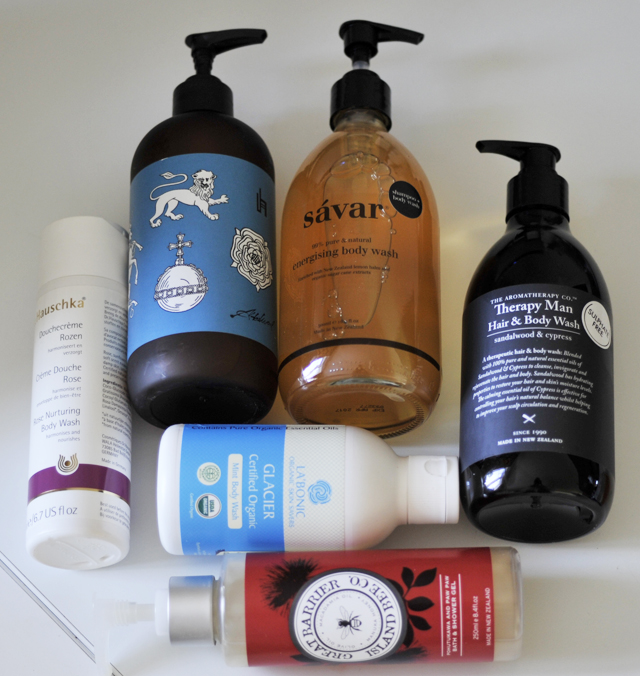 Dr. Hauschka Rose Nurturing Body Wash – Fragrances do more than just smell nice, they affect our mood and emotions. This German brand takes fragrancing extremely seriously, in fact it has its own perfumier on staff, whom I met on his New Zealand press tour which was so interesting.
Trilogy Botanical Body Wash – I've used this bodywash for years and love it and this year they've released this stylish new packaging with illustrations by fashion designer Adrian Hailwood.
Savar Energising Body Wash – an invigorating wash with lemon balm, and one you can use on the whole family including as a shampoo as well as body wash. It smells so good – it reminds of of lemon meringue pie when I use it!
The Aromatherapy Co Therapy Man Hair & Body Wash – my husband actually uses this every single day and I have been known to steal it too and it's very unisex; with a wood-based fragrance of sandalwood and cypress.
La Bonic Glacier certified organic Mint Body Wash – this will definitely wake you up and have you on your way minty fresh as it has a powerful fresh fragrance; the best mint product I have come across. It's all natural and made in NZ.
Great Barrier Island Bee Co Pohutukawa and Paw Paw Bath & Shower Gel – I was lucky enough to visit the Matakana Botanicals headquarters which owns this brand and collects honey and produces this divine range. It is a thickly beautiful gel and really nicely packaged to boot.
CHILDREN / KIDS BATHING PRODUCTS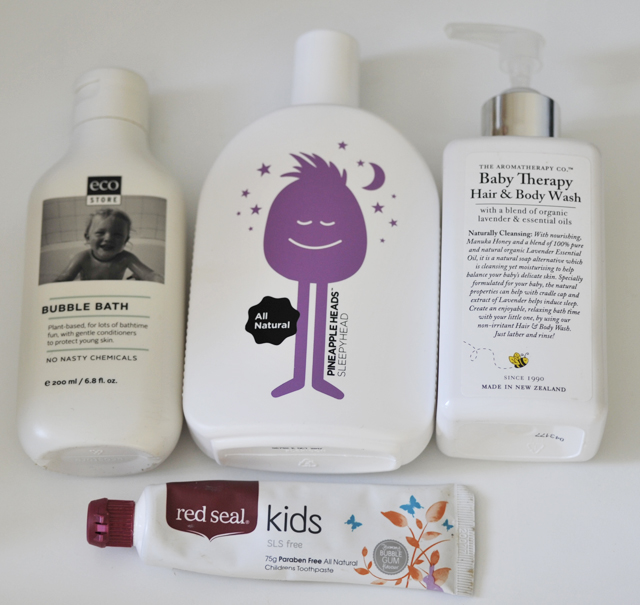 Ecostore Bubble Bath – if you are watching what you feed your children, then you should also think carefully about what you are putting on your children. I only use natural non-toxic products on the children and Ecostore is a great value one that's NZ made and readily available in supermarkets. We use the bubblebath, body wash, shampoo and conditioner all on the children.
Pineapple Heads Sleepyhead bubblebath – Pineapple Heads, made by Auckland Mum Megan Sanders, has five body and bath products in its range including a bubblebath and this Sleepyhead one with chamomile.
The Aromatherapy Company Baby Therapy Hair & Body Wash – a lovely, mild natural wash that's a convenient two-in-one product.
Red Seal Kids toothpaste – I like this paraben-free all natural children's toothpaste as toothpaste is actually a toxic substance that you aren't supposed to ingest and is listed at the NZ Poisons Centre – so be careful around children and normal toothpaste – this one however is totally safe. I use the Regular, Propolis, and Herbal Red Seal toothpastes.
BEAUTY BARGAINS
Last but not least, here are some of the above products and a few extra things which are all really reasonably priced, because I am by no means a product snob and sometimes cheap items are as good as their luxury counterparts. Save or splurge – you choose! Here are bargain beauty items I am enjoying.
Body

Weleda Skinfood – this rich cream is such a classic and there's something special about a metal tube that I love, too. Smells great, feels awesome.
Ecostore Shampoo – cheap and natural don't always go hand in hand but with Ecostore they do.
Makeup

Australis Full On Foundation – this is only $18 but it's such an excellent full-coverage product that gives a total cover and a dewy finish. I put a little bit on, and then blend it with my fingertips, as it goes a long way.
Maybelline SuperStay Better Skin foundation – A great foundation that punches above its weight and is way better than its low price suggests.
Cosmetics
Maybelline Color Drama lip pencil – these lip pencils are really really good; nice stylish colours, creamy to go on and then stay put without budging. Buy the whole lot, they're cheap as chips, in the low-priced end of the Maybelline range.
Australis Velourlips matte lip cream – this is my top pick of the cheap lipsticks and the best Australis product I have ever tried.
TOPSHOP lipstick and lip crayon – fashionable colours and very good makeup at this High Street fashion brand sold currently in some Karen Walker stores and next month in the Queen Street Top Shop flagship store.
L'Oreal Paris Super Liner Gel Matic – this is a bit like my MAC wind up brow pencil so effectively a cheap dupe available at supermarkets.
Megan Robinson
15th January 2015
Recommended