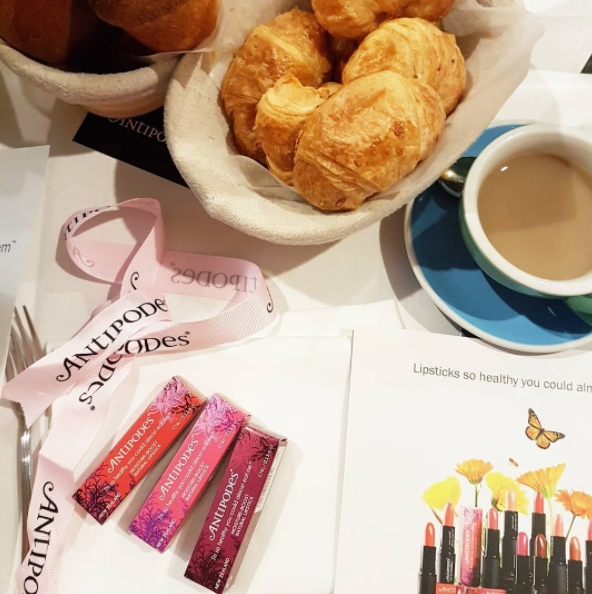 Breakfast with viral Youtube star Em Ford and Antipodes Skincare
Today I was so lucky to be invited to the breakfast launch at Hotel DeBrett of a brand new range of Moisture-Boost natural lipsticks by Antipodes, in conversation with Internet star Em Ford, from smash-hit UK beauty blog and YouTube channel My Pale Skin. 
So, what is the connection between a top Welsh-born, London-resident blogger phenomenon and a New Zealand-based, natural skincare line, you might ask?
Em Ford has received various Antipodes products, and absolutely loves them. Antipodes PR Deborah Sampson told us that they seed out samples to bloggers and didn't pay her for her endorsement but Em just genuinely loves the brand and has featured over eight of the products now in her videos, especially loving their Aura facial mask – which is a huge hit in UK, and is particularly good for acne sufferers. I put it on at night and wake up glowing, she said. Em mentioned that Antipodes is one of the three skincare brands she attributes with repairing her own acne – and that she was inundated with offers (I could have bought 3 houses!) to try products from brands wanting to be the one that rescues the star of 'You Look Disgusting.'
Below: my photos from today's Auckland breakfast with viral Youtube star Em Ford and Antipodes Skincare. Em came over with her Manager, and heads to Sydney next from Auckland, for another media showcase. Today in Auckland, we watched her video (see link below) and then had a Q&A with Deborah from Antipodes and Em Ford on her path to success, why she loves natural skincare, and which Antipodes products she swears by.
Above: The 2015 video You Look Disgusting, featuring readers' actual comments about her acne as she put makeup over it, went viral worldwide with 23 million views. She said it really hit home how crazy it had all got when a big UK news programme, Newsnight, broadcast a story on European politics and then ended the show with her video!
Above: At the breakfast, we also got to see the fresh new range of moisture-boost natural lipsticks for the first time.
These lipsticks contain avocado oil, calendula, and evening primrose oils, to hydrate lips. With the byline: "I'm so healthy you could almost eat me", the new natural lipsticks are moisturising on the lips yet colour-rich and come in these gorgeous new shades – South Pacific Coral,
Forest Berry Red,
and Oriental Bay Plum.
Megan Robinson
Tuesday 14 February 2017
Recommended