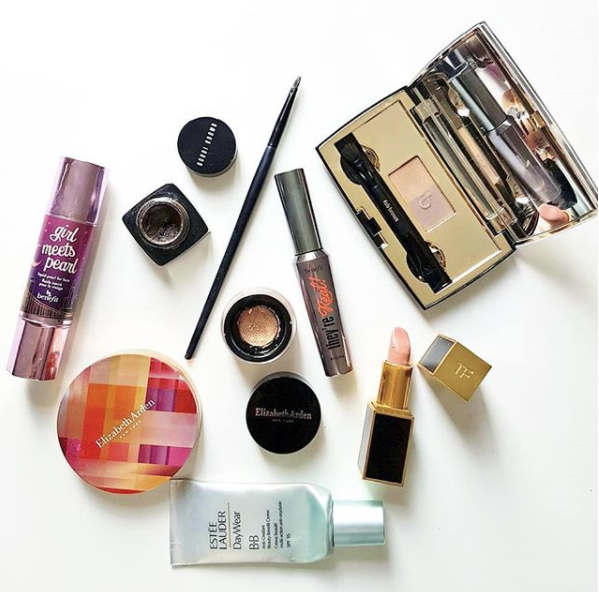 Editor's pick: My daily face faves of makeup I'm loving
My daily face faves: these are my tried and true favourites I reach for from the various things I get sent. I definitely love trying new things and having a play with fun new releases. But sometimes when I get ready in the morning I just want to know what I grab is going to look amazing and last all day and do what it says on the tin, so the following are a few of my daily face favourites that I keep going for time after time for my everyday face.
Here are some personal favourites of mine…
Benefit Cosmetics Girl Meets Pearl – a luminizer for a dewy finish.
Bobbi Brown gel liner – a sparkly gel pot of eye liner I apply with a brush. $54
Fab Brows – eye brow duo shadow with a variety of brow stencils in a mirror compact from Fab Brows NZ for $49.95.
Benefit They're Real Mascara – along with Benefit Cosmetics Roller Lash Mascara, They're real mascara is a long-lasting and lengthening volume mascara I can rely on to give great results and last for hours. $44 at www.farmers.co.nz and also at all Benefit stores and Smith & Caughey's and Auckland Airport.
Tom Ford lipstick – a creamy and deliciously textured lipstick that feels like total luxury on your lips. I love this opaque nude shade with perfect coverage in one application and not too matte or too glossy. $86 at www.smithandcaugheys.co.nz
Estee Lauder DayWear BB Foundation – If, like me and millions of other women, you love Estee Lauder Double Wear Foundation, you'll also love the DayWear BB SPF35 cream for a ligyter touch and lovely finish. $86 at Life Pharmacy online, and Estee Lauder counters.
Elizabeth Arden Sunset Bronze Prismatic Bronzer – a gorgeous compact with mirror, and a faceted bronzer inside for a perfect warm radiant glow.
Elizabeth Arden Beautiful Color Bold Illuminating Liquid Highlighter –  A liquid highlighter in a unique mesh touch dispenser with luminous colour. I use a finger to apply over cheekbones.
By Megan Robinson
2nd March 2018
Items gifted for review, not sponsored. All opinions my own.
Recommended