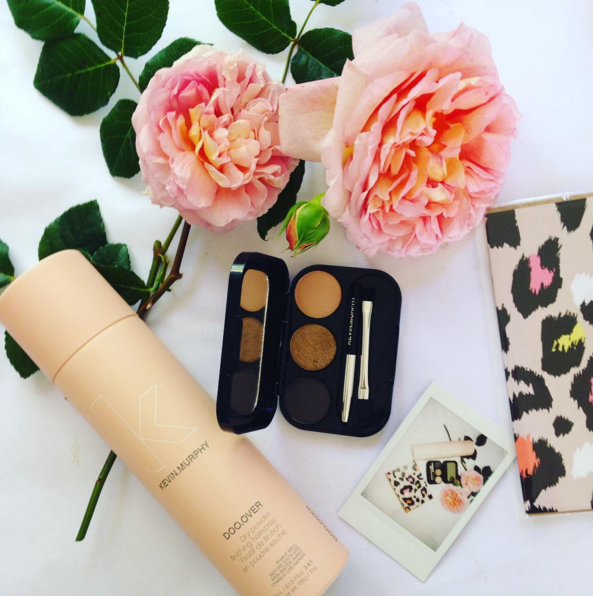 I'm loving: Kevin.Murphy DOO.OVER
I'm off to see James Bond tonight, so I've revived my 3 day-old blow dry with Kevin.Murphy Doo.Over Dry Powder Finishing Hairspray- it's like a combination of a dry shampoo and a hairspray for volume and hold. Who doesn't love a multi-tasker? Until now, the dry shampoo products I have used haven't offered any hold; you need to use another hairspray. This handy spray combines the two functions with a styling powder and a hairspray, using tapioca starch to remove excess moisture from hair. It is available now for $49 from selected salons and for every can sold, a donation is made to reduce global carbon emissions via Al Gore's The Climate Reality Project and also the Australian Conservation Foundation. Great hair AND a healthier planet, it's win-win.
Pictured above: Kevin Murphy Doo.Over spray and limited edition KM.Eyes eyeshadow trio, card by New Zealand artist illustrator The Social Types (www.thesocialtypes.com)  and #storiesofinstax Instax instant camera by FujiFilm.
Pictured below: Kevin.Murphy Doo.Over Dry Powder Finishing Hairspray. I'm also also wearing my fave mascara, Benefit Roller Lash($45 at Smith & Caughey's), and Benefit Cosmetics lipstick which comes in this pretty cardboard tube with an Art Deco design.
Megan Robinson
2nd December 2015
Recommended