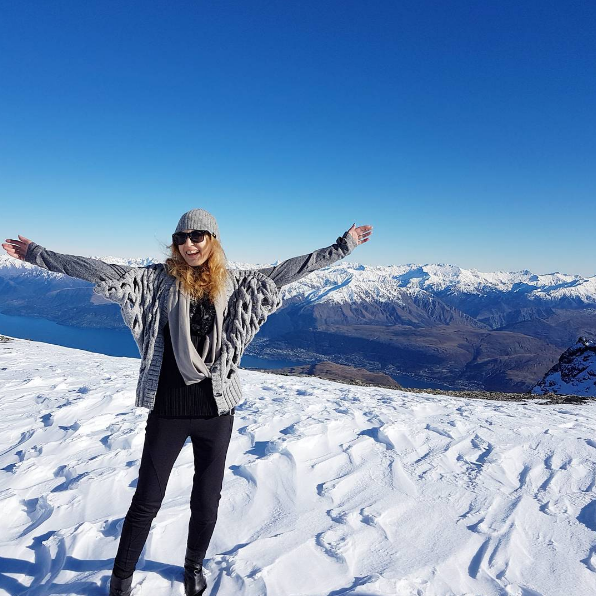 In Queenstown at The Sherwood to discover Trilogy
In terms of life experiences that I have gained from having a website, this is definitely right up there in the top few; I have spent the past three days in Queenstown at The Sherwood to discover Trilogy skincare's latest product releases, with beauty media from Australia and New York. I feel very honoured to be included in such good company, and be shown the best of Queenstown from Onsen hot pools, The Skyline Gondola and luge, New Zealand food and wine at a mansion in Jack's Point, Josh Emmet's restaurant Rata, an in-room massage with the new trilogy Pure Plant Oil, and the piece de resistance – a helicopter ride to walk on top of The Remarkables. Another highlight for me, which I'll go into more detail in below, was hearing from Cassandra, the founder of So They Can charity working with poverty in parts of Africa.
I've actually had a long relationship with the New Zealand skincare brand – now owned by Ecoya – since its origins in Wellington founded by entrepreneurial sisters Sarah and Cath Wells, who were really well ahead of their time. I looked on my website and found my first Trilogy beauty review, 13 1/2 years ago, when the company had the rosehip oil, cream cleanser, vital moisturising cream, a body bar, and interestingly – oral capsules you ate. They didn't last (neither did the soap bar) but I think they would in today's market but they weren't understood back then.
So, fast forward to 2016, and they have 40 products and are continually exploring and developing more using the best in anti-ageing and beneficial, all-natural ingredients, always with a strong commitment to people and the environment. Here are my highlights in photos from the Trilogy product launch trip…
THE SHERWOOD
I've arrived in Queenstown's Sherwood, for a yoga, food, and wine retreat, and new product launch with Trilogy! Everything is very Pinterest, down to the army blankets, metal hanging lamps, a teepee, and the waterfall outside my window, it's incredible. Thankyou Trilogy products for having me.
My hotel is filled with these beautiful toiletries, of Trilogy body and hair products.
The restaurant area in The Sherwood for our welcome dinner.
My room at The Sherwood, complete with woollen blankets, army recycled blanket curtains, metal hanging lamps, art prints, and a contemporary dream catcher. All very Pinterest and very cool.
My cute room by the waterfall at the retreat. This looks pretty tough to take.
SHOWCASING NZ PRODUCTS
The New Zealand products showcasing the best of NZ for international media. they're showcasing the best of New Zealand to those flown in from Australia and New York and gave us these lovely NZ products: Kowtow, & Icebreaker (to wear for the yoga), Whittaker's, Yoga Arts NZ, Tolaga Bay cashmere scarf, Blunt umbrellas, Ecoya candle, Karen Murrell lipsticks, and Go Bamboo toothbrushes.
Love the organic cotton Building Block Tee by Kowtow.
ONSEN HOT POOLS
At a mountain Onsen and a tray of bubbles and icecream has arrived. I'm wearing swimsuit by Moontide. I totally recommend this place next time you are here. I think it's about $61 per person for an hour. 
SKYLINE GONDOLA 
How good is the weather! Beautiful clear day at the Skyline Gondola Queenstown, here with beauty media to ride the luge. Best beauty launch EVER.
JACK'S POINT
Lunch venue at a private architectural mansion out at Jacks Point OMG.
NEW TRILOGY PRODUCTS
We had the chance to hear from the completely lovely and very knowledgeable Corinne from Trilogy, all about the new releases: Plant Body Oil, and the newly packaged body products range below.
Rosehip Oil Light $42.99
Rosapene™ Radiance Serum $44.99
Exfoliating Body Balm $39.99
Pure Plant Body Oil $29.99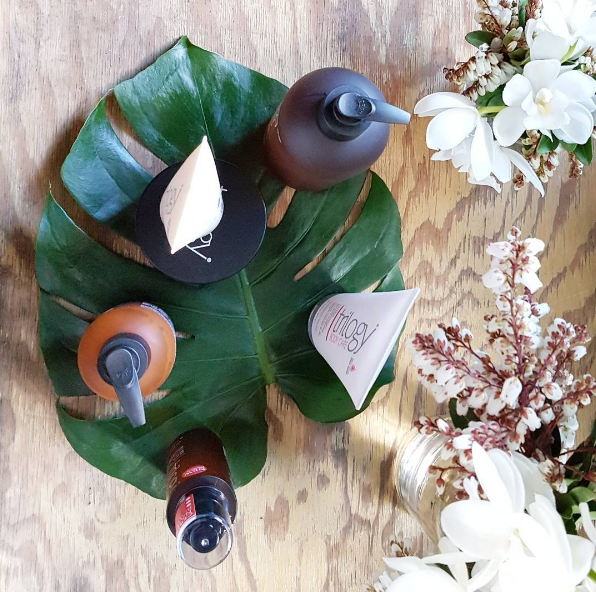 The new Trilogy Rosehip Oil Light Blend, and my fave, Rosapene Radiance Serum.
IN-ROOM MASSAGES
Just had an amazing massage in my room with this brand new Pure Plant Oil I want a masseuse to visit me everyday now please.
RATA RESTAURANT BY JOSH EMMET
My first time at Rata! Everything is super yum.
Chef Josh Emmet talking us through the amazing menu at Rata Queenstown.
HELICOPTER RIDE
Helicopter selfie.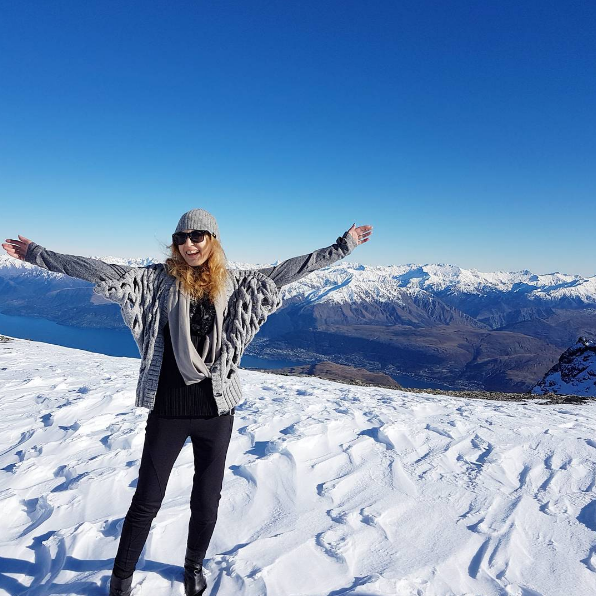 I was the only person mad enough to do snow angels on top of The Remarkables.
SO THEY CAN
As I touched on above, another highlight for me was a talk and photo presentation from Cassandra, the founder of 'So They Can' charity, working with childen, teachers, and families living in poverty in parts of Africa. All the beauty media were crying, as we watched photos of the work they are doing, I was particularly touched by Cassandra's story of cuddling a little boy whose incredibly brave mother had her husband and children murdered, and she was then raped, and she named the resulting child, 'Miracle.' Rather than just giving money, Trilogy decided to partner with communities and buy sunflower seed oil from 50 women to support them and their families, and produce Trilogy Jua and Raha natural oil perfumes, which has given back all proceeds of $20,000 last year and $30,000 this year. I also loved their orphanages, in a new style, of having a 'mother' commit for life to raising 8 orphaned children in homes with love and a family, rather than in big dormitories. Another great So They Can initiative – and also a great pun- is Sew They Can, helping young women rescued from the sex trade to learn sewing skills, making items to sell and the school uniforms for the schools they have set up to educate the children to help them out of poverty. Another Well done, Trilogy and So They Can. You can read all about them at their website www.sotheycan.org and donate or give your time as a volunteer.
LUNCH AT THE SHERWOOD 
Avocado salmon and vegan bliss balls for lunch at The Sherwood.
Megan Robinson
1st September 2016
Recommended