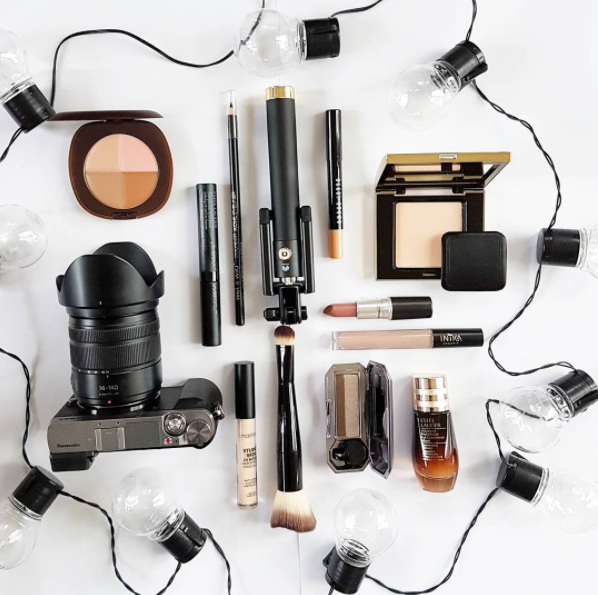 Lights! Camera! Action! Get photo ready with these makeup wonders
Lights! Camera! Action! Get photo ready with these amazing makeup wonders.
Elizabeth Arden FourEver Bronze – It may be the dark days of winter here, but you can get a touch of summer, with this Bronzing Powder in four shades and the witty title FourEver Bronze, in the Elizabeth Arden Tropical Escape colour collection on counter from 10th July.
Estee Lauder Sumptuous Knockout Mascara –  I've had this mascara for over a year now, and it's a fave of mine for my everyday makeup when I want long lashes (okay that's all the time). Estee Lauder Sumptuous Knockout Mascara is very lengthening without clumping so you get nice separated lashes.
Wet n Wild Kohl Eyeliner – Wet n Wild has been around since 1979 and has just landed in New Zealand, retailing at Farmers for $2.99 to $13.99 an item available from 1st August. This kohl pencil is part of a huge range that includes on-trend illuminators, liquid liners, and makeup fixing sprays as well as the basics for eyes, lips, cheeks and brows.
Huawei selfie stick – this is a very stylish and hi-tech looking selfie stick that I received at the Huawei x Zambesi event in Parnell recently. Great for those photo-ready moments.
Bobbi Brown Retouching Face Pencil –
Avon LUXE Silken Face Powder – Avon has revamped its Avon line and this Luxe powder has a luxurious new look. The iconic catchcry of "Ding dong, Avon calling!" has shifted from ding-dong to dot com, with the advent of online sales for the cosmetics and skincare brand that many grew up with. Nowadays, 30,000 people across New Zealand and Australia are Avon sellers and the range has Avon True, Avon Luxe, and even fashion and accessories.
MAC lipstick – What's your fave? There's a colour, and a formulation, for everyone. I did this handy guide to the formulations of MAC lipsticks on Threadnz here.
INIKA lipgloss – INIKA Organic claims to be the purest makeup brand on the planet, with certified organic BB Cream, pressed eye shadow, lip glaze, and more cosmetics. An interesting fact: their baked mineral products are baked in Tuscany Italy on terracotta tiles. The range is cruelty-free, vegan, certified organic, 100% natural, and non toxic. Available at @smithandcaugheys, at health stores, salons, and online at www.inikaorganic.com
Estee Lauder Advanced Night Repair Eye Concentrate Matrix – Brand new from Estee Lauder is the new addition to the Advanced Night Repair family; Eye Concentrate Matrix ($138) on counter 17th July. The eye concentrate is formulated for intensive overnight recovery, and repair of the delicate eye area, which is first to show signs of ageing. This product for the eyes complements their iconic Advanced Night Repair which is loved by many.
Benefit Cosmetics Duo Shadow Blender – Each eyeshadow duo comes perfectly paired with light and dark shades to make bigger wide-eyed looks, easily. It's a 2-step process: first slide the small round blender sponge applicator across the duo, then sweep it across your eyelid. Tip: you can use a makeup brush to add colour under your eye, or to blend it out to your brow. You can even multitask by using a brow brush to colour your brows with the darker shade.
Elizabeth Arden Dual End Contour Foundation Brush – this vegan (synthetic bristles) makeup application brush has a cleverly shaped end that fits around your nose for excellent coverage. See www.elizabetharden.co.nz for info and where to buy.
Smashbox Studio Skin 24 Hour Concealer – a creamy medium coverage concealer that's a magic wand to make imperfections disappear. $55 from smashboxcosmetics.co.nz
Panasonic Lumix camera – This is not only a very chic looking camera, it uploads to your social media accounts using wifi.
Photo Megan Robinson
Products received for photography and review.
2nd August 2017
Recommended