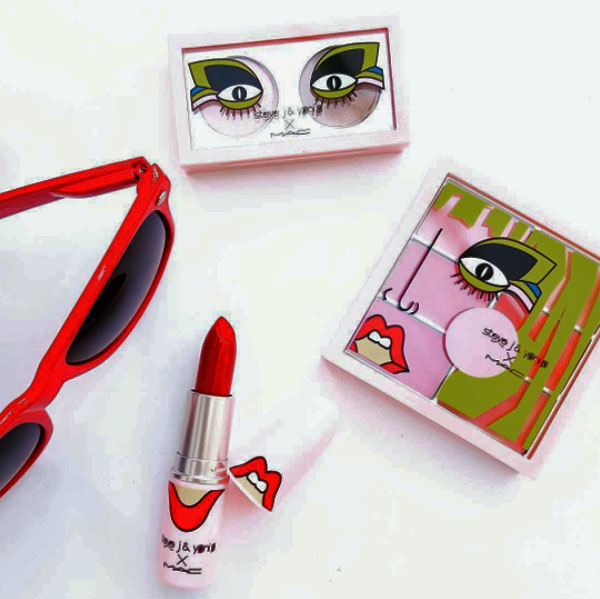 MAC colab with Korean design duo Steve J. and Yoni P.
If there was an award for cutest packaging of the year a clear runner would be this MAC colab with Korean design duo, Steve J. and Yoni P. With its graphic, cartoon anime-esque eyes, lips, and faces, each product comes to life.
The packaging is not only adorable, it is the first packaging I've seen that features a picture of the facial feature that it's designed for; a pair of red lips on the pink lipstick canister, a face with blonde hair and red lips (ala Yoni P. herself) on the palette, and a pair of peepers on the eye duo.
Korean designers Steve J. and Yoni P. capture the zeitgeist of Seoul street style in their designs, so it's only appropriate that their MAC collection is equally as playful.
Below: The designers.
Below: clothing designs for 2017 by stevejandyonip.com
The makeup colours are actually very wearable though, with warm pinks and browns for eyes, and pinks and reds for lips.
Below: swatches of the eyeshadow Touch Me Baby in Keep On Twinkling/ Soba
This is a limited edition range available until mid-August 2017 in New Zealand, so get in quick to MAC counters.
Photos Megan Robinson
Products received for photography and review.
1st August 2017
Recommended