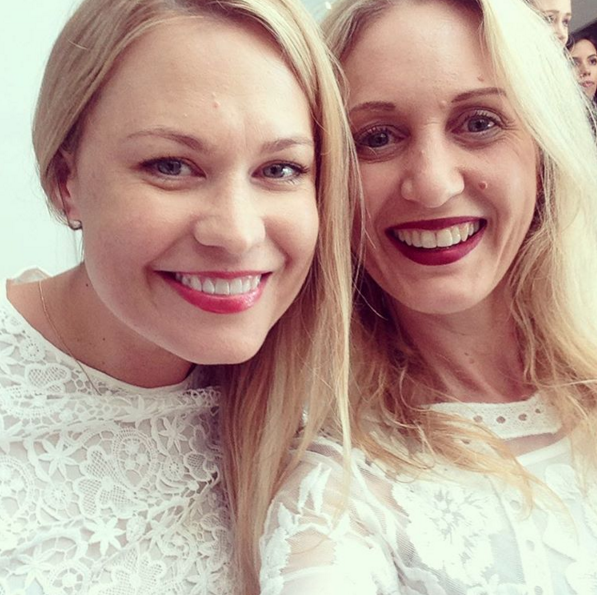 ON MY DESK: new in hair care in April 2016
ON MY DESK: What's new in beauty this month to come across my path, in hair care, for April 2016 from Joico, Moroccanoil, SU by Davines, and Original Mineral…
Moroccanoil held a launch for beauty media in Auckland for their amazing new Moroccanoil dry shampoo. This spray dry shampoo comes in two colours -light or dark –  for blonde or brunette hair colours. You spray it on then massage it in like a shampoo.
Above: the gorgeous girls of Lily & Louis, snapped at Moroccanoil. Below L-R Kath Wilson of Kathryn Wilson footwear, and Megan Robinson of thread.co.nz, at the launch.
Me at the launch, wearing Boohoo white lace dress. Photos by Jacqui Ansin.
I'm using this in my shower every day! Introducing SU, a new line of Davines Essential Haircare that protects from the sun with antioxidant-rich botanicals, all environmentally sustainable and protecting bio diversity. Su products contain high levels of natural, biodegradable ingredients thus minimising the effects of pollution from beauty products on the environment. SU hair & body wash, hair mask, hair milk, and after sun are in selected salons now.
Price: $16.50 for 75ml and $37 for 250ml.
Where to buy: At Davines salons nationwide, ph 0800 25 25 30 for stockists.
How about treating mum for Mother's Day with a gorgeous haircare pack? This Joico K-Pak Colour Therapy Pack has a K-Pak shampoo and conditioner, Intense Hydrator, Heat Set Blow Dry Perfecting Creme, and Flip Turn Volumising Spray. And how cool is the white gold clutch which you can re-use as a bag or cosmetic case.
Price: $112
Where to buy: at Joico salons nationwide.
Mmm I love the smell of coconut, and this smells amazing! Original Mineral C Paste pliable hair paste is a new product for long or short hair made with #coconut oil without petrochemicals and it is cruelty free.
Megan Robinson
26th April 2016
Recommended