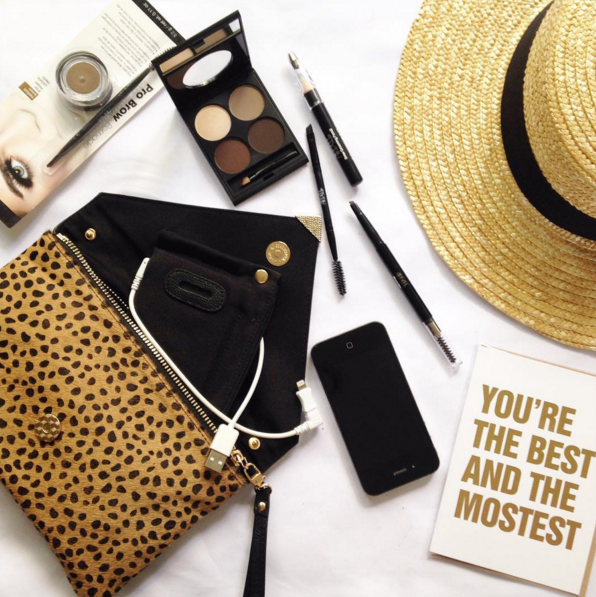 ON MY DESK what's new: December 2015
ON MY DESK what's new to come across my path in December 2015, in the worlds of beauty, skincare and hair.
ROSE GOLD 
Rose gold treats… Thank you The Generalist for the Akarua Wines rose brut to celebrate my 5k goal on Instagram. Rose gold candle in Cherry Blossom & Tuberose by Ecoya will be out next winter with this beautifully fragrant diffuser, which also features the rose gold lid.
MAYBELLINE NAILS
Lilac nails, so you forget me not. Maybelline New York SuperStay Gel Nail Color 7 Days in shade Eternal Lilac. I liked this milky pastel lilac shade. This is three coats on my nails. It's available at Farmers and pharmacies for $16.99. 
TRELISE COOPER 
Trelise Cooper always does amazing goodybags, but this is next level: I love the new Simple Pleasures soy candles in a glass jar and gift box – which you can buy at her stores or online gift shop for $49 – and the silk scarf and trio of illustrated tea towels, which come in various prints for $39 for 3, Pyramid Bracelet ($49) and a mini Whittaker's chocolate bar.
TAN INSPO 
Shades of tan for summer… Aloha Sandals, Jord watch, Ray Ban Clubmaster wood, World Organic makeup foundation and lipstick in these sustainable bamboo cases and natural formulations, Savar energising body wash – onto my second bottle of this wonderful stuff now, and Muji Japan and RUBY journals. Alohas Sandals are ethically-made sustainable footwear that is good for the planet and looks as good as they feel on. Alohas Sandals are handcrafted in Spain, with the highest leather materials for the top part and recycled car tyres for the sole. They are stylish, comfortable and most importantly, sustainably and ethically made.
MIGHTY PURSE & ARDELL LASHES
My leopard Mighty Purse (from $139; $189 for the ponyskin one pictured) saved my phone from a flat battery while I was out and about today. It's a genuine leather clutch purse with a removable shoulder strap that clips on the envelope clutch flap. I use mine as a clutch without the strap. Inside is a power pack with the two white power cords you can see that charge the power pack and plug into your phone when you're out. There's a converter attachment so it can charge iPhone and Android phones. 
These pretty eyebrow products – Pro Brow Pomade, and Brow Defining Kit- are all by Ardell Lashes, which is a huge international brand that's fairly new to me and I was really keen to try out. They are reasonably priced, around $12-$20 region, and come in sealed plastic kits at pharmacy and department store retail. I wore the wind up brow pencil in Blonde and liked the angled wide tip as opposed to many that have a very thin tip, making this quick and easy to apply. It wan't too soft either as too soft means you get clumps of product coming off on your brows; this just applied colour without clumps.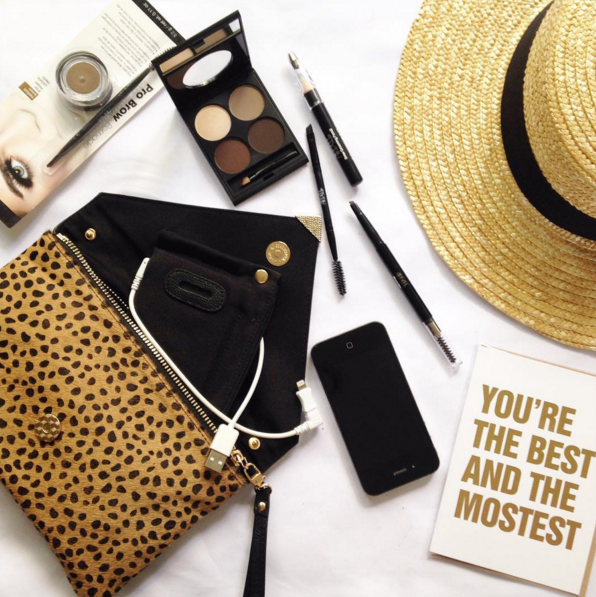 THE SOCIAL TYPES
Seeing the same old cards everywhere? The card above, and those pictured below, are by Jaz of The Social Types stationery brand in Auckland. I'm loving these fun cards with lovely fresh illustrations, which are blank inside. Jaz also does art prints and bespoke invitations for your special event. They are lovely quality and very well-priced. You can buy them at www.thesocialtypes.com priced at four for $20 with free delivery in NZ.
GREEN INSPO
So fresh, so green… some crisp shades for summertime in green products, including Vaseline moisturising spray, Blackmores Muscle Magnesium, Nvey Eco brush, Orly nailpolish, and Style by Kate Spade. This Elizabeth Arden Green Tea Bamboo fragrance and body cream is the uplifting and refreshing; it has a citrus fragrance I'd describe as green, like walking through a grove of trees after rain. This body cream is so good. When you first apply it is has visible honey drops which instantly absorb into the skin, pictured below. The body cream is $52 for 250ml, the EDT spray $52 for 50ml and $73 for 100ml, available now at Elizabeth Arden stockists.www.elizabetharden.co.nz  
OASIS BEAUTY THE HYDRATOR
I'll be back! And legs, and arms! It's the Terminator for dry skin, The Hydrator (say it in an Arnie accent); new from Oasis Beauty. Pictured here, on my original Paradiso Lego set of windsurfing action from the late Eighties. The Hydrator contains hero ingredients avocado oil, shea butter and Vitamin E to hydrate and smooth your skin with chamomile to soothe and heal. It retails for $29.90 for 250ml tube from www.oasisbeauty.co.nz and selected health stores and pharmacies.
SCHWARZKOPF HAIR 
Thankyou @schwarzkopfnz for supporting our kindy raffle xxx These hair care products are available at supermarkets and pharmacies including the shampoo, conditioner, and styling products strong styling mousse, dry shampoo, and push-up volume mousse.
NAIRNS 
When I lived in the UK I loved eating oat cookies and I've discovered this yummy Scottish brand Nairns is in NZ stores, plus I like that it's 40% less sugar than the others. The Nairn's flavoured oat biscuits in lemon were my fave, and the children liked the berry oat biscuits best.
ERUPT PRINTS
Erupt Prints is one of the amazing local NZ artists with fabulous cards, art, stationery, and gifts, so stock up for Christmas. Auckland designers Helen McLaren and Craig Cairns started Erupt Prints after the birth of their daughter and they make stylish art prints as well as contemporary children's room art. " We wanted artwork that was vibrant and fresh yet affordable for her nursery but couldn't find anything that met our criteria so we decided to create our own!" says Helen. You can buy it at www.eruptprints.com priced around $28 for a wall print below, and $5 for cards.
ABSOLUT ELECTRIK
Oooh my first night Instagram…ABSOLUT ELECTRIK limited edition vodka in a silver bottle, and M.A.C Magic of the Night makeup collection.
ESSANO MICELLAR
Essano Rosehip has released a micellar water for $12.99 at Countdown from late November. The Gentle Cleansing Micellar Water joins their range of rosehip-based skincare that's affordable and readily available in Countdown supermarkets so you can pick one up whilst grocery shopping. This micellar water has been enriched with rosehip and aloe vera to hydrate and soothe skin while cleansing so you don't get a stripped clean feel afterwards.
LEGO CHRISTMAS 
Such a fun idea! LEGO has sent a box of bricks to create my own "family star" so I'll give it a go and share my #legoxmas star when I'm done! LEGO wants families to start a family tradition of coming together to create a family star each Christmas and play which is a fabulous idea and something people of all ages can do together. For the pre-school age there's Duplo and for older children there's LEGO bricks and you can view everyone's creations worldwide on social media at #LEGOXMAS. 
KAGI GEMPOPS
Have you heard of Gempops by the fabulous NZ jewellery brand KAGI Jewellery- you buy a setting and then choose different gemstones to pop in and out. Once you pop you can't stop! I absolutely adore this grey cultured pearl ($49) in the ring setting called Mondo Ring ($125, without a gem). You choose your style of ring or necklace and then buy as many Gempops to click in and out to suit your mood. The settings and gems are all online to view at kagi.net and in Kagi stockists now.
Megan Robinson
1st December 2015
Recommended