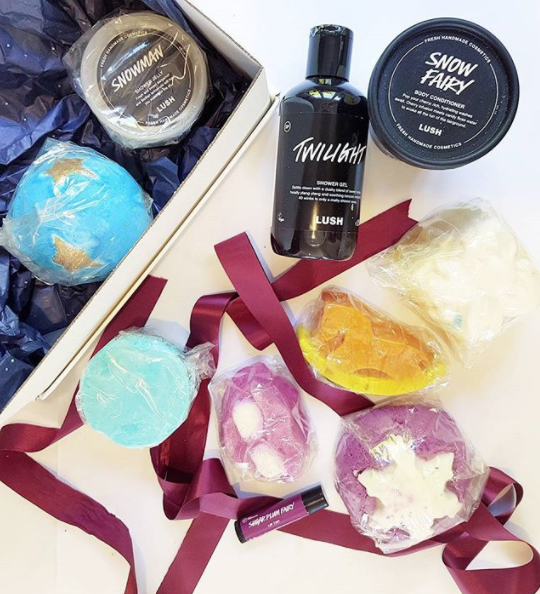 On My Desk: What's New in Beauty – December 2017
Here are some new beauty releases to come across my path in the month of December, in the this the latest On My Desk: What's New in Beauty column for December 2017.
A LUSH Christmas, with old faves and new, for the body, bath, shower, and face. Great for treating yourself or gifts for every body. At www.lush.co.nz
Is it a cracker? No! It's a Linden Leaves Crystal Crush cracker contains 3 products for $19.99 making it a perfect gift for girlfriends and family! It has a facial oil, lip balm, and hand cream inside and comes in two around. A therapy fragrance choices: Rose Quartz or Amethyst.
Shine bright like a diamond. Beauty bargain: eyeshadow palette $22.95, face palette $19.99 by Designer Brands cosmetics at pharmacies.
Molton Brown London holiday gifting- the classiest gift boxes ever. They have a warrant to supply toiletries to Her Majesty the Queen. You can pick up a gift – in New Zealand from Smith and Caughey's- from $25 for the festive bauble of fragranced shower gel.
Season's beauty from TVSN! Mists and masks are perfect in the summer holidays to give your skin a break and rehydrate. Alpha H Daily Essential Vitamin Mist protects from environmental damage with vitamins and botanicals. NIOD Voicemail Masque is called suspension of plant stem cells in an evening leave on masque. Illuminate skin with Laura Geller Baked Gelato Swirl Illuminator in a powder that goes on as a cream. Snowflake ceramic decoration by Wedgewood. Available at @tvsn and online at www.tvsn.co.nz
How Christmassy is this- Living Nature Radiance oils have Frankincense oil in them! The botanical blend of rosehip, calendula, rose, and calendula oils treat dry skin and scars for the face or body with a floral fragrance.
Be a shining example, in these glittering eyeshadow duos from Designer Brands Summer Lovin' collection in metallic and glitter duo eyeshadow pens, pressed illuminator and pressed bronzer. All vegan and certified cruelty-free and $12.99 to $17.99 at pharmacies and online.
This stuff is amazing and I use it everyday on my kids; COOLA organic suncare spray on sunscreen. I'm wearing the rose tinted face moisturiser CC cream today and it gives a light coverage with SPF20 protection. Their daydream mineral primer has SPF 30 too so you layer skin products, for more sun protection.
The latest member of the Ceramide family is this clever little rollerball – Elizabeth Arden Ceramide Lift and Firm Sculpting Gel- that cleanly applies the clear gel with Ceramides and skin-tightening peptides. It supports collagen and elastin to firm the look of skin. $151 on counters 29th January.
Pearl Primer by The Porefessional from Benefit Cosmetics. It's the Porefessional you know and love to minimise pores, plus it now has added brightening. Layer it for increased brightening and wear under makeup or over the top of makeup as a finishing touch to glow!
Benefit Cosmetics absolutely winning the brand Christmas gifts with this glitter snow globe of their hometown San Francisco! When you shake it, silver glitter falls on the Golden Gate Bridge and lady! This is so cool, Benefit once again you are killing it.
Back by popular demand! Visible Difference cream by Elizabeth Arden.
Megan Robinson
31st December 2017
All photography by Megan Robinson. Products gifted for review purposes, no payments received, all opinions my own.
Recommended