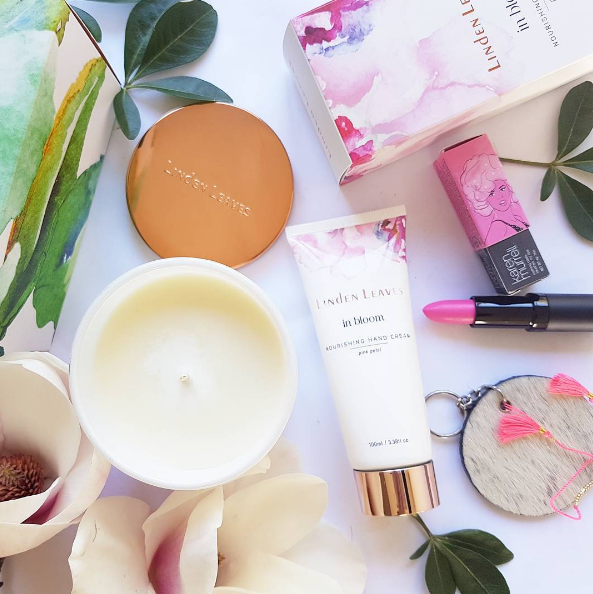 ON MY DESK : What's new in Beauty for September 2016
ON MY DESK : What's new in Beauty for September 2016, with new releases to cross my desk in the worlds of skincare, makeup, and beauty, from Linden Leaves, Swisse, Antipodes, Estee Lauder brands for breast cancer, MARACA candles, Earthwise shampoo, Elizabeth Arden, Versace Dylan Blue, Savar, MAC, Essence, Atzen skincare, and Red Seal.
Pictured above: Linden Leaves' new range for Christmas, In Bloom, featuring a selection of gifts with a floral design, including this soy candle, and handcream. I like the look and smell of the range and also the low price points around $14 making it affordable to get a beautifully packaged natural New Zealand skincare gift for friends.
Beautiful new Swisse body care in time for summer. I'm particularly excited to use the Multivitamin Body Oil as I use body oils every day on my skin. The five new products in its popular face and body range include Echinacea Clear Skin Moisturiser, Natural Defence Moisturiser SPF15, Natural Defence BB Cream SPF30, Sea Salt Body Polish and a Mulitvitamin Repair Oil. They utilise the benefits of vitamins, minerals, antioxidants and sustainably-sourced botanical extracts and are also fragrance-free.
The popular classic Saviour Skin Balm from Antipodes has been released in a mini tube for travel, handbags, and desk drawers. $19.90. 
Estee Lauder brands are once again getting behind supporting women with breast cancer with their fundraising initiative with proceeds from their products featuring a pink ribbon.
Maraca candle's latest fragrance is Sevillian Neroli; a new luxury soy candle inspired by the Jardins del Generalife in Spain, with cinnamon, geranium, cloves, and vetiver, cedarwood, and sandalwood.
Something that's very useful to have, is beauty wipes, for home or travel or in your purse. Empties post: things I've used and enjoyed- Ecostore bodywash, Trilogy Rosehip oil light blend, Living Proof full shampoo, Natracare natural cleansing wipes, World Organic foundation, Elizabeth Arden Superstart.
Always Red Femme is the newest beautiful addition to the Elizabeth Arden fragrance family. It has been designed for 'the trendsetter who is always on the move and sets the pace of the city. Through her black silhouette with accents of leather and lace, this city girl is unabashedly feminine and boldly takes an all-or-nothing approach to life.'
You may know New Zealand company Earthwise for their household and also body products, and now, they've released haircare. I've just washed my hair with this Nourish natural shampoo and conditioner which were great and I'll be using it on my kids. Free of parabens, phosphate, SLS, and synthetic dyes, and priced at $7.49 at supermarkets.
Cute and perfect travel companions- Savar travel minis in little versions of their popular shampoo and conditioner, body wash, and body lotion. All bottles can go through in your carry on luggage. A far nicer alternative to using hotel toiletries that are like detergent.
This is definitely my Father's Day present- the new men's fragrance from Versace, Dylan Blue, is a woody aroma with citrus and bergamot. From $74 from Farmers, Smith and Caugheys, and department stores.
Watching what you put into your body? Some lovely natural options for toothpaste by Red Seal and a eco bamboo toothbrush by Go Bamboo.
Burgundy shades by MAC in Perfect Score, Perfect Frame, and 300 Game, from the 'It's A Strike!" Colour collection themed around bowling.
If you're looking for a bit of pretty in your makeup drawer for a low price, Essence has this limited edition Lights Of Orient range. Bronzer $7.45, nailpolish $4.50, matte lipstick $5.65, 6x eyeshadow palette $10.65.
Designed in France and made in USA by french founder Catherine Atzen, ATZEN skincare is launching into New Zealand at health stores and beauty therapists. This Vitamin C serum combines organic botanicals with peptides and is paraben free, and retails for $91.
Megan Robinson
15th September 2016
Recommended