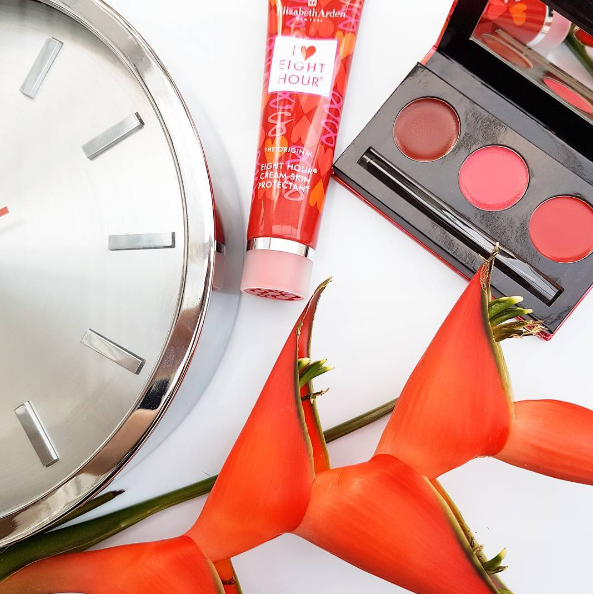 ON MY DESK: What's new in Beauty for Spring 2016
ON MY DESK : What's new in Beauty for Spring 2016, with new releases to cross my desk in the worlds of skincare, makeup, and beauty, from Ultraceuticals, Dermalogica, Elizabeth Arden,
Pictured above: I Heart Eight Hour Cream! and a beautiful new lip palette by Elizabeth Arden in these must-have shades of red. Who can go past a perfect red lip?
Speaking of Elizabeth Arden, the wonderful Superstart Skin Renewal Booster is now available in 50ml size. I've used up two full size already so this is great to have for travelling.
Daily essentials for spring beauty, from Dermalogica. New Daily Cleansing Shampoo $42, and Daily Conditioning Rinse $47, body hydrating cream, climate control lip treatment, and brand new Age Reversal Eye Complex, $115 in stores from today.
Some of you will already be familiar with Ultraceuticals, the cosmeceutical range of the year award winner. Now the cruelty-free science-based skincare brand has released a 23% pure vitamin C serum with peptides, to fight photo ageing and deliver rich antioxidants to skin.
Empties: products I have used and enjoyed. Osmosis Catalyst plus, Osmosis concealer, Temple Tonic body oil, L'Occitane conditioner, Weleda Skin Food, Sukin rosehip oil, Smashbox Always Sharp lip liner in violet.
Fresh summer takes- Dandelion highlighter dew, lipsticks, and Shy Beam, all by Benefit. Glass by Nest online. Ovi watermelon drink.
Ooh I love this! Men's products can be so overlooked, but this London brand Johnny's Chop Shop has the coolest 1950's and 60's packaging and is co-owned by an actual hairdresser, founder of Tommy Gun salons. The sharp men's hair styling and beard grooming range is just $17 each at Farmers, pharmacies, and barbers.
MAC It's A Strike colour collection. Lipglass: perfect frame, lipstick: perfect score, eyeshadow: 300 game. Photo book: Herb Ritts. Bracelet: Vivienne Westwood.
Also from MAC Cosmetics- their most intense colour saturation yet- MAC Liptensity. Aside from the awesomeness of the lip formula, you know what? I really rate the coloured cases, making it super easy to locate the colour you want, compared to a sea of black lipstick cases in my drawer. 
I headed into Soul Bar last week for the media launch of Atzen Skincare in New Zealand. I love their blend of science and the best of nature, with vitamins, peptides, antioxidants and more; all free of parabens, petrochemicals, and cruelty free.
Iconic, hard-working classics from the hair genuises. High performance men's hair products, by Redken, L'Oréal Homme, and Matrix. My husband is all over these and already loving them. 
Megan Robinson
3rd October 2016
Recommended