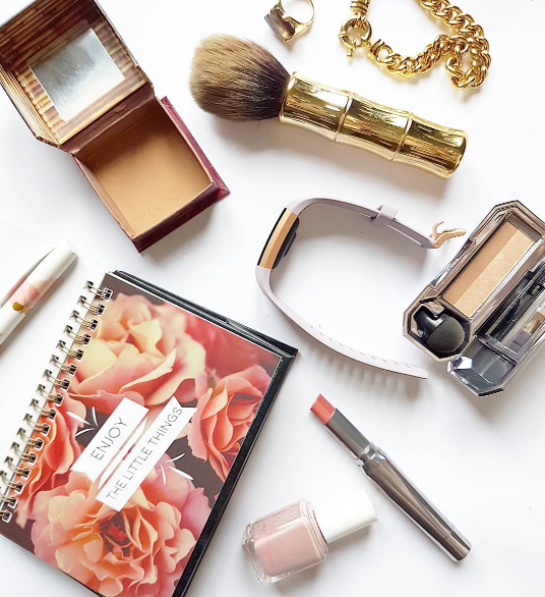 On My Desk: What's New in Beauty in April 2017
On My Desk: What's New in Beauty in April 2017, from Benefit Cosmetics, Essie nail polish, Ultraceuticals, Clinique BIY, Avon LUXE, Morgan Taylor nail polish, The Aromatherapy Company, L'Occitane Shea Butter, and Essence of Humanity facial oil.
The absolutely stunning Duo Shadow Blender eyeshadows new from Benefit Cosmetics.
Double trouble! Two tone lipsticks create a fuller lip and a lip outline in a darker shade, with new Double The Lip lipsticks out from Benefit Cosmetics.
The innovative new BIY Drops from Clinique let you blend it yourself to create custom foundation using drops in moisturiser! 1 drop creates a light BB Cream coverage, 3 drops creates a full coverage foundation. Clinique have sent me chocolate chip cookie dough mix so I can 'blend it myself'!
The gorgeous metallic and creme shades you layer over creme shades, from essie! I'm currently wearing the fourth one down, Chinchilly. The shades are Disco doll, Sugar daddy, Glow your own way, Chinchilly, In the mood ring, and Wicked.
This is my favourite skincare product right now, and I used it up, and picked up another from @equipoisespa. I'm doing their blogger trial of RVR90 where I only use Ultraceuticals for 90 days and post the before and after results. The public can all do it too, at Ultraceuticals spas such as Equipoise. 
I'm having a Vitamin A Ultraceuticals facial today, in the fabulous Equipoise Spa in Herne Bay! These are my skincare products prescription for home as I'm doing the #rvr90 programme for better skin.
Nail party with my daughter. Thankyou Disney for sending her the Beauty and the Beast nailpolish collection! She is so rapt.
Avon has released a premium cosmetics line, Avon LUXE with this silken eyeliner pencil $22 and compact powder $35. The great thing I like about Avon is how it's enabled many women to get into employment with its independent sales force who now number 6 million worldwide. Ring by @trama_accessories, star earrings from @smithandcaugheys
For those who like their decor on the dark side, the new black luxe collection by New Zealand brand @thearomatherapycompany with a very stylish look and very chic fragrance, Amber & Vanilla Musk.
French brand L'Occitane has a brand new range out in hydrating Shea Butter.
So They Can charity's Cassandra Treadwell has launched Essence of Humanity skincare with Stacey Fraser ex-Trilogy skincare, with 100% of surplus to benefit poor children of the world. I follow the charity, So They Can, on Facebook, and heard Cassandra speak at the Trilogy media event in Queenstown in September- I cried!
Megan Robinson
10th April 2017
Recommended