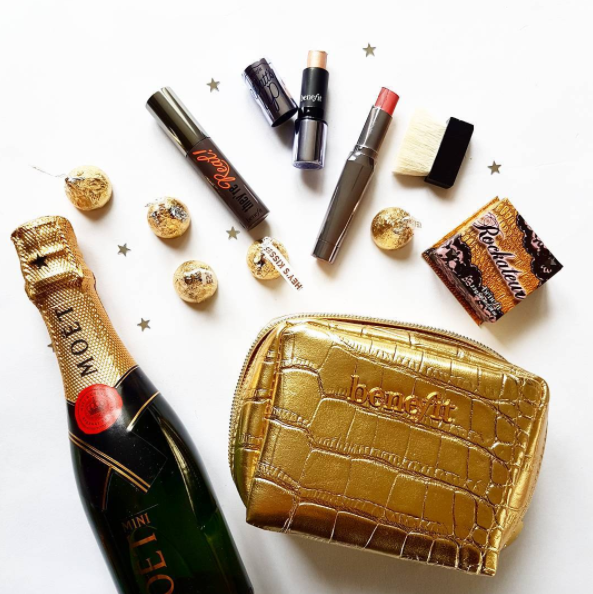 On My Desk: What's New in Beauty in August 2017
Here are some new beauty releases to come across my path in the month of August, in the this the latest 'On My Desk: What's New in Beauty' column for August 2017, including releases from Benefit Cosmetics, MAC, Revlon, L'Occitane en Provence, Tender Love + Carry, Clinique, Nude by Nature, OPI, KMS Hair, Ultraceuticals, FABY nails, Dr Hauschka, Mark by Avon, Ecoya, and Valentina Pink.
Above intro image: Date Night with Mr Right kit by Benefit Cosmetics has mini makeup perfect for a hot date night with They're Real mascara, Double the Lip lipstick, Watts Up highlighter, and Rockateur bronzer in a collectable purse, for $59.
This MAC Liptensity lipstick in Burnt Violet looks very chocolate brown in the tube I'm holding, but is a rich, deep purple on. My foundation is Revlon Youth FX new anti-ageing makeup ($45). Read more about the new Revlon Youth FX anti-ageing foundation on Threadnz here. 
Thankyou MAC for my first ever Ruby Woo lipstick; it's such an iconic MAC red and I can't believe I've never had one until now. Can't wait to try it out. Who else here loves Ruby Woo?
Pivoine Sublime skincare – from France's Drôme region Peony – is a beautiful new line from faves, L'Occitane en Provence. The L'Occitane laboratory has developed the PIVOINE SUBLIME complex, combining skin-perfecting peony patented extract that acts on skin cells, and mineral-based optical correctors to help immediately and visibly create perfect-looking skin. The line includes Pivoine Sublime Perfecting Cream ($64 for 50mls); Pivoine Sublime Tinted Lip Balm ($28) in shades Rose Nude, Plum Rose, Tender Red, and Apricot; Pivoine Sublime Flash Moisture Mask ($12); 2-in-1 Perfecting Scrub ($45); Perfecting Toner ($35), Clean Hand Gel ($16); Hand Cream ($38); Beauty Milk ($49); Bi-Phase Bath Oil ($38); Eay de Toilette ($78); and more at nz.loccitane.com/pivoine
Also from L'Occitane come these new additions to their Shea Butter range. This popular range of products nourishes skin and hair using Shea Butter harvested sustainably in fair trade with women in Burkina Faso in Africa. Pictured here: Shea Solidarity Soap (50g $8) is a softly-fragranced soap to cleanse skin, with 100% of profits going to fight avoidable blindness. Shea Butter Foaming Cleanser (125ml $45) is a facial cleanser containing shea oil to nourish skin as it cleanses. Shea Butter Intensive Hand Balm (150ml $53) contains a high 25% shea butter making it a rich and luxurious hand balm to use as a hand cream daily, or leave on as a 10 minute mask twice a week. Whipped Body Cream Shea Rose (125ml $38) melts on contact with skin with its whipped texture made with 10% shea butter. Whipped Hand Cream Shea Rose (30ml $18) has a higher concentration of shea butter at 25% to deeply soften and protect skin. Available from L'Occitane boutiques and www.loccitane.co.nz
How cute is this Tender Love and Carry makeup purse with customisable stickers you can apply as you choose? Also enjoyed that they sent the press release folded as a chatterbox, very creative. A cute gift to give someone to customise themselves, or for your own makeup or as a travel bag. TL+C is an Auckland-based brand, and is New Zealand's leading brand of cosmetics bags. See their website for where to buy: www.tenderloveandcarry.com
Skin need a surge of moisture? I know mine does. Clinique Moisture Surge is formulated to quench thirsty skin. You're a tall glass of water, Clinique. The lightweight cream-gel plumps skin with 24-hour hydration, and retails for $89 from Clinique counters.
Definitely taking out the prize for coolest foundation bottles is Nude by Nature Liquid Flawless Mineral Makeup, with these slender foundation bottles in frosted glass with rose gold metal lids. The backdrop isn't too shabby either, on Auckland harbour at the Maritime Museum for the makeup launch held at The Lula Inn.
The incredible box set of the range of 9 shades plus 5 concealers of new Nude by Nature Flawless liquid foundation I'll be playing with. See their website nudebynature.com for more info, and you can buy Nude by Nature at Farmers.co.nz in New Zealand.
The brand new KMS 3-step regimen of Start.Style.Finish makes it easy to create your salon style at home. Start with Color Vitality shampoo and conditioner and Moist Repair to hydrate hair; Style with Add Volume liquid dust to create fullness without the mess of a powder; and Finish with Hair Play hairspray to set. $33 to $36 each from KMS salons and KMShair.co.nz
Nice Ice Baby. These very cool new shades are the O.P.I. Iceland nail colour collection. As soon as they arrived, I couldn't resist trying out the deep blue-grey colour on my nails and I love it. You can buy OPI at Farmers and selected pharmacies, nail salons, and department stores nationwide.
Above: Incredible table settings with our names made of mirrors, at The French Cafe with Ultraceuticals for a beauty media lunch, launching their new formulation Ultra A serum. i'm personally a huge fan of Ultraceuticals and have been using the Ultra A serum as part of my skincare regime so I am excited to now use this new formulation. The new improved Ultra A Skin Perfecting Serum delivers retinol faster and more effectively than ever before. The new exclusive retinol delivery system has Ultra-Reti Microparticles that are one-millionth of the size, to penetrate faster with a higher loading capacity. Mild Serum retails for $124, the regular Serum for $152, and Concentrate for $175, from 1st September 2017.
At a makeup demo this morning with Dr Hauschka, watching a demonstration of natural to dramatic looks, and learning tips and tricks from their master makeup artist, Karim Sattar. Dr Hauschka makeup launched in 1967 and has been ahead of the market in natural and organic beauty, now a global trend. Their international celebrity makeup artist Karim Sattar visited New Zealand this month to speak to customers, Dr Haushka staff, and beauty media, about key makeup trends and how to wear them.
Above: a Spring makeup look from Dr Hauschka, with their Volume Mascara, lipliner pencil, and cleansing cream. For where to buy, see www.dr.hauschka.com
How sweet is this package from FABY Nails? The Spring Summer nail collection features pretty shades in good enough to eat colours. Not only do I love their shades, and the fact they last well on my nails, they are also cruelty free and 100% vegan, and free of harmful chemicals. They retail for $20 at selected stockists; see their website for info at faby.co.nz
Meet Mark, the new makeup line by AVON.
Mark by AVON is a vibrant and fun new makeup line from the worldwide beauty brand that's sold through reps, and now online too, at avon.co.nz. The cosmetics line includes face base, eyes, lips, and nail colours. Here are some of their products with prices to give you an idea of the range…Magix Face Primer $35.99, Air Matte Mousse Foundation $29.99, Be Blushed Cream Blush Stick $23.99, Perfect Eyebrow Kit $23.99, 18HR Artist Eyeshadow Ink $17.99, Big & False Lash Volume Mascara $23.99, Mega Effects Eye Liner $17.99, 3D Plumping Lipstick $23.99, Gel Shine Nail Enamel $17.99, Nail Style Studio Satin Matte Nail Enamel $17.99.
The incredible candle brand that keeps on stunning me each and every season with their delectable new scents in natural soy wax, Ecoya, has four new limited edition fragrances. The four new fragrances are inspired by Australasian summer in NZ, Australia, South Pacific islands, and Bali. They include South Pacific Summer, with fragrance of 'Salted Coconut & White Jasmine' pictured above; as well as Aquamarine & Sandalwood inspired by Australia, Coastal Kowhai & Fig inspired by New Zealand, and Sun-Kissed Lime & Sea Salt inspired by Bali. Madison Jar candles retail for $52.95 and Mini Diffuser $34.95. For where to buy see www.ecoya.co.nz
Above: Another one of the four Ecoya limited edition Australasia Summer fragrances. This is the New Zealand Summer candle by Ecoya in Coastal Kowhai & Fig. The candle wick trimmers are available for $19.99 from Ecoya. Trimming the wick after each burn will ensure a clean and even burn and will prevent the candle mushrooming.
I'm wearing this beautiful floral fragrance, Valentina Pink the new eau de parfum by Valentino. There are two fragrances available; the Valentina Pink pictured, and Valentina Blush in a paler pink bottle in the same design. The scents draw on the couture fashion house's traditionalism edged with experimentalism; the classic yet avant garde. Available 2nd October at Farmers, Smith & Caughey's, David Jones, and selected department stores. The fragrance is absolutely gorgeous; full of roses, with notes of strawberry. It retails for $152 for 50ml Eau De Parfum, and $202 for $80 ml EDP.
Megan Robinson
27th August 2017
Recommended