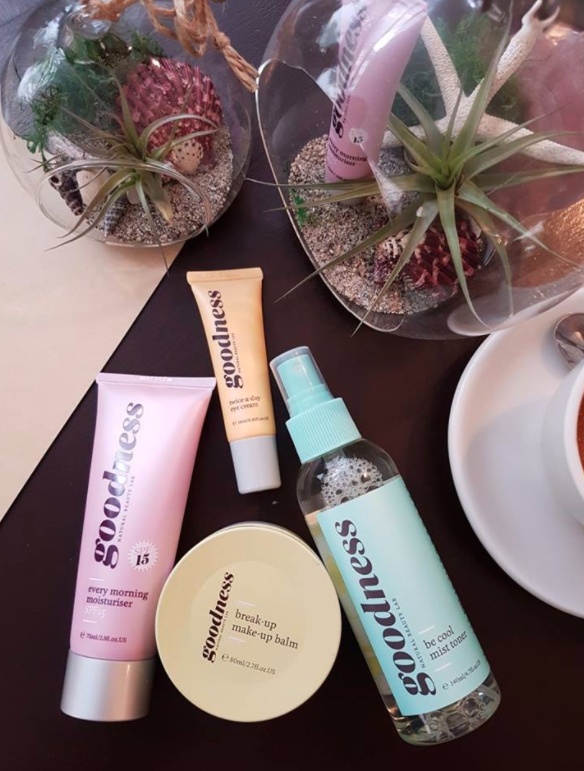 On My Desk: What's New in Beauty in February 2017
In this second instalment of On My Desk for 2017, we take a look at what's new and exciting in beauty to come across my path in February, from Goodness skincare, Dr Hauschka, Antipodes, Trilogy, Smashbox, Eau Thermale Avene, Elizabeth Arden, Smashbox, Weleda, Linden Leaves, Benefit, The Balm Cosmetics, Ecoya, and Lush. Of course, this month it is Valentines, so the month of love brought with it some divine deliveries of heart-shaped and rose-fragranced goodies.
At Chuffed Coffee in High Street, for a beauty editor brunch with Goodness Skincare, seeing their gorgeous new chia seed products: Every Morning Moisturiser SPF15 with chia seed oil and avocado oils ($19.99), Break-up Make-up Balm, Twice-a-Day Eye Cream, and Be Cool Mist Toner ($14.99) with aloe vera, coconut water, chia, and celery for a cooling and refreshing spritz. See www.goodnessproducts.com for stockists online and at supermarkets.
On Friday I headed into town for a brow tint and wax at the pretty Benefit Cosmetics counter at Smith and Caughey's with Benebabe Radika, and I love my new brows. Radika finished my brows with Gimme Brow and highlighted my brow bone with High Brow Glow pencil. I also used the excellent Boi-Ing concealer for the first time ever. See www.smithandcaugheys.co.nz/shop/brands/benefit to book and buy online.
Don't you just love getting old-fashioned invitations on card instead of email? I opened the mail today to receive a lovely invitation to attend the reveal of Elizabeth Arden's latest fragrance, White Tea, at True Food & Yoga, wearing white.
Speaking of Elizabeth Arden…These brushes certainly look amazing, but they have to be felt to be believed! New Elizabeth Arden brushes are out: dual end foundation brush $57 with a heart-shaped end for seamless blending, and all-over eyeshadow brush $33 for shading eyelids with shadow. Also pictured: Elizabeth Arden Custom Colour Foundation in my personal shade mixed for me at Elizabeth Arden Boutique Queen St Auckland. boutique.elizabetharden.co.nz
The brand new Green Tea fragrance by Elizabeth Arden is Green Tea Mimosa, a sparkling citrus floral with a refreshing, summery fragrance that is sure to give your senses and mood a lift! The Mimosa flower pom poms adorn the bottle in bright yellow and pink – so pretty. Prices are edt spray 50ml $45, edt spray 100ml $69, Honey Drops Body Cream $42 from Elizabeth Arden counters nationwide from 17th February 2017.
Incredibly vibrant must-have eyes for a colour pop, from Smashbox Cover Shot Eye Palettes, which come in 7 colour palettes. The Always On Gel Liner comes in 10 shades, and the Photo Finish Lid Primer in 4 shades, to keep it all there, all day. See smashboxcosmetics.co.nz for info and where to buy.
Ooh la la-  an invite to the 2017 Alliance Francaise French Film Festival opening, with Clos Henri wines, at Rialto cinemas, thanks to trop belle French skincare brand, Eau Thermale Avene. For festival schedule check out www.frenchfilmfestival.co.nz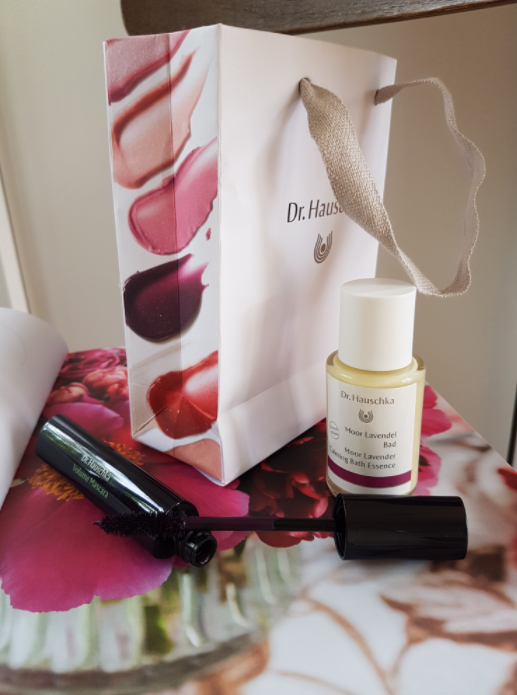 Read about Dr Hauschka's big relaunch of their makeup for their 50th anniversary, on threadnz.com now. Available from April 2017 with 82 products for eyes, lips and skin. Lipstick $50, foundation $63, eyeshadow $32, mascara $50. For more info and stockists, see www.dr.hauschka.com/en_NZ
The latest natural and vegetarian lipsticks from @antipodesskincare – Forest Berry Red, South Pacific Coral, and Oriental Bay Plum. Flower photo from Flowers At Home by Sandra Kaminski. Read about viral Youtuber Em Ford of the 'You Look Disgusting' video, and Antipodes on Threadnz.com here. 
Yum – deliciously pretty Valentine's iced heart cookies and a love heart balloon with the divine Pomegranate body products- totally spoiled by Weleda. Weleda Pomegranate Firming Face Serum, Creamy Body Wash, and Regenerating Body Lotion available at stockists on www.weleda.co.nz
Valentine's with love and unicorn horns! Love You, Love You Lots Soap $8.40, Unicorn Horn bubble bar $10.50, The Kiss Lip Scrub $11.50, Lover Lamp bath bomb $8.90, as well as various gift sets, at Lush cosmetics stores nationwide for a limited time, and follow them on Instagram at @lush_ausnz
My Valentine's lip from The Balm Cosmetics in Meet Matte Hughes matte liquid lipstick. Available nationwide at Life Pharmacy  from $33.95 for lip pencils and $39.99 for Meet Matte Hughes liquid lipstick in a variety of beautiful shades and this retro pin-up packaging. 
New Zealand-made fragranced body oil by Linden Leaves of Christchurch, with real roses in oil. Aromatherapy Synergy Body Oil contains freeze dried roses, organic rosehip and avocado oils, for scars, ageing skin, and nourishing skin. $59.99 at Linden Leaves, pharmacies, and department stores.
A 'Megan' water bottle to keep me hydrated! From the classic must-have skin hydrator, @trilogyproducts Vital Moisturising Cream. One of their original products, the classic moisturising cream now has Rosapene with rosehip oil, marula, and orange oil. $52.99 at www.trilogyproducts.com
The latest limited edition releases from Ecoya are out next month in these divine vintage hues of dusky pink and teal blue. Sweet strawberry & blackberry leaf and Crisp Aqua & Tiare Flower fragrances come in the Madison Jar $49.95 and Mini Reed Diffusers $29.95. See www.ecoya.com for stockists. 
Words and photos, Megan Robinson
17th February 2017
Recommended