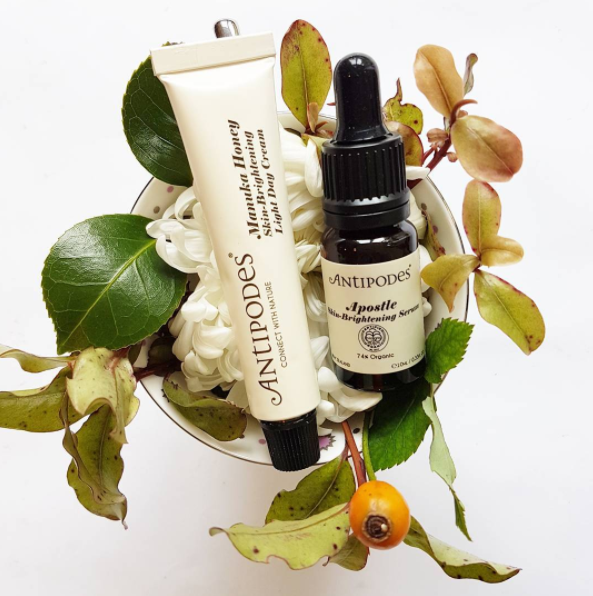 On My Desk: What's New in Beauty in July 2017
Here are some new beauty releases to come across my path in the month of July, in the this the latest 'On My Desk: What's New in Beauty' column for July 2017, including releases from Ultraceuticals, Tailor Skincare, Sukin, Estee Lauder, Trilogy, L'Occitane, Elizabeth Arden, Eau Thermale Avene, L'Oreal, Antipodes, Wet n Wild, Essano, Karen Murrell, and more…
Travelling? Ultraceuticals Skin Essentials travel kit is $105 for all five products in a metallic zip purse. This Dry/Normal skin kit includes Ultra Hydrating Milk Cleanser 50ml, Ultra Moisturiser Cream 25ml, Ultra B2 Hydrating Serum 10ml, Ultra Protective Antioxidant Complex 10ml, and Ultra UV Protective Daily Moisturiser SPF 30 Hydating 25 ml. Available at www.ultraceuticals.com
The courier delivered these beautiful flowers and Sukin skincare to my neighbour who luckily kindly brought them over. Sukin Botanical Hydration Booster ($39.99) is a 100% natural elixir, rich in argan oil and immortelle formulated to help improve skin elasticity and deliver bright, radiant skin. Ultra Hydrating Body Oil (formerly Wellbeing Body Oil) is a multi-use body oil ideal for massage or for use as a bath oil, post shaving or waxing and as a hand or foot treatment to soothe the skin, leaving no oily residue.
Tailor Skincare Mini Kit ($49) is a 3-step skin routine in a cute box perfect for travel or trying out this New Zealand-made, cruelty-free and natural skincare range from Wellington. This kit contains your daily skincare essentials in convenient travel sizes, perfect for trying Tailor or taking on your next adventure, with Tailor Moisture 20ml, a gentle morning and night moisturiser; Tailor Polish 20ml to use as a scrub or mask; and Tailor Oil Cleanse 30ml to gently remove makeup and oily build-up from the skin with antioxidant rich, cold pressed New Zealand grown hazelnut oil and organic coconut oil.
Above: a stunning delivery from the new Trilogy Sensitive range, with a Winter Booster salad and juice, a bouquet of flowers, all in a handwoven basket. Beautiful and good for you, just like Trilogy.
The new improved formula Trilogy Sensitive range has six very gentle products that are all natural and wonderfully effective- and perfect for those with sensitive skin. They contain delicate blends of pure plant oils and extracts, to soothe and reduce inflammation and strengthen the weakened skin barrier. The products contain hero ingredients antioxidant-rich maqui berry, soothing botanical complex SyriCalm® and Omega-7-rich sea buckthorn. Trilogy Sensitive is certified natural, fragrance free and dermatologically-tested. Products include Very Gentle Restoring Oil $43.99, Very Gentle Eye cream $44.99, Very Gentle Moisturing Cream $52.99, Very Gentle Calming Serum $44.99, Very Gentle Cleansing Cream $46.99, and Very Gentle Hydra Mask $44.99. Available at stockists nationwide. www.trilogyproducts.com
I've been wearing and enjoying this foundation and finding it excellent with great coverage and a dewy result. Revlon has released an exciting new anti-ageing makeup range for older skin, with four products, called YOUTH FX. The products are designed to target each area from the forehead to the neck for instant soft focus blur effects to give the illusion of younger looking skin. They include Fill + Blur Primer for Forehead, Face/Neck, and Concealer, all $32 each; and Fill + Blur Foundation priced at $45 each in 9 shades. On counter from 1st July 2017.
Brand new from Estee Lauder is Advanced Night Repair Eye Concentrate Matrix, designed for intensive overnight recovery and repair of the delicate eye area, the first area of the face to show signs of ageing. This product for the eyes complements their iconic Advanced Night Repair which is loved by many. Also pictured are some Estee Lauder faves; Sumptuous Knockout Mascara, Double Wear foundation, and Brow Multi-Tasker. Advanced Night Repair Eye Concentrate Matrix ($138) is on counter from 17th July.
Divine, indeed! New from L'Occitane en Provence comes Divine Cream, a luxurious, nourishing and anti-ageing face cream made from powerful natural botanicals and organic Immortelle flowers, known as the everlasting flowers, which never fade, even once picked. Key ingredients include organic Immortelle and myrtle essential oils, in a formulation to regenerate ageing skin by stimulating the production of collagens and improve skin's microcirculation. It has five strengths: to intensely nourish, visibly reduce the appearance of wrinkles by 24% in tests, give a feeling of firmer (91%) and more elastic (95%) skin, and reduce the appearance of uneven skin tone. It feels rich and luxurious and instantly nourishing, and retails for $179 for 50mls. For stockists and more info, see nz.loccitane.com
Here's a new take on the world-famous classic, Ceramide capsules – Elizabeth Arden has created Ceramide Capsules for the eyes. The new Advanced Ceramide Capsules Daily Youth Restoring Eye Serum follows the release earlier this year of Advanced Ceramide Daily Youth Restoring Serum. This next generation product has been formulated for the delicate eye area by adding nine new ingredients to fight ageing around the eyes with a serum that strengthens the skin's natural barrier and moisturises the surface of the skin to reduce fine lines and wrinkles. It is available from 31 July 2017 retailing at $115 for 60 capsules, from Elizabeth Arden counters.
Wow, I LOVE this winter hydration pack from Eau Thermale Avene with  some winter-beating treats: a hand-crocheted scarf by Ruby & George to keep me warm, tickets to the film 'Paris Can Wait' to get me dreaming about France, and Eau Thermale Avene TriXera to moisturise my skin. The Trixera Nutrition range gently nourishes even the most sensitive skin to soothe irritation and tightness. Nutri-Fluid Cleanser ($39.99) may be used on face and body to leave skin soft and protected, and Nutri-Fluid Lotion ($43.99) for face and body moisturises with hypoallergenic protection. For stockists and more info see www.eau-thermale-avene.co.nz
A personalised flannel with my initials has arrived from L'Oréal with their new Pure Clay masks. The face masks come in three varieties: Detoxifying Gel Mask in charcoal, a Purifying Cream Mask in green, and an Exfoliating Scrub in red clay.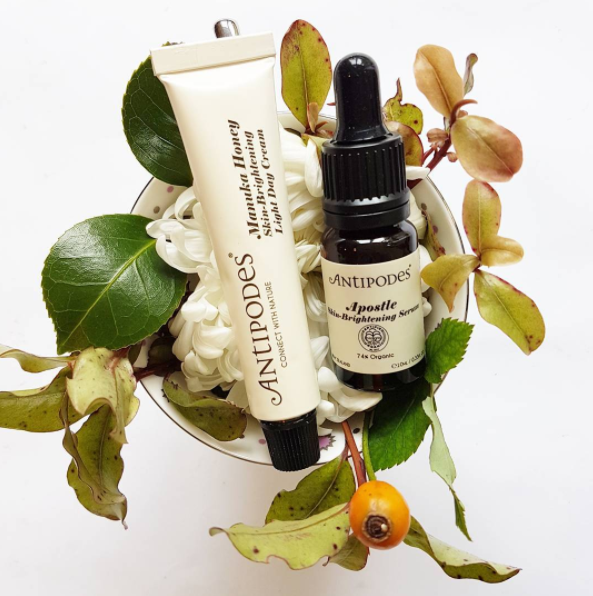 Antipodes gorgeous natural skincare; made in New Zealand from active botanicals and cruelty-free. These mini kits are perfect for travel or trying out the products in a smaller size, for $19.99. This Skin Brightening Minis kit contains small sizes of Manuka Honey Skin Brightening Day Cream and Apostle Skin Brightening Serum. For where to buy, see antipodesnature.com
Wet n Wild has been around since 1979 and has just landed in New Zealand, retailing at Farmers for $2.99 to $13.99 an item available from 1st August. Here's some of the huge range that includes on-trend illuminators, liquid liners, and makeup fixing sprays as well as the basics for eyes, lips, cheeks and brows.
Ooh what an adorable crate of Essano products, little bird macaroons, and herbal tea. Essano has very reasonably-priced, natural skincare products, made in Auckland and easily available at Countdown, New World, and selected pharmacies. For more info and stockists see essano.co.nz
Revealed: the 5 new Karen Murrell lipstick shades, at Karen's first ever media event which was held this month at Pilkingtons and featured a take-home florist bar that was a hge hit with guests. The long-awaited five new shades include a warm tone red, a berry, a rose, and two metallic shades you can wear by themselves, or layer over your favourite lipstick.
A warm red lipstick, Fiery Ruby, in the brand new embossed Karen Murrell lipstick cases, available 1st August.
Megan Robinson
31st July 2017
Recommended