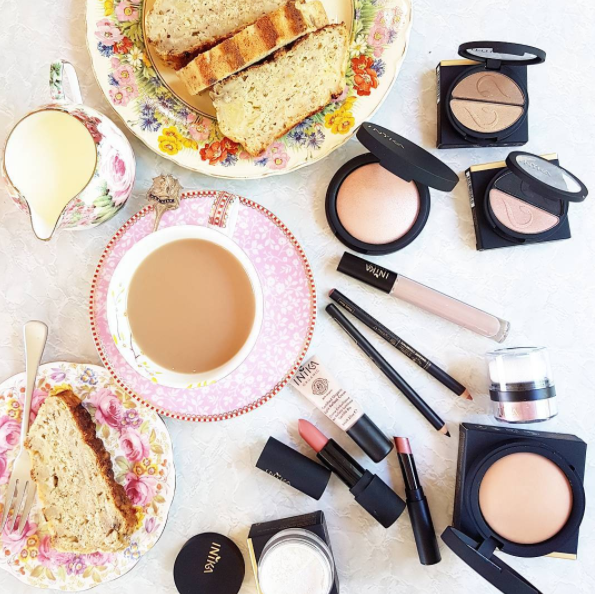 On My Desk: What's New in Beauty in March 2017
On My Desk: What's New in Beauty in March 2017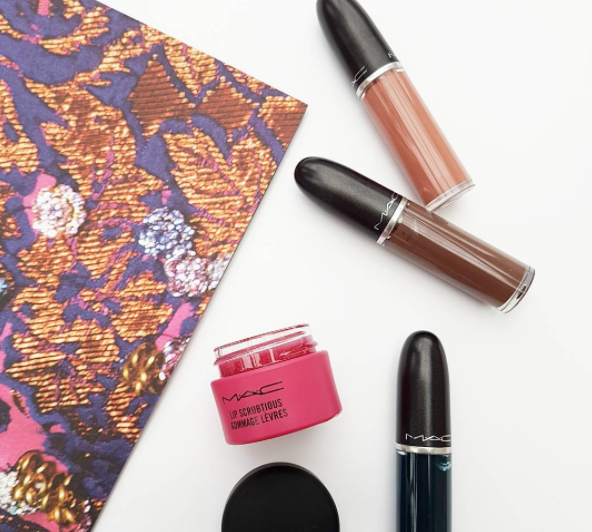 NEW from MAC comes additional Retromatte lip colours, and Lip Scrubtious lip scrub colour. When you wear a matte lipcolur, you do need super smooth lips for a clean, smooth finish. Apply the Lip Scrubtious – which smells AMAZING – first, then slick up these liquid lipsticks. Their formula is much improved so it isn't drying, and it is much more comfortable to wear.
Above: I'm wearing the new MAC retro matte lip colour in Burnt Spice; a very wearable dusky nude pink that's a bit like Velvet Teddy and very very long wearing. I even ate fried chicken and it stayed on. I know. Lipstick gifted for review, dress I bought at ZARA Sylvia Park.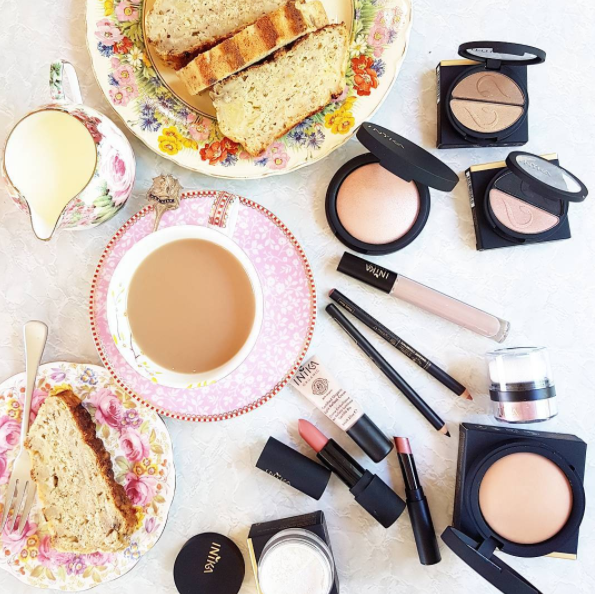 The lovely Sam has brought over the new INIKA range to my house for morning tea so I shall be playing with the brand new vegan cruelty free organic makeup collection. Stand by for a feature on INIKIA cosmetics soon!
Here are the latest L'Oréal beauty, skincare, and haircare releases from the goody bag at the L'Oréal Influencers Night Out party held at James bar in Parnell for drinks with only media – Instagrammers, Youtubers, and bloggers. Some of the new release highlights include Pure Clay Masks with charcoal, eucalyptus and red algae ($24.99); Elvive with Extraordinary Clay for purified roots and hydrated ends ($6.59); Infallible Total Cover Foundation for 24hour coverage for the face and body for covering scars, tattoos and birthmarks ($37.99);  Infallible Total Cover Concealer Palette ($26.99); True Match Highlighter Powder ($19.99); Feline By Volume Million Lashes mascara ($29.99); Colour Riche La Palette Ombree ($35.99); Brow Artist Maker ($22.99); Infallible Sexy Balm for lips ($17.99); and Le Vernis A L'Huile nail polish By Colour Riche ($11.99).
Colour is back! The new season from L'Oréal Paris including this colourful eyeshadow palette – the Colour Riche La Palette Ombree ($35.99) and pastel Le Vernis A L'Huile By Colour Riche nail polish in a pretty faceted bottle($11.99), and Brow Artist Maker ($22.99) brow pencil. 
I wish you could smell this handmade rose candle by Abbey Rose Candles, using botanical essential oils and pure soya wax. Available from www.abbeyrosecandles.co.nz. Rose quartz necklace by Miglio Jewellery. 
The Aromatherapy Co is under new ownership, and its chic Naturals range has a new look, and four fragrances inspired by New Zealand nature: Alpine, Coast, Forest, and River.
The FABY nail colour winter collection, entitled Posh, is inspired by movie star icons and retails for $30 for 4 from salons and www.faby.co.nz
My 7yo may actually pass out with excitement at this…Disney have sent the range of Beauty and the Beast nailpolish lacquer by Morgan Taylor for us to play with! I can't decide which shade to try first. I'm singing "Nail, I mean Tale, as old as time" right now, ha ha!
Hop into LUSH cosmetics for these Easter releases instore 23rd March to 17th April! The ginormous carrot case ($33.50) contains the 3 bath bombs pictured, and the pink and yellow Which Came First egg is sold separately for $10.50.
You can also buy the gold glittery Golden Egg separately for $9.50, the blue Chick n Mix for $13.90, and the pink carrot in a bunch of 3, for $12.50.
So French! A beautiful invitation, with gold painted macarons, to the launch of L'Occitane perfume Terre de Lumiere.
Inspired by spring blossoms comes Britney Spears' latest fragrance, Fantasy 'IN BLOOM'. After having just gone to Japan earlier this month, I instantly was attracted to the cherry blossom design on this pretty pink bottle. It's a fresh floral scent that opens with berries and mandarin and cherry blossom, a middle of osmanthus, jasmine and tuberose, and a base of sandalwood, amber and vanilla. Available in April 2017 at Farmers select pharmacies and department stores for $35 for 30ml and $46 for 50ml. 
Inner city life… protect your skin and eyes from environmental factors. Dermalogica Daily Superfoliant to smooth away skin-ageing pollutants with a highly active powder re-surfacer, eyewear by Persol from Parker and Co, Swarovski crystal necklace by Miglio Jewellery. 
For those concerned about biochemical and environmental triggers which accelerate skin ageing, this latest from Dermalogica brings the goods. It has a powder formula you activate upon contact with water, putting half a teaspoon in your palm and rub to form a creamy paste. Avoid the eye area and massage gently on the face for one minute and rinse off with warm water. This activation process releases enzymes, AHAs, and anti-pollution technology including Binchotan Charcoal to purify the skin and absorb environmental toxins while Niacinamide, Red Algae and Tara Fruit Extract help guard against pollution. $30 for 13g and $109 for 57g.
Megan Robinson
21st March 2017
Recommended