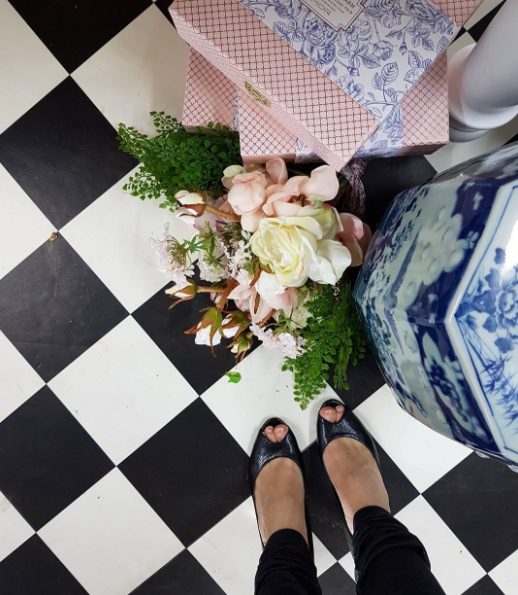 On My Desk: What's New in Beauty – September 2017
Here are some new beauty releases to come across my path in the month of September, in the this the latest 'On My Desk: What's New in Beauty' column for September 2017, including releases from Benefit Cosmetics, Essie, Ecoya, Goldwell, Clarins, VOYA, Molton Brown, MOR, Schwarzkopf, Jean Paul Gaultier fragrance, LUSH, and Antipodes.
Such a fun night celebrating 15 years of Trilogy skincare and launching the new No.15 facial oil at a party with fab guests, beautiful food and wine, and music performed by Anna Coddington. This birthday cake was even in the goody bag along with this art print.
Oh my goodness the flowers at the Ecoya Christmas Launch today! You should've smelt it in there! The fragrances for this Christmas 2017 are Fresh Pine- forest woods with citrus and rosewood; Summer Spritz – fresh and fruity notes; and Dark Chocolate Meringue & Raspberry – with almond, chocolate, vanilla, red raspberry and caramel. The Grand Madison jar candle is $119.95, Madison Jar $54.95, Pocket Madison jar candle $19.95, Mini Diffuser $34.95, Bon Bon Mini Hand Cream Gift Set $39.95, Bathroom Gift Set $79.95, Large French Pear Gift Set $119.95, Mini Diffuser Gift Set $84.95, and Mini Madison Gift Set $59.95. For stockists see www.ecoya.com
The latest addition to the Benefit Cosmetics brow family is Foolproof Brow Powder; a velvety smooth brow powder with 2 shades for a softer, more natural look. I'm a big fan of brow powder to avoid a line that's too sharp when I want a natural look. Foolproof Brow Powder comes in 3 shades: light, medium and deep, and promises buildable, smudge-proof long-wearing colour for eyebrows. It's $45 and available now at Benefit counters at www.benefitcosmetics.com
Treat yourself. Essie new nail strengthening colours in 5 shades of their Treat Love & Colour collection. They give a sheer wash of colour whilst treating nail problems, to strengthen and condition nails in between manicures.
This beautiful spring bouquet of pink tulips arrived with the brand new Goldwell Color shampoo and conditioner and hair treatment; Dualsenses. Available at salons throughout New Zealand. Rose quartz jewellery by Miglio Jewellery.
At a beautiful lunch today at Sofitel Auckland with Clarins Paris launching their latest and greatest- the eighth- incarnation of theory iconic 30 year old classic, Clarins Double Serum. Its release in 1985 broke the skincare dilemma of combining oil and water – by bringing together the best water-soluble and oil-soluble ingredients – hence the name, Double Serum. The powerfully effective and much-loved skincare product targets signs of ageing and helps stimulate the skin's 5 vital functions: regeneration, oxygenation, nutrition, hydration and protection, deep in the heart of cells. Double Serum is now on counter priced at $120 for 30ml and $170 for 50ml.
A beautiful collection of Molton Brown hand wash and body lotions, based around patisserie flavours. The limited edition Gourmand Collection has been developed with Executive Pastry Chef Sarah Barber to create the 3 fragrances celebrating English heritage with scents evocative of various locations: Comice Pear & Wild Honey (London via Yorkshire), Vanilla & Violet Flower London via Gloucestershire), and Rhubarb & Rose (London via Somerset). They're available in New Zealand at the Molton Brown counter in Smith and Caughey's, priced from $49 for Bath & Shower Gel, and $55 for Body Lotion. The Gourmand Collections will also be available in limited edition boxed gift sets: The Perfect Picnic Bathing & Hand Gift Trio $125, and Spring Indulgences Hand Cream Gift Trio $55. For more information see www.moltonbrown.com.au
VOYA is a luxury organic seaweed-based skincare range from Ireland, now available in New Zealand. I've heard about it before online, but this was my first time to lay hands on it and it's gorgeous. The brand is a decade old now and at the head of its game in sustainable, certified organic skincare from the sea. Founded by the Walton family in West Ireland, VOYA is actually the world's first organic seaweed skincare, with over 50 products now in the range. Seaweed is well-known now for anti-ageing, but is also used for psoriasis, eczema, dermatitis, and acne. The company is cruelty-free and biodegradable, and supports Seal Rescue Ireland by adopting one seal each month. Pictured above: VOYA Me Time Soothing Moisturiser and Dream Creme Restorative Night Creme and Totally Balmy Cleansing Balm – all with palmarosa & vanilla, Porefection Clarifying Gel Toner with orange and neroli, and Balmelicious vanilla & peppermint lip balm. For more information and where to buy see www.voya.nz
And because there were SO MANY releases from Elizabeth Arden, I made a separate page for them, here Fresh New Beauty From Elizabeth Arden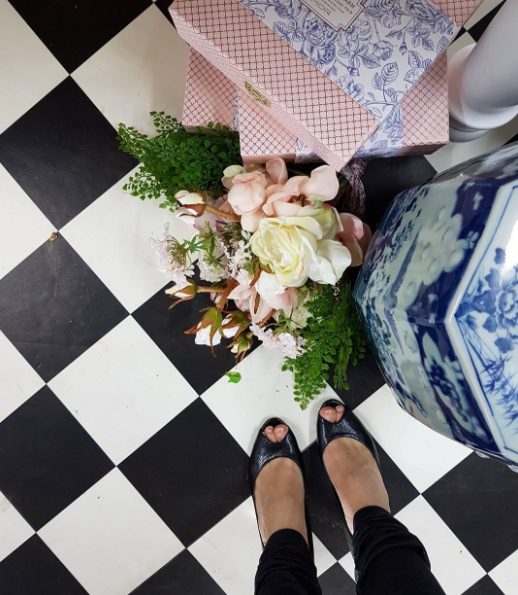 Beautiful bouquets everywhere by Cartier for Flowers at MOR Xmas launch. MOR has renamed from MOR Cosmetics to MOR Boutique, reflecting its range of body and home products, which include lotions and candles. These are perfect for Christmas gifting with gorgeously wrapped and boxed gifts with pretty products inside – not just a pretty box that gets thrown away. In fact, MOR prides itself on its packaging being so pretty that you can keep the boxes and reuse it as a jewellery box on your dresser.
The greys you don't want to cover up…vs the greys you do. This clever little fellow is a root touch up spray from Schwarzkopf that comes in 4 shades to spray on roots to cover regrowth in between hair colours and it washes out with shampoo.
Have you tried Clarins Instant Light? It's a complexion base I wear under makeup for a dewy illuminated effect. This is one of my daily beauty faves, and the tube on the right is completely empty.
OMG the pink velvet tin can packaging for Jean Paul Gaultier fragrance Scandal is completely stunning not to mention, the sexy pair of legs absent from the iconic corset perfume bottle are on the lid. The fragrance has notes of gardenia and blood orange with a seductive heart of honey and patchouli. The feminine and chic EDP retails for $115 for 30ml, $148 for 50ml, and $193 for 80ml on counters from 22nd October 2017 at Farmers, David Jones, Smith & Caughey's and selected department stores. It's sure to become another cult classic like its famous corset predecessor.
Cute stickers and LUSH treats creepin it real! The LUSH Fresh Handmade Cosmetics limited edition for Halloween #lushoween is available now. They are made without synthetic preservatives and have reduced packaging, for the environment. Pictured here from top is Hedgewitch Soap $8.50 100g, Goth Fairy Sparkle Bar $12.90 each, The Pumpkin King Bath Bomb $8.90 each, Bewitched cat face Bubble Bar $10.90 each, Sparkly Pumpkin Bubble Bar $9.90 each, Ectoplasm Jelly Bomb purple/yellow $9.90 each, Lord of Misrule Bath Bomb green $8.90 each.
Pinks and corals for a New Zealand Spring from Antipodes Skincare. Moisture Boost Natural Lipsticks in Golden Bay Nectar, Dragon Fruit Pink, and Dusky Sound Pink. Available at Farmers, Health 2000, Unichem, Life, and more; see Antipodesnature.com
Words and all photography by Megan Robinson
30th September 2017
Recommended