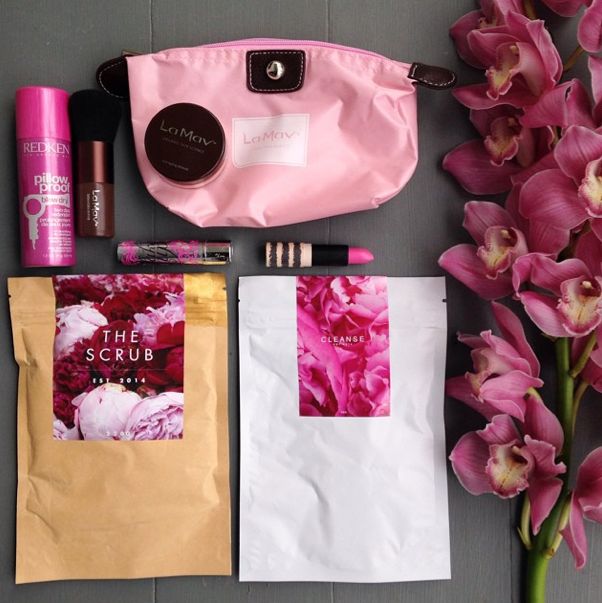 Pretty in Pink
Pretty in Pink: Products we're loving!

Fat2FitNZ
Coffee scrub is something that – like glitter in my daughter's kindy artwork – is really messy but has great benefits if you can ignore the mess and clean up. Like glitter, coffee scrubs in general go literally everywhere in the shower, and like glitter it gives you immense joy after you've used it – but unlike glitter, you don't have to vacuum coffee scrub up, cos it just goes down the plughole. So, all that aside, what does this Coffee Scrub from Fat2FitNZ actually do, you ask? It cleanses skin leaving it feeling smooth and delicious – and smells divine – and is famed for its role in removing stretch marks. It's in my shower now, and smells of Arabica beans, and is hydrating to skin with a base of olive oil and the sea salt and brown sugar helps exfoliate. The owner of The Scrub NZ, Sera Lilly, is of course well-known for her bridal brand which sadly has closed and we missed at the weddings show at NZ Fashion Week this year. I'll always remember Sera sending two brides together down the runway and those adorable children of her dressed as bridesmaids. Now, she has lots a LOT of weight – we're talking a lot – and she has 15,000 Facebook fans on her page Fat2FitNZ and is now selling these related health and beauty products: coffee scrub $19.95 and cleanse tea $24.95. The Cleanse Tea NZ is a natural loose tea to reduce bloating and aid digestion, with senna leaf, dandelion leaf, hawthorn, gingko bilboa, raspberry leaf, and fennel. I'm having a cup of it RIGHT NOW as I type. Both are available from Sera Lilly's www.Fat2FitNZ.co.nz

La Mav organic mineral foundation
La Mav is a brand I'm familiar with for its beautiful natural-yet-powerful skincare developed by its scientific owner whom I met in Auckland two years back. The BB Cream which I have been wearing for two weeks now as my day-to-day light cover makeup was the first cosmetic item I've tried from the brand. Now, they have released La Mav organic mineral foundation $44.95 and a vegan kabuki brush $39.95. The loose powder foundation with Vitamin C and rosehip oil also has a natural sunblock of SPF15 and can be layered over the BB cream for a fuller coverage. I have the Light shade but it comes in 4 shades. I liked that the packaging has an open and close lid over the holes so you can easily carry it in your purse. It is free of talc, and is cruelty-free, and is available from selected pharmacies and Flaunt Store at 35 Jervois Road Ponsonby. For more info see their website at www.lamav.com 
Topshop lipstick
Topshop lipstick in 'Tease' is a shade I bought at Topshop at The Department Store ages ago pretty much when they first got the makeup range in. I was trying to match a similar shade to MAC's candy pink shade ('Snob' I think from memory) and it's a really cute colour. Available for $20 at Karen Walker at The Department Store at 20 Northcroft St Takapuna Auckland.

Benefit Fake Up
Benefit Fake Up is a clever wee concealer that has a core of clear Vitamin E stick surrounded by concealer that blends really easily and doesn't crease thanks to the Vitamin E hydrating the skin. I wear shade 02 Medium and find that blends very well on my light-beige-nude skintone. I apply foundation over it, but I don't tend to put foundation under my eye area, so this covers that gap perfectly. Available for $45 at Benefit counters at Smith & Caugheys Queen St, Newmarket, Auckland Airport, and online at www.smithandcaugheys.co.nz

Redken Pillow Proof
Redken Pillow Proof blowdry two day extender is a spray-on powder to absorb oil and thus extend the life of your blowdry, or your hairstyle. Moisture is the enemy of the blowdry and this little pink friend in a can lets me get 5 days out of a salon visit. I spray it on the roots and it takes away the oily look. It's about $30 for the large size (pictured is my travel size) from Redken salons including Blaze and Pony Professionel.

Megan Robinson
11th September 2014
Recommended