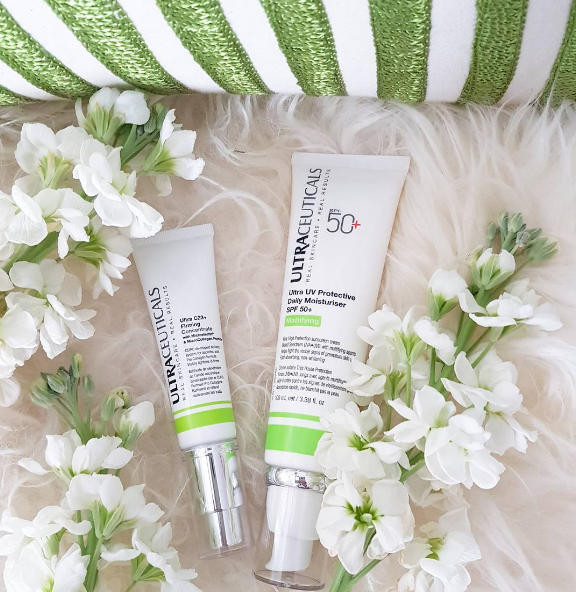 Skin Pigmentation? Solutions from Ultraceuticals
With summer drawing to a close, it's time to start thinking about reversing any damage done in the summer sun. It's common for people to notice an increase in visible pigmentation over the summer months.
What is pigmentation?
Pigmentation is a term that is used to refer to skin concerns such as; dark spots, skin discolouration, blotchiness, ephelides (freckles) and melasma. This darkening of the skin occurs when an excess of melanin, the brown pigment that produces normal skin colour, forms deposits in the skin, often clustering in a disorderly way to form patchy skin tone or dark spots.
When exposed to UV rays from the sun, the melanin in our skin goes darker in an attempt to protect the skin cells' DNA. We commonly refer to this as a 'tan', but it is an ineffective way to prevent sun damage, as the UV exposure creates more damage to the skin cells than what the melanin can prevent.
With repeated sun damage over time, the DNA of the damaged cells become distorted, leading to abnormal pigmentation – brownish patches on the skin which can progress to 'solar keratoses' or 'sun spots', and could eventually lead to skin cancer.
Treatment of pigmentation 
Before treating pigmentation and hyperpigmentation, it is crucial to know the varying triggers that may be further impacting the condition. Certain medications and medical conditions can contribute to the pigment along with sun exposure, free radical damage, hormones and stress.
Tracey Beeby, global skin educator for Ultraceuticals explains that treatment time depends on the varying triggers, the cause and how long the pigment has been present.
According to Beeby; depending on the skin, an Ultraceuticals skin consultant would devise a programme that should include a broad spectrum SPF50+ sunscreen from the Ultra UV Protective Daily Moisturiser range and the award winning Ultra Brightening Serum, a non-prescriptive alternative to hydroquinone.
Thereafter, a product from the Ultra A Skin Perfecting range might be introduced, and the gradual introduction of an Ultra C range product to complete the routine.
Ultra UV Protective Daily Moisturiser SPF 50+ 100ml $84
This broad spectrum SPF 50+ daily moisturiser (free of nanoparticles) offers triple protection for normal, dry or oily skin, especially skin that
is sensitive or prone to sun intolerance. This light-weight fast-absorbing, hydrating formula protects from harmful UVA & UVB rays to help reduce the signs of premature skin ageing.
Ultra Brightening Serum 30ml $169
This award winning, 5 in 1 action serum helps reduce the appearance of mild to advanced hyperpigmentation like never before. The unique formula features proven skin brighteners Oxyresveratrol, Bearberry extract and Melissa Officinalis with powerful exfoliants (AHAs, BHA). Under medically supervised clinical testing it has been shown to visibly diminish hyperpigmentation and enhance skin luminosity and clarity.
In clinic treatments 
Reduction in pigmentation varies depending on the skins triggers. Beeby advises that significant results should be visible within 90 days of commencing a prescribed homecare program combined with treatments at an Ultraceuticals partner skin clinic. Possible clinic treatments include a Brightening Accelerator Mask (Radiance Plus+) – a radiance-boosting mask combining a powerful blend of eight skin brightening agents to rapidly reduce the appearance of hyperpigmentation, dark spots and blotchiness to instantly reveal a luminous complexion. Other treatments may include skin peels and treatments should be performed no more frequently than every two weeks across a prescribed 90 day programme.
How to book
Ultraceuticals are certified cruelty free, containing NO harsh chemicals, propylene glycol, parabens, synthetic dyes or synthetic fragrances. Ultraceuticals skin consultants are located throughout New Zealand. Partner beauty clinics can be found on the Ultraceuticals website.
Ultraceuticals social media at Instagram – @Ultraceuticals | Facebook – @Ultraceuticals | #Ultraceuticals
Website – www.ultraceuticals.com/nz/
17th March 2017
Recommended