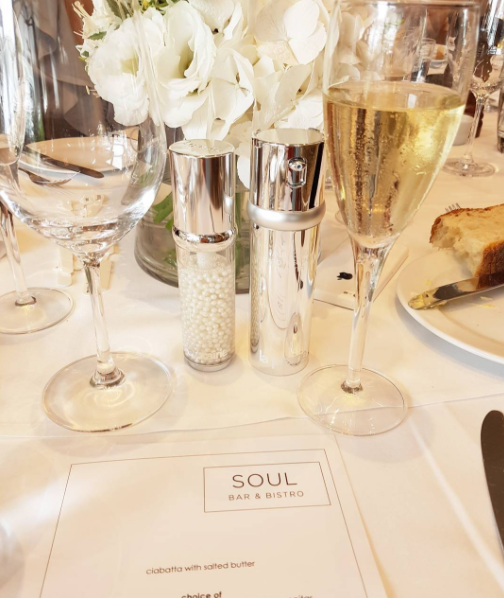 The latest in beauty and anti-aging skincare from La Prairie
La Prairie held an elegant meeting beauty media over lunch at Soul bar and bistro last week. The Swiss company famous for its beautiful skin caviar range now has more anti-aging strings to its bow, with the launch of Anti-Aging Rapid Response Booster, White Caviar Illuminating Pearl Infusion, and Line Interception Power Duo.
Above: The latest in beauty and anti-aging skincare from La Prairie.
Above: At Soul bar to learn about La Prairie's latest releases.
Let's look at the skincare…
In a hurry? Anti-Aging Rapid Response Booster declares "two short weeks to visibly younger looking skin." This is La Prairie's most advanced EVER accelerated wrinkle interceptor. Its targeted delivery system delivers powerful ingredients to the cells responsible for producing elastin and collagen, to improve the appearance of wrinkles on the skin. 80% of ageing signs on the skin come from environmental elements so La Prarie's scientists have developed formulas to plump and fill these lines and wrinkles.
Seeking the path to enlightenment? Your skin may well find it here, with White Caviar Illuminating Pearl Infusion, to lighten and firm skin back to its youthful look and feel. It targets environmental damage such as redness, age spots, and dull skin, with a scientifically-developed brightening formulation to restore luminosity in four weeks. The concentrated formula includes golden caviar extract, and a stable, oil-soluble form of Vitamin C, combined with Diglucosyl Gallic Acid (DGA). Apply a pump morning and night after cleansing and toning using the fingertips gently over the face avoiding the eye area. After it has completely absorbed, apply White Caviar Illuminating Moisturizing Cream.
Even the packaging is a visually stunning piece of Swiss design. My fave of the product line-up (see what I did there?) is Line Interception Power Duo. This two-tone vessel has an incredibly clever design, with a day cream in a sleek, silver side on the left and a night cream in a matte black side on the right in two separate chambers. When you press the dispenser, you get an accurately measured amount to use, and the anti-leakage packaging makes it ideal for travel as it won't spill a precious drop. Just as well, as you want it all for your skin!
Prices
Anti-Aging Rapid Response Booster NZ$ 430 50ml 
White Caviar Illuminating Pearl Infusion NZ$ 725 30ml 
Line Interception Power Duo NZ$ 490 2x25ml 
Megan Robinson
1st April 2017
Recommended