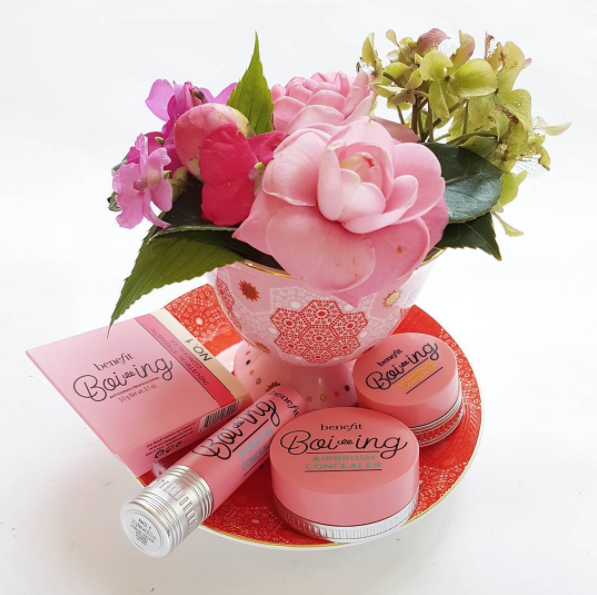 The perfect cover: Boi-ing concealer by Benefit Cosmetics
Finding the perfect concealer coverage is a cup of tea, thanks to Boi-ing concealer range by Benefit Cosmetics. I may have found the perfect cover, with the range of low, medium, and high coverage products to conceal imperfections and create a flawless finish.
The Boi-ing range
Been studying hard to get that A, but got a spot instead? Have no fear, Boi-ing Industrial Strength Concealer is here! This full coverage, matte finish concealer is perfect for dark circles, discolouration, and blemishes. A dab a day will keep the flaws hidden away.
Mother knows best. Especially when it comes to handling messy situations. NEW Boi-ing Airbrush Concealer is perfect for hiding unevenness, fine lines & under-eye circles. Its soft-focus, lightweight formula melts on seamlessly for a flawless finish.
Seize the day and leave dark circles behind. Boi-ing brightening concealer has a creamy colour-correcting formula with a radiant finish to perk up those tired eyes and conceal imperfections. So hit that after party – but only after a dab of boi-ing.
Don't let airlines exaggerate your fine lines. With Vitamin E & apple seed extract, Boi-ing hydrating concealer diffuses dark shadows and fine lines, keeping skin hydrated with a natural finish! So relax, you've arrived. Destination? Perfection!
Below: the beauty media away-day with Benefit Boi-ing 
Pretty in pink: beauty bloggers in Benefit 'Bene-babes' satin jackets, on today's field trip to Jump where we got our bounce on to celebrate the launch of Boi-ing concealer.
Above: Having fun with beauty bloggers at Jump for the Benefit Cosmetics Boi-ing concealer launch.
After exercising at JUMP, we caught the school bus back to Benefit Boutique in Ponsonby Road for refreshments, followed by a live demo tutorial in the various Boi-ing products on a model.
Above: the delicious snack table at Benefit Cosmetics.
Megan Robinson
23rd August 2017
Recommended