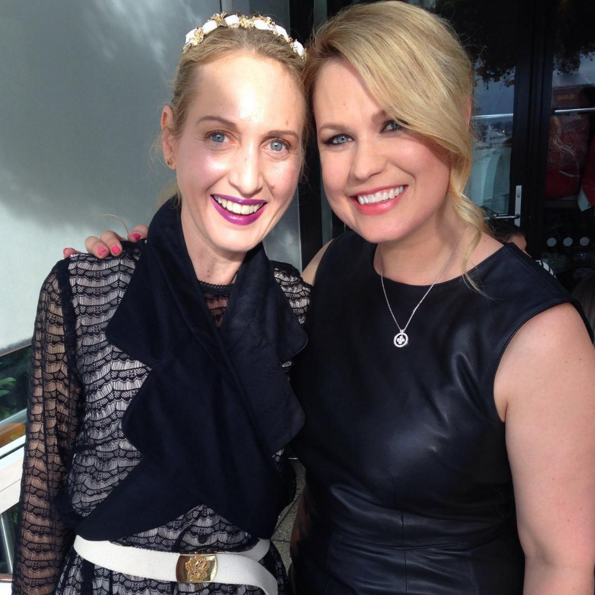 The Week on Thread Episode 25
The Week on Thread Episode 25 featuring highlights of my week in pictures including fashion, food and beauty from Kathryn Wilson Sole to Soul, Cotton On Group event, this week's Empties, Diabetes Action Month with FitBit, RUBY AW16 showcase, Project Botanicals pop-up bar for Bombay Sapphire, plus I get to play with Instax, read new kids book Lulu & Henry's ABC, and Star Wars is coming…
KATHRYN WILSON SOLE TO SOUL
At Soul Bar (soulbar.co.nz) for the fabulously-titled 'Sole to Soul' Kathryn Wilson fashion show, enjoying a special cocktail of Pink Pumps Belvedere vodka, and Veuve Clicquot, with the first of three courses. Intro image above: with the beautiful Kathryn Wilson, photo by Steven Fernandez. 
Models line up on the waterfront podium at the finale of the catwalk for Kathryn Wilson Spring Summer 2015/16 in nautical outfits to complement the footwear for men and women. For more info and where to buy see www.kathrynwilson.com
COTTON ON GROUP
After the Kathryn Wilson show of hot footwear, I hot-footed it up Queen Street myself, to the Cotton On mega-store to hear about their exciting plans for New Zealand. The Cotton On Group (which includes Cotton On, Cotton On Kids, Cotton On Body, Supre, Rubi shoes, Factorie, and Typo) speakers said tonight that they're investing in NZ, with 1,000 new employees, a 50% increase in store footprint, and a NZ office in Parnell.
THIS WEEK'S EMPTIES 
This week's Empties post features Ecostore Body Wash, Tsuno – bamboo pads that empower women's charities, Smashbox Lipgloss in Raw, Clarins Everlasting Foundation (ironic name), Kevin Murphy Powder Puff – I adore this product and it looks like a cute piglet for your hair, Snowberry SPF30 sunscreen – high protection without nasties, and I'm loving Liberty Book of Home Sewing from Quadrille Publishing.
GIRL ONLINE ON TOUR 
So looking forward to reading Girl Online On Tour by Zoe Sugg aka beauty YouTube star, Zoella. Here's the synopsis: It's set around a young woman, Penny, whose bags are packed to join Noah on his European music tour with her rock-god-tastic boyfriend. But, between Noah's jam-packed schedule, less-than-welcoming bandmates and threatening messages from jealous fans, Penny wonders whether she's really cut out for life on tour. She can't help but miss her family, her best friend Elliot . . . and her blog, Girl Online. Can Penny learn to balance life and love on the road, or will she lose everything in pursuit of the perfect summer? This romantic novel is out now for $26 from Penguin Random House.
DIABETES ACTION MONTH & FITBIT LUNCH 
I went into Main Course cookery school, for the Diabetes action month event with FitBit, to learn about healthy food and lifestyles. A quarter million NZers have diabetes. Smoothies should really be mostly veg to reduce sugar. Pictured: This is a good alternative to lettuce; a slaw using red cabbage.
With Art Green, hearing about his (very competitive!) use of his FitBit, at the Diabetes Action Month event.
RUBY & LIAM  
Fashion media got to dress up the models, at the RUBY & Liam Pre-Fall + Autumn 16 Press Viewing in the RUBY offices this week. I particularly loved this gorgeous black evening gown with organza floaty layers, and this mustard dress that features an incredible crossover detailing on the back. These will be in stores in 2016 so here's a sneak peak. For stockists see rubynz.com
PROJECT BOTANICALS 
At Bombay Sapphire Project Botanicals pop up bar at JAMES bar in Parnell having gin cocktails and "crayfish sausage rolls" by Mint Kitchen. Delicious.
Below: a beautiful 'chandelier' of suspended flowers on white ribbons, at Project Botanicals pop-up bar for Bombay Sapphire; would be a lovely idea at a wedding or party.
STAR WARS 
Ooh this Stormtrooper and Star Wars flask have arrived announcing it's just one month until Star Wars The Force Awakens opens in cinemas in December 17th!
INSTAX
How beautiful is this coral Instax camera? Instax NZ have provided me with it to take some snaps as part of their Instax Stories project, which you can view on Instagram at the hashtag #storiesofInstax. Nailpolish is 'Peach Side Babe' by Essie, lip colour is 'Coral Dahlia' by Clarins. Flowers from my mother's garden.
LULU & HENRY'S ABC
This beautiful ABC book is now out from our friend Alice Yoon, a graduate of Elam Fine Arts, starring these Dear Little Dot (@dearlittledot on Instagram) characters she designed, Lulu and Henry. The first batch sold out, get yours now at www.dearlittledot.com
Megan Robinson
16th November 2016
Recommended