Thread 2015 Best of Beauty Awards
Drum roll please for these much-loved and oft-lauded beauty products. Welcome to my end-of-year Editor's Picks summary known as the Thread 2015 Best of Beauty Awards. I've been doing this column for a few years now; you can read the past columns for 2012, 2013, and 2014.
Like I've said before, I adore trying new products. Here are the ones I use myself and enjoy; by no means a definitive list – there are many more I like, but these are my faves. I'll do it again next year and let you know what new things I've found and love, and what I would stick with and not let go.
These beauty products featured below I can vouch for as having used personally and that I rate them highly. Mostly they are PR samples that have been gifted for me to review and trial. No-one has paid to appear in this column.
So here are Thread.co.nz Editor Megan Robinson's top picks of beauty products across make-up, hair, body, and skincare in the Thread Best in Beauty Awards 2015…
SKINCARE BEST OF BEAUTY 
Elizabeth Arden SUPERSTART Skin Renewal Booster
Estee Lauder Advanced Night Repair
Ashley & Co Soothe Tube Intensive Hydrating Cream for your hands with organic borage and essential oils
Antipodes Vanilla Pod Hydrating Day Cream with manuka honey active 20+, rosehip & antioxidant Vinanza grape
Mia the green balm
MITOQ Power Antioxidant Rejuvenation serum
BATHROOM BEST OF BEAUTY 
Savar Energising Body Wash with NZ lemon balm and organic sugar cane extracts
Plantae Certified Organic Skincare Bergamot Orange Cleansing Milk
Maybelline Express Remover nailpolish remover in a tub
Garnier Ambre Solaire Clear Protect SPF50
Kevin Murphy Powder Puff volumising powder
Kevin Murphy Un.Tangled leave-in conditioner detangler
MOST LOVED LIPSTICKS 
MAC Heroine
MAC Studded Kiss
Karen Murrell racy.rata
Estee Lauder Commanding
Clarins Cedar Red
EYES BEST OF BEAUTY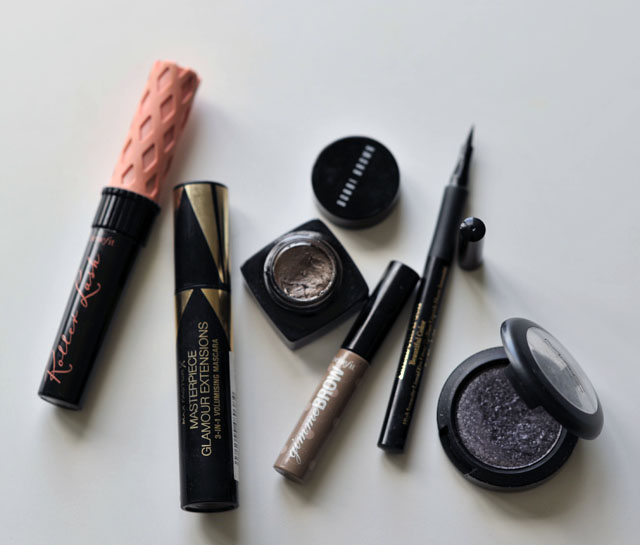 Benefit Cosmetics Roller Lash
Max Factor Masterpiece Glamour Extensions 3-in-1 volumising mascara
Bobbi Brown Long-Wear Gel Sparkle Shadow + Liner in Smokey Topaz
Benefit Cosmetics Gimme brow
Elizabeth Arden Beautiful Color High Intensity Liquid Eye Liner
MAC Eyeshadow in Black Grape
FOUNDATION BEST LOVED 
Best cheap foundation – Maybelline New York Superstay Better Skin flawless finish foundation
Best BB Cream – La Mav Organic BB Creme
Best high end foundation and my desert island foundation – Estee Lauder Double Wear Stay-in-Place Makeup.
FACE & BASE BEST OF BEAUTY 
MAC Prep + Prime Natural Radiance Base Lumiere
MAC Strobe Cream
Estee Lauder Double Wear Brush On Glow BB Highlighter
Bobbi Brown Brightening Brick powder in Tawny
MAC Bronzing Powder in RiRi x MAC
MEN'S BEST OF BEAUTY 
As judged by the husband.
Leonardo Skincare Moisturiser- had a nice fragrance (he actually said "smell"), soaks in well, doesn't leave any residue, feels nice on the skin.
The Aromatherapy Co Therapy Man Hair & Body Wash in sandalwood & cypress- This has a nice fresh fragrance, refreshing to use in the shower in the morning.
John Varvatos – I used the original one of this maybe last year, and they have a really distinctive fragrance, quite rich, and lasts a long time throughout the day. Since using the original, I've had the Artisan one and now Dark Rebel, pictured – the packaging has the same shaped bottle each time but interesting textures on the bottle packaging with each new release.
HEALTH BEST OF BEAUTY 
Ecoya Fresh Pine Needles candle
GO Healthy GO Superfood Chia seeds
GO Healthy KIDS GO Vita C chewables
MitoQ Targeted Anti-oxidant capsules
And there we have it – the annual Thread Best of Beauty Awards for 2015. Another year has drawn to a close, and I wish all our readers a very very happy new year. See you in 2016! May it be a beauty-ful new year for you.
Megan Robinson
31st December 2015
Recommended