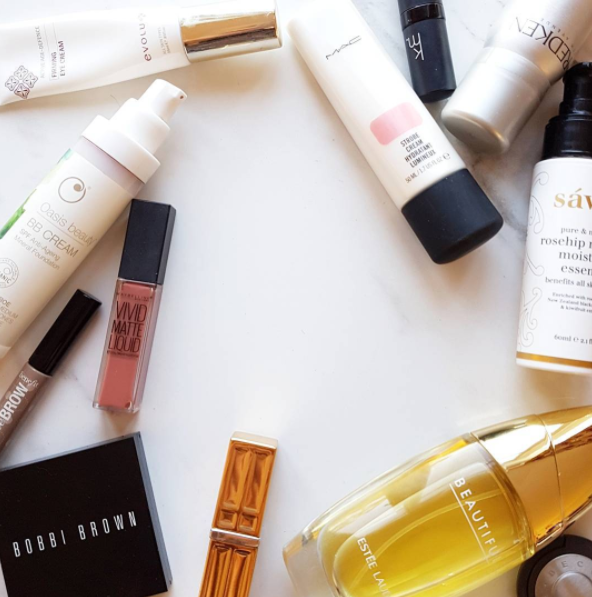 THREAD 2016 BEST OF BEAUTY AWARDS
2016 wasn't a good year for many of us, but in the world of beauty, it was  stellar year, with the rise and rise of cosmeceutical products, more manuka honey and rosehip products coming out, and the widespread use of natural skincare with the healthy-living set. Matte products took centre stage with matte lipsticks and matte makeup replacing the hi shine of gloss, and face shaping and contouring a key trend. Brows continue to be a strong focus this year with key cosmetics houses doing specific brow collections. Red eyeshadow was one of the scarier (and possibly better for editorial) trends, and glittery faces, nails, and lips were popular (but mostly on Instagram). Also on the gram, the no makeup selfie took off, for a completely natural look. Controversy rose around beauty bloggers using technology to retouch and apps for smoothing rather than using their artistry skills to perfect their face with products. Here in New Zealand, the local market got more players – as with the fashion industry seeing H&M and ZARA arrive here – with the coming of the Sephora NZ website, and Mecca Cosmetica in Christchurch.
THREAD 2016 BEST OF BEAUTY AWARDS
Welcome to my personal end-of-year Editor's Picks; the Thread Best of Beauty Awards. I've been doing this column for a few years now; you can read the past columns for 2012, 2013, and 2014 and 2015.
I love trying new products and the ones below are the ones I use myself and enjoy. As I've mentioned before, it's by no means a definitive list – there are many more I like, but these are my faves. Mostly they are PR samples that have been gifted for me to review and trial. No-one has paid to appear in this column.
So here are Thread.co.nz Editor Megan Robinson's top picks of beauty products across make-up, hair, body, and skincare in the Thread Best in Beauty Awards 2016…
BEAUTY BARGAINS
First up: The cheaper priced products that I use all year long! Beauty bargains that are big on bang for your buck.
SKINCARE
Ultraceuticals SPF50+ Ultra UV Protective Daily Moisturiser is a mattifying moisturiser I wear under my makeup for sun protection. It doesn't go on greasy or whitening on the face.
Evolu Firming Eye Cream is part of their active age-defence line from the New Zealand-made brand using collagen-boosting marine algae and and oat kernel for plumping skin.
Prevage Anti-age Overnight Cream is a yellow-tinted rich cream from Prevage by Elizabeth Arden which I applied each night before going to bed. The packaging has an airtight dispenser surface you press down on to release the right amount.
Aspect Dr Exfol A Plus Serum – I completely loved this entire range. It was my first time using Aspect Dr and I wondered if it might be too active and too strong for my rather sensitive skin, but I had no problems whatsoever and no sensitivity or reactions. I received a kit of 5 products in small sizes and finished every one to the bottom.
MITOQ Power Antioxidant Rejuvenation – this lightly yellow tinted moisturiser is very comfortable and lovely to wear, but there is a huge bank of science behind it and the research involved in how New Zealand-based, patented product Mitoq regenerates skin at a cellular level. It is also available in capsules to help skin from within.
Prevage City Smart – this is a daytime version of the popular Prevage complex with an added sun protection of SPF50+ and anti-pollution shields. It's ideal for city-dwellers who want a SPF hydrating cream that will protect from free radical and environmental damage. I especially liked that it's brown tinted, so you don't get any whiteness on the skin, and it adds a healthy glow.
FOUNDATION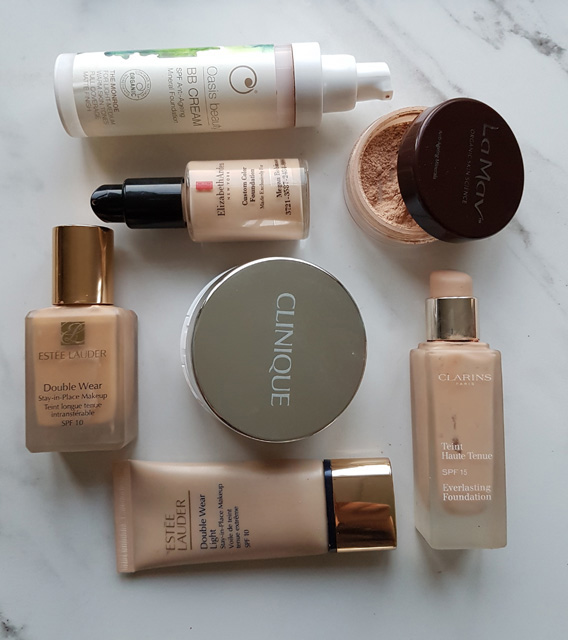 Oasis Beauty BB Cream – I have finished this right to the last drop, it's such a nice consistency, good coverage for a BB cream, and this shade; 'The Monroe' for light-medium skin tones, is great for me. It's aimed at older complexions, with a SPF anti-ageing mineral foundation.
La Mav Organic Skin Science Anti-Ageing Minerals – this is a mineral loose powder foundation in shade Light with a broad spectrum SPF15. It's top quality without talc fillers and is nice and warm without too much pink like you get in some Light shade powders. I really like a lot of La Mav products, made in Australia and fairly high priced but very good.
Elizabeth Arden Custom Color Foundation – this foundation is the perfect fit for everybody as they match it to you in person instore! I went into the Elizabeth Arden Boutique in Queen Street Auckland, and had a personal colour matching with a technician, who mixed up and bottled the exact shade for me while I waited. It's priced around $85 for a 30ml pump bottle and I love how it has my name on the front and the 20-digit code for the colour. The formulation is a medium coverage and very 'elastic' and comfirtable to wear and lasted well throughout the day.
Clarins Everlasting Foundation SPF15 – this would be my highest coverage foundation so it's aimed at a more mature skin and is the opposite really to a light BB cream; it's ideal for days you want better coverage and a flawless finish. It gives a perfect even result to skin and is nicely satin, not too matte, which I find aging.
Estee Lauder Double Wear SPF10 and Estee Lauder Double Wear Light SPF10 – these are two formulations of the classic Double Wear foundation that really lasts and lasts all day long (and into the night!) For days when you want a lighter formualtion Esee Lauder has released it in the plastic tube in Light with a SPF10. The lighter formula and the plastic tube both make it ideal for summertime use/travel, when you want to carry something unbreakable and want a sheerer coverage.
CONCEALERS
ARTDECO Perfect Teint Concealer in shade 5 – this is a brush style with a wind up end that flows product through, like the iconic touche de eclat.
Benefit Fake Up Creme Concealer in Medium – I love this concealer as it has a core of vitamin E balm so it hydrates and nourishes when you apply it – and the places you apply concealer to (i.e. under the eyes) do need a bit of hydration help.
MAC Match Master Concealer in shade 2 – perfect if you prefer a yellow undertone over a pink undertone. I just simply swipe left and right under my eyes (it's like tinder for dark circles) and blend with my fingertip.
HIGHLIGHTERS
Becca Shimmering Skin Perfector Pressed in Opal – I've actually had this for ages now and love the creamy formulation as well as the metal and rubber packaging it comes in. This is my only powder highlighter I use, the others are liquids or creams.
Inika Light Reflect Highlighting Creme  – this vegan, cruelty-free brand has this highlighter with a shimmery glow from a small tube and I find a very little goes a long way (glows a long way?) You do need to blend it very well as it's quite shimmery.
Clarins Instant Light Radiance Boosting Complexion Base – my go-to product pretty much every day when I want a lift. I've almost completely finished this tube, I love it so much, and wear it under makeup for radiance.
Benefit Shy Beam nude-pink matte-radiance highlighter – Benefit cosmetics brought in Shy Beam as a more subtle sister to their much-loved High Beam highlighter. This toned-down highlighter adds shimmer, without too much shine. It is ideal for a matte pink glow and good for daytime use.
Bobbi Brown Nude Finish Illuminating Powder in nude – This illuminating powder takes the Bobbi Brown 6 pack brick palette and puts it in a nude case instead of black, to house size shades in matte with one shimmery for highlight. Sweep your blusher brush around the compact and brush on for a radiant glow.
Smashbox Halo Highlighting Wand in Pearl – This brush pen has a push-in end to release product and apply with a wide brush tip. This shade, Pearl, is quite rosy pink. A sheer highlighting liquid.
Estee Lauder Double Wear Brush-On Glow BB Highlighter in Soft Pink neutral – extremely opaque, full coverage brush-on pen with a twist end to release product. This shade is a pale pink and fairly matte and not too shimmery.
MAC Prep+Prime Natural Radiance Base Lumiere – I apply this after moisturising and before foundation for a sheer, subtle radiant effect. Doesn't add any sparkle, is quite dewy and natural.
MAC Strobe Cream in Redlite – the new red/pink tinted strobe cream to add hydration and radiance under makeup.
BRONZERS & BLUSHERS
Benefit Hoola Bronzer – unlike many bronzers you see, Hoola by Benefit cosmetics is a matte bronzer, without sparkle. This appeals to those who want a tan look without appearing heavily shimmery, especially in the daytime if you don't want to resemble a disco ball.
La Mav Sunkissed Bronzer – this small tub is a loose powder bronzer with a very deep colour.
Mineralogie bronzer/blusher duo – I blend a mixture of both to blush and bronze cheeks.
MAC Beauty Powder in Shell Pearl – an iconic beauty product in a pretty pink shade.
EYES
My fave mascara and eyeliner pens this year include…
Elizabeth Arden Beautiful Color Bold Defining 24HR Liquid Eye Liner in Dark Valentine 01
MAC Haute & Naughty Lash Mascara
MAC Eye Brows Crayon in Lingering
Benefit Roller Lash Super Curling & Lifting Mascara
Benefit Gimme Brow in Light/Medium
MAC Superslick Liquid Eye Liner
Eye Of Horus Liquid Define
MAC Pearlglide Intense Eye Liner in Designer Purple
Eye Of Horus bronze eye pencil
EYESHADOW
My fave eyeshadows this year include…
Becca Brow Powder Fair
Bobbi Brown Greystone Eye Palette
MAC Black Grape eyeshadow
Smashbox Love Me eye palette
Bobbi Brown Long-Wear Gel Sparkle Shadow + Liner in Smokey Topaz 5
Maybelline New York Color Tattoo Pure Pigments 24HR
LIPS
Here are my favourite, most-worn lipsticks of the year:
Clarins Rouge Prodige in 127 Redwood
Elizabeth Arden Beautiful Color Gloss Stick in Sea Breeze 04
Marc Jacobs Lipcolor in 13 Blush Nude
MAC Liptensity in Doe
Estee Lauder nude lipgloss
MAC in Strutting Fabulous
MAC in Heroine
Clinique Pop in Grape Pop 16
MAC in Studded Kiss
Karen Murrell in racy.rata
MAC Retro Matte Liquid Lipcolour in High Drama
Estee Lauder in Commanding
BODY
Earthwise natural body wash – great value for a natural product and a nice fragrance and I use this on the whole family at bathtime.
Clarins Shimmer Oil – a pretty shimmer and hydrating to skin.
Davines body butter – a beautiful tin and a rich luxurious body butter that's multi purpose to moisturise hair, skin, and face.
Trilogy pure plant oil – A non-scented, blend (ie cheaper than straight rosehip oil) of healing hydrators sweet almond oil, rosehip and apricot oils, that you can use on scars and general all-over body use.
Swisse multivitamin repair body oil – I love the thickness of this body oil that doesn't run everywhere but stays put.
Ecoya guava & lychee sorbet hand cream – the sweetest ever Ecoya fragrance – I adore it and always get compliments on it.
HAIR
Kevin Murphy Hydrate.me Masque – I use this as a moisturising smoother on myself and the daughter, who has very long, curly hair prone to tangling.
Davines DEDE hair mist – This is one of my favourite detanglers and we use it on my child's long hair. I first used it at salon Frenchie + Co and they kindly let me borrow it and then I got this bottle.
Davines LOVE shampoo – another one from Davines, the Italian sustainable hair brand that shows the sources of raw ingredients back to their farm. I've been using the LOVE shampoo and conditioner for curly hair, and find the packaging also really clean and contemporary.
Johnny's Chop Shop Wild Cat Hair Clay – a hair paste my husband really enjoyed using, in very cool packaging.
COLAB dry shampoo – this dry shampoo really works, and I like that it gives volume as well as the dry shampoo effect, as it bulks up hair while lessening oiliness.
Redken 28 control addict – a super holding hairspray when you want things to just stay where they're put.
PICK FROM MY WRITER REEMA ALFOUIR 
My contributing writer, Reema Alfouir in Wellington, gives her personal beauty pick as Tailor Skincare 'Renew' ($69). Tailor Renew has just won the 2016 Innovation award from the New Zealand Society of Cosmetic Chemists, which is a huge honour, and it's the first New Zealand-made skincare product to contain probiotics with anti-ageing benefits. Key ingredient, probiotic lysate, assists the skin in cell regeneration, while the grape seed extract helps to strengthen the skin's protective barrier against UV damage. The serum is best used straight after cleansing and before moisturizing.
See you next year!
Megan Robinson
23 December 2016
Recommended