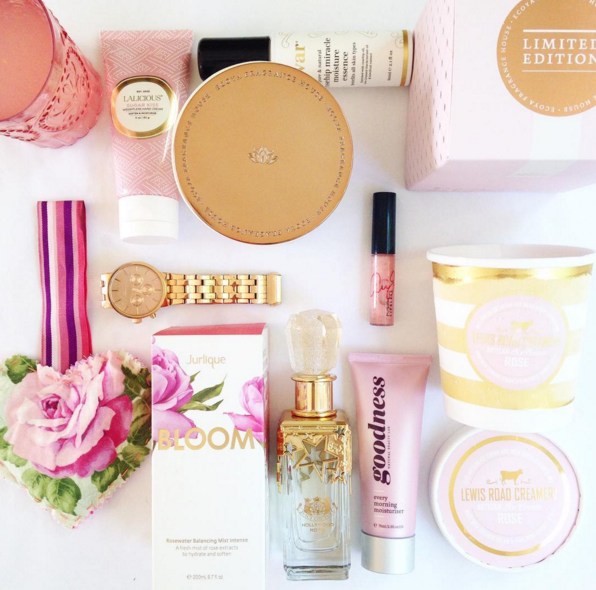 Valentine's gift ideas
Valentine's ideas 💕 inspired by pink roses. Glass by Nest with Sodastream pink lemonade Fruits Waters, Lalicious Sugar Kiss handcream, Savar Rosehip miracle moisture essence, Ecoya cherry blossom and tuberose candle, Lewis Road Creamery artisan rose icecream, Mimco rose gold watch, Jurlique Rosewater mist, Juicy Couture Hollywood Royal, Goodness Every Morning Moisturiser, MAC Ariana Grande lipglass, and a fabric heart I handmade.
Valentine's gift ideas ❤️ Star Wars Darth soap on a rope from The Warehouse, John Varvatos Artisan aftershave lotion from Farmers, Le Snob Tailoring from Hardie Grant Books, Savar Man multi active moisturiser, Smith & Co candle and sleep oils, Phantom of the Opera tickets, Fitbit Surge, Studio Red Yoga sessions.
…and for those who want to pamper themselves or perhaps get together with friends and have a girl's night in with a good movie and who wouldn't – this arrived from Boohoo and Price Wise with treats with the punny title, Bohoogalentines, putting the "gal" in Valentines.
My own ultimate girls night in for Valentines has arrived thanks to Boohoo.co.nz with a Boohoo floral robe and house socks, emoji cushion, and pamper goodies including Artdeco lipstick, Sugarbaby selftan, The Aromatherapy Co fluoro candle, Cadbury chocolate bars, Salon Exotics deep repair masque, and Essence nailpolish. Who needs a date on Valentine's?
Megan Robinson
11th February 2016
Recommended