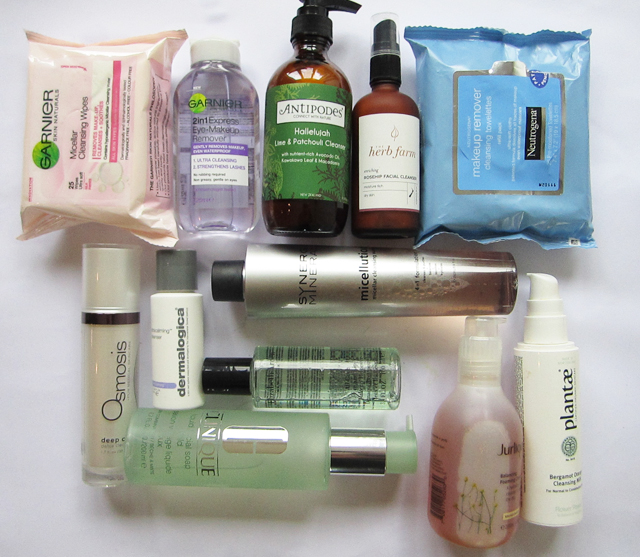 What cleanser is right for you?
It's my belief that the kind of cleanser you use, tells a lot about you. Are you low-maintenance or high? Do you like to wash-off your makeup with water, or do you like a milky formula? Are you busy at night and just can't wait to hit the pillow and don't want to muck about in the bathroom? Or do you like to take the time to cleanse your skin methodically?
All of these factors of your preferences combined with your skin type, will determine what cleanser is right for your face. It's not a black and white issue.
Ha ha little visual pun there, I couldn't resist.
So, back on topic. I really like cleansers. I have to admit I don't bother with a toner, and I love a facial oil or serum and a night cream. I took a look at some of these fabulous cleansers, mostly new and some have been around a wee while now, to see what is special about each and what suits you best.
TIME SAVERS
It's nice to crash into bed after a big one (every night, if you are a mum) and use a time-saving easy cleansing option.
Synergie Minerals Micellar Water
POINT OF DIFFERENCE a gentle 4-in-1 micellar cleansing water that removes your makeup and dirt and oil build-up with a few sweeps of the cotton pad without stripping the skin – including the delicate eye area of mascara and eyeshadow. Like all Synergie products, it follows their 'Clean Science' philosophy of being formulated without PEG, parabens, irritating surfactants such as SLS, artificial fragrance or colours. Witch hazel, a natural astringent, to reduce inflammation and sanitise, whilst hydrating and stabilising the barrier function of the skin, joins Sodium PCA, a deep hydrator acting like a 'water magnet'; Canadian Willowherb is an anti-irritant; and Aloe Vera is anti-inflammatory.
PRICE $75 for 250 mls.
WHERE TO BUY   See 0800 223 288 for stockists or visit their website www.synergieskin.com
Elizabeth Arden All Gone Eye & Lip Makeup Remover
POINT OF DIFFERENCE a two-phase cleanser to remove stubborn eye makeup applied on a cotton pad.
PRICE $51
WHERE TO BUY at Elizabeth Arden counters nationwide and online at www.Farmers.co.nz
Garnier 2in1 Express Eye Makeup Remover and Micellar Cleansing Wipes
POINT OF DIFFERENCE this is the first Micellar water product I have seen in a wipes format, (a "product extension" this is called in the beauty industry!) making it even easier and quicker to use, as it eliminates the middle-man step of a cotton pad.
PRICE about to hit shelves in NZ at time of going to press (it will be cheap!)
WHERE TO BUY at supermarkets and pharmacy.
Neutrogena makeup remover cleansing towelettes
POINT OF DIFFERENCE I've gone through packs of these; nice and mild on my skin and yet still effective. Does not irritate even my eyes.
PRICE $13.49
WHERE TO BUY at supermarkets and pharmacy.
WASH OFF CLEANSERS 
The wipe-off products are no.1 in speed and convenience, but sometimes you still feel like the dirt (and cleanser residue) is on your face and there's nothing like a good rinse-off for a super clean feeling. I used wash-off lathering cleansers for years and only really switched to milky cleansers when I was over 30 and had drier skin.
Clinique liquid facial soap in mild
POINT OF DIFFERENCE This is a worldwide top-seller and replaces the 3-step soap bar I grew up with, like every other girl did, I think. This is part of the skin type 2 regime I was diagnosed with at the Clinique counter in Smith & Caughey. Anyone can head in to a counter and be assessed for their perfect cleanser. I love using this; lathers well, feels great.
PRICE around $50 for large 200ml pump bottle
WHERE TO BUY at Clinique counters nationwide
Osmosis Deep Clean Detox Cleanser
POINT OF DIFFERENCE A detox cleanser for blemish-prone skin. This USA high-performance medical skincare brand is a big personal fave of mine and whilst it's more expensive, it's a case of you get what you pay for, as it is so lovely. They also do cosmetics now which are great as well. It is all paraben-free, cruelty-free, and plant-based and designed to calm rather than irritate the skin, and to protect the epidermis.
PRICE $50 for 50ml.
WHERE TO BUY at selected beauty spas and www.osmosisskin.co.nz 
Jurlique Balancing Foaming Cleanser
POINT OF DIFFERENCE this is a hydrating, foaming cleanser with a warming fragrance. It uses botanicals daisy, calendula and peppermint to cleanse, and as you can see they've chosen the mild, relaxing botanicals, so it feels lovely and mild on your skin.
PRICE around $60 for 200mls
WHERE TO BUY selected department stores
SENSITIVE SKIN CLEANSERS 
Dermalogica Ultracalming Cleanser
POINT OF DIFFERENCE I like how it's a gel; it felt very cooling on the skin, and had no irritation at all. Ideal for sensitive skins. You may use a sponge cloth to take it off if you prefer that to water. This is part of the UltraCalming range along with their mist, barrier repair, and serum, so you can manage skin sensitivity across the range.
PRICE $21 for 50 mls (a nice travel or trial size)
WHERE TO BUY www.dermalogica.co.nz
Trilogy Gentle Facial Exfoliant
POINT OF DIFFERENCE This is just one of the products in the Trilogy Gentle range for sensitive skins. This exfoliator has both enzyme AND mechanical exfoliants i.e. active honey enzymes and camellia oil to loosen outer layers of dead skin cells and surface debris, and non-abrasive jojoba micro-spheres to buff it away. I found it creamy and gentle and not stripping and full of rough 'beads'. Made in New Zealand.
PRICE about $41
WHERE TO BUY at pharmacies and department stores.
NATURAL AND NEW ZEALAND-MADE CLEANSERS 
(See also Trilogy, already mentioned above, which is natural and New Zealand-made.)
Antipodes Hallelujah Lime & Patchouli Cleanser
POINT OF DIFFERENCE uses New Zealand native botanical kawakawa as well as essential oils of wild lime, jojoba, and patchouli. Smells the BEST. Has a creamy and hydrating feel. Made in New Zealand.
PRICE $42.90
WHERE TO BUY www.antipodesnature.com
Herb Farm Rosehip Facial Cleanser (for dry skin)
POINT OF DIFFERENCE this cleanser contains rosehip oil, so it nourishes while it cleans. It is made on site on their Palmerston North New Zealand herb farm and is eco-sustainable and cruelty-free. Made in New Zealand.
PRICE $24.90
WHERE TO BUY www.herbfarm.co.nz 
Plantae Bergamot Orange Cleansing Milk
POINT OF DIFFERENCE Certified Biogro Organic, and contains Bergamot Orange and Lemon Balm with Safflower Seed and Shea Nut. I have almost finished my bottle of his, and found it very mild and gentle and smells really lovely with a delicate citrus and herb fragrance. Made in New Zealand.
PRICE $39.90
WHERE TO BUY www.plantae.co.nz
Megan Robinson
22nd August 2015
Recommended