What the various types of MAC lipstick actually mean
Have you ever looked at the categories of lipsticks such as Retro Matte and Cremesheen, and wondered to yourself what the various types of MAC lipstick actually mean?
There's a huge variety of finishes, or formulations that give different textures and range from gloss to matte. As a rule Matte finishes generally last longer as they are dryer with less moisture, making them feel very drying but also strongly pigmented and long-wearing. It's the age-old hydration vs pigmentation trade off.
Here's a helpful guide I have put together complete with photos and swatches of each. I have written the shade where pictured.
I wear nail polish by Essie in shade Peach Side Babe.
GLAZE: Sheerest of the lipcolours; similar to a Lustre but slightly more transparent.
FROST: Has a 'frosted' finish with a smooth shimmery look.
LUSTRE: Sheer lipcolour similar to a lipgloss, with a moist, wet-look lustre finish but without the liquid lipgloss texture.
CREMESHEEN: A creamy lipstick with full colour, with shine.
CREMESHEEN GLASS: A sponge-tip lipgloss that combines the creaminess of Cremesheen lipstick with the shine of MAC Lipglass. Can be worn over the namesake lipstick, or by itself for a sheer look. Pictured above in Jet Boy.
SHEEN SUPREME: A deliciously buttery texture to wear, with high shine and gloss and moderately pigmented. Pictured above in Fashion City.
MATTENE: A skinny wind-up tube with a semi-matte finish. Pictured above in Own The Look.
AMPLIFIED CREME: This is roughly halfway in the hydration vs pigmentation continuum, as it is rich in colour yet easy to apply and wear with a gentle shine. Pictured above in Pure Heroine.
VAMPLIFY. A lipgloss that, oxymoronically, is long-lasting and highly pigmented yet looks like a liquid lipgloss. It is infused with colour-boosting technology that's loaded with pigments. Pictured above in Speed Up.
MATTE: Pigment rich with intense colour. No shimmer or shine whatsoever; a completely matte result. Pictured above in Please Me.
RETRO MATTE: very very pigmented and long-lasting, but drying and chalk-like in texture. Pictured above in Studded Kiss.
RETRO MATTE LIQUID LIPCOLOUR: described as 'liquid suede', it is a saturated liquid lipcolour with a sponge tip. Long-lasting, unlike most lipgloss. Pictured above in High Drama.
SATIN: Dense in colour with a semi-matte finish. Hydrating on lips with good colour, but without the drying of a Matte. A popular and easy-to-wear finish.
PROLONGWEAR: Goes on like a satin but lasts well, like the dryer formulas such as a Matte, making it a great choice for editorial work, makeup artists, and for weddings. Pictured above in Unlimited.
MINERALIZE: a popular lipstick that feels amazing on; smooth and without stickiness. Moderately pigmented. Has some shine but not shimmery/sparkly.
In conclusion, there is a type and finish of lipstick for every occasion and preference; the importance is knowing the differences and advantages of each, so you can purchase with wisdom and clarity. Happy shopping.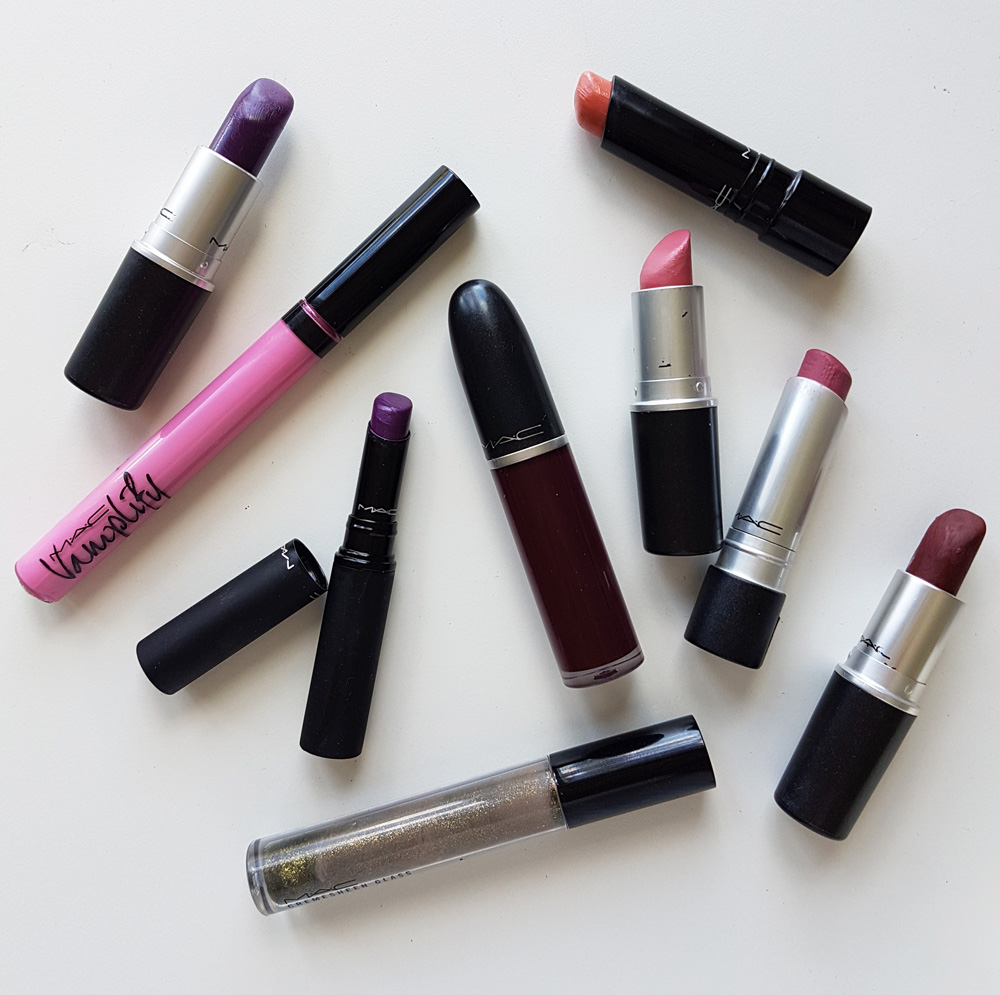 Photos, words by Megan Robinson
All products gifted by MAC for review. RRP$40 in NZ.
20th January 2017
Recommended