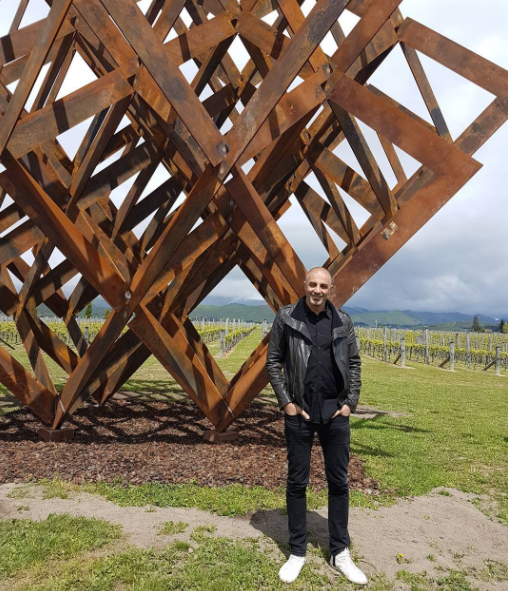 Art and wine meet at Brancott Estate
I had a lovely day being flown to the South Island for a helicopter tour, and wine tasting and 3 course lunch. Glass is definitely half full.
Art amongst the vines
I headed down to Marlborough to Brancott Vineyard on October 18 for the launch of New York designer Dror Benshetrit's 8m high art installation Under/standing and the release of a limited-edition wine range, Brancott Estate Reflection, inspired by the art.
A marriage of creativity – both liquid and solid 
I'm still in a daze at how cool it all was, and I'm not sure what was better – the chance to taste the new wines, with the talented and fascinating Chief Winemaker Patrick Materman talking us through the process of creating the flavours of the wines, along with a chance to hear from Dror Benshetrit regarding his installation.
Sauvignon and Steel 
I'm sure you all know about the world-famous Brancott Estate, after all, it was creator of the first Marlborough Sauvignon Blanc vines and the rest is legend. Now, it has partnered with cutting-edge architectural artist designer Dror Benshetrit, Israeli-born artist living in New York with his family. Dror actually flew over three years ago to start the process and it is incredible for him to see it come to fruition. The massive L-shaped steel pieces were formed in Auckland and assembled flat and lifted into place by a crane and then formed into the 3-D shape, slotted together and secured into the ground in just four places – so theoretically the sculpture could be moved – but no-one's going to do that! It will stay in place and weather and turn orange with age which complements the green vineyards beautifully.
Wine reflects upon the art
Taking inspiration from Dror's installation, Patrick has also crafted a limited-edition wine range entitled Reflection, that is a liquid version of Dror's design. Art in a glass? I'll drink to that.
The Reflection range includes a Sauvignon Blanc Sauvignon Gris 2016 and a Pinot Noir 2015, packaged in bottles wrapped in the rust-coloured sculpture image. But wait there's more; you can buy a wine rack version of the sculpture that you can buy flat and pull outwards to make a 3-D table-top version in which to stack your wine. That's an extremely clever way to translate the huge scale into design the public can purchase to take home.
Here's the photo diary of my amazing trip down for the day…
In the media shuttle from Blenheim airport. I could get used to this service.
A commemorative artwork on site marking its founding in 1973.
Viewing the vines on an informative tour with Brancott Estate's Tony. These are vines for the Chosen Rows, specially-grown grapes that are placed 2 metres apart to ensure the plants put resources into grapes not lots of leaves, and they only have one vine layer not two layers as is usual. Do try Chosen Rows wine if you get the chance! I found it interesting that the vineyard is on an ancient glacier valley, which affects the soil composition and mineral nature.
Having a safety briefing with Helicopter Pilot Simon before the flight.
In the chopper with Simon Farrell-Green of HOME New Zealand and wine journalist Joelle Thompson.
The installation seen from the air.
Buzzing after the helicopter tour of the winery and the brand new @drorbenshetrit sculpture from the air at @BrancottEstate
At Brancott Vineyard restaurant for eyefillet steak for lunch.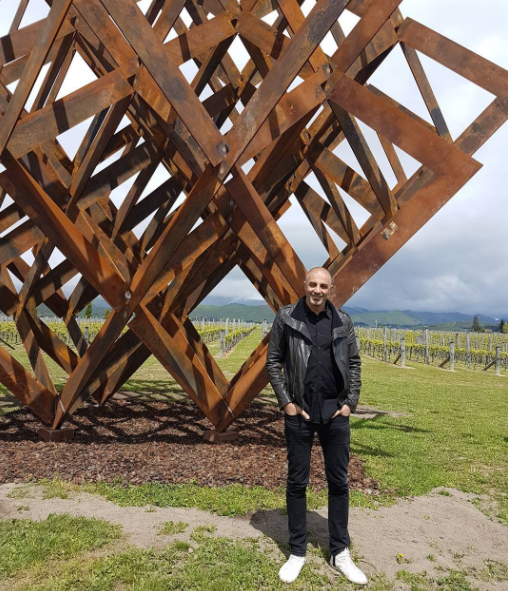 Dror with his artwork.
This stunning textured presentation box is the limited edition Sauvignon Blanc Sauvignon Gris 2016 inspired by the art installation.
If you can get down to Marlborough, I thoroughly recommend you visit the estate to see this stunning piece – and of course- try a glass of Reflections.
Wednesday 18th October, 2017
Megan Robinson
Recommended