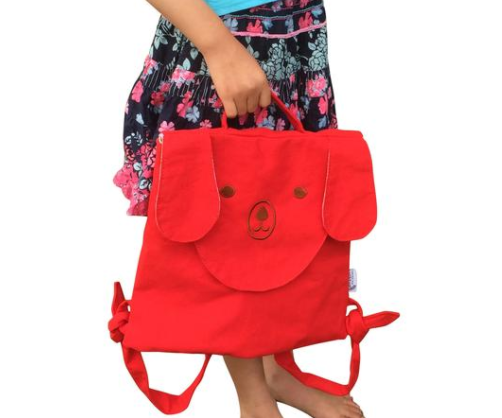 Back to school tips with eco-friendly kids gear by Little Leaf Eco NZ
If you've ever been daunted at the prospect of smelly lunch bags that fall apart – not to mention manufactured with any number of harmful chemicals around your child's food – then New Zealand brand Little Leaf Eco is about to save your day.
Eco-friendly alternatives to PVC
Founder Maileen Martin has some handy tips for getting back to school in an eco-friendly fashion, with helpful and environmentally-safe alternatives for vinyl or PVC lunch bags.
Perfect for all ages!
To be honest, although they're aimed at kids, we think they are perfect for all ages and you'd be the envy of the office with the deer antler lunch tote.
Maileen started Little Leaf Eco – after a leaf that blew in to her kitchen table one day and inspired her with the name for her nature-friendly brand – with the Lunch Tote, and now offers the Stinky Bag, kids backpacks, and wooden toys for a variety of problem-solving and boredom-fighting scenarios such as rainy days and aeroplane tips.
There must be a better option!
"I realised I wasn't the only one experiencing these problems and having these same concerns after talking with my friends and other parents at my son's school" she said. "​I was never satisfied with school lunch boxes. There were never the right size, broke too easily and contained who-knows-what chemicals. I thought there must be a better option but couldn't find anything. Speaking with my friends they also experienced these issues and this led me to design and make my original concept."
Back to school tips from Maileen of Little Leaf Eco
School holiday is almost over and it is time to get ready to go back to school.
Maileen Martin of Little Leaf Eco NZ is a mother of two boys at school and shares some tips on the best way of getting your kids back to school with the least amount of hassle and tension.
Having my own two boys has taught me the hard way that preparation is everything. Here's my own list of things I do to get ready for school.
Get back into routine early
1. One week before school we get back to the school routine. This includes sleep time and meal times. It's not popular with the kids but it will definitely avoid those cranky, over-tired kids on the first day back. It also helps you get back into the swing of things.
Organise school uniform ahead of time
2. Organise the school uniform or clothes, shoes, bags and so on well in advance. Don't leave it till the night before and the undoubted panic that will ensue. Let the kids help so that the reality starts to set in. Polish the shoes, iron the clothes and check the bags. I'm sure, like me you'll find the bags full of items that they simply won't need this year or should have been thrown out a long time ago! And don't forget the sports bag; this where the 'Stinky Bag' comes into its own. Put the sports shoes in the lower self-contained compartment and the clothes in the top section to keep everything as fresh as possible.
Prepare food in advance
3. Prepare as much of the food as you can a few days in advance. The night before just add the fresh food and prepare the water bottle. The 'Lunch Tote' is the ideal way to hold both the food and the bottle and you can leave it in the fridge overnight so it's just grab and pack in the schoolbag in the morning.
WHERE TO BUY
20th January 2017
Recommended