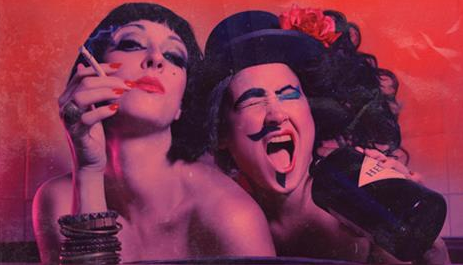 Comedy Fest NZ 2015 Review: "EastEnd Cabaret"
"EastEnd Cabaret"
Tuesday 12 May @ 7.15pm @ Q Theatre
Everyone, even the most prudish amongst us, deep down, past the facades of sensibility and topics-you-can't-talk-about-in-polite-company, sits the desire to be teased and titillated, just a little bit. Occasionally, we want to laugh, and we want to feel naughty about what we're laughing at.  Sometimes, we want good clean fun – other times, all we want is solid comic filth.  There's nothing quite like a cabaret to deliver that kind of decadence.
The East End Cabaret are a multi-award winning duo from London – the bon vivant Bernadette Byrne (for whom only the word "sultry" shall suffice"), and the half-moustachioed faux-hermaphrodite Victor Victoria (who defies all attempt at description).  They're wickedly funny, thoroughly rude, riotously entertaining, and marvellously ribald.  They're sixty full minutes of songs and splendid faces, all covered in sequins and wrapped in a feather boa.  Of all the acts I saw in this year's Comedy Festival, the queenly Bernie and the dastardly Victy were by far the best.
Cabaret allows us to indulge our need for songs and shazam. The EastEnd Cabaret have managed to add that piquancy that can only come through liberal lashings of comic cabaret.
By Michael Tarry
12th May 2015
Recommended