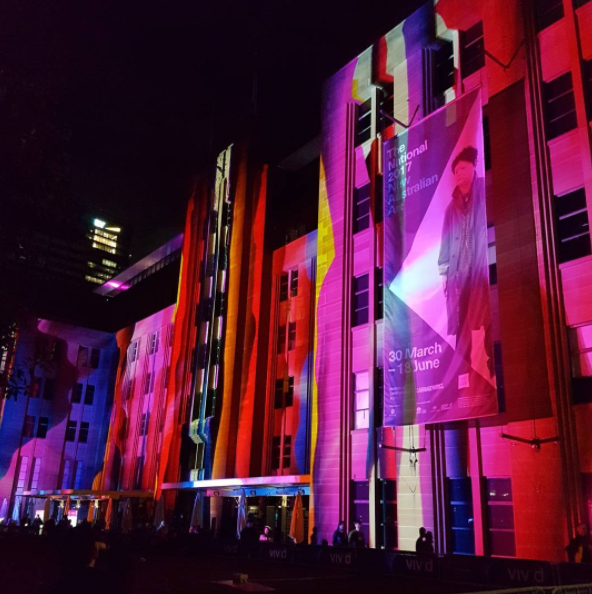 De-light-ful Sydney: I went to Vivid Sydney and loved it
I went to Vivid Sydney, and, if you excuse the pun, found it completely de-light-ful. It's been my dream to go to Vivid Sydney, the world's largest festival of light, music and ideas, so when I was offered the opportunity to see it with Destination NSW I leapt at the chance. The annual festival is held from Friday 26 May to Saturday 17 June 2017, making the already stunning city's downtown area into an outdoor art exhibition of light, music and art. As well as the Vivid Light large scale light installations and projections outdoors and free to the public that it's most famous for, there are also ticketed music performances – Vivid Music – including Vivid LIVE at the Sydney Opera House; and creative ideas, discussion and debate – Vivid Ideas – which are extremely thought-provoking and well worth checking out during the daytime, making the festival an all-hours show.
Here's what I got up to over the weekend…
DAY 1: Friday 2 June
Up before the birds, bright and early, for my 0700 flight. I'm so happy to be finally seeing it, so excited! Managed to get all my clothes, shoes, and makeup bag into a 7kg carry on bag somehow miraculously.
QT HOTEL 
We arrived in Sydney nice and early to make the most of the whole day, and travelled to the central city to one of the best hotels I have ever stayed in – and definitely the most decadent and sexy – QT Sydney, located at 49 Market Street in the centre of town.
QT hotel, which is incredibly artistic and creative, is set on the site of the historic Gowings Department Store and Sydney State Theatre, and filled with fashion mannequins and art. Pictured above: the ground floor cafe bar complete with sexy legs stools.
CHIPPENDALE 
Our first event on the busy itinerary was at Sydney's exciting emerging food and art precinct, Chippendale. Here, we were lucky to enjoy a tour with Sally Lewis, General Arts Manager of the Chippendale Creative Precinct.
It's like being in Lyons, France, except I'm in the French restaurant Bistrot Gavroche on Kensington Street, the eateries region within the Chippendale precinct. Here, developer Dr Stanley owns the street and has created international restaurants and Spice Alley food lane amongst numerous galleries, the Old Clare boutique hotel, and the historic brewery.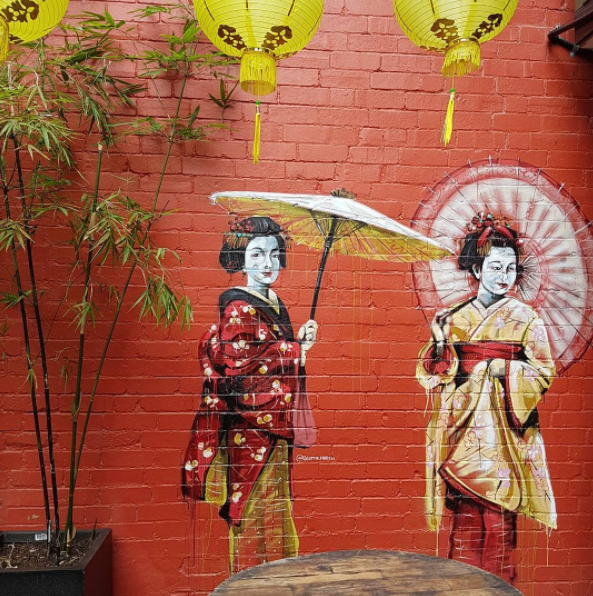 Above: Japanese murals in Spice Alley on at Kensington Street.
We had lunch at a Thai eatery in Spice Alley, which is completely cash-less so you need a credit card or buy a card to redeem. It was cheap and cheerful and delicious. Below: The Old Clare Hotel.
Other suggestions include Kensington Street Social, Ester Restaurant, Automata, Bistrot Gavroche, and the very Instagrammable, Koi Dessert Bar.
Sydney Opera House
By far the most famous landmark to visit at Vivid Sydney and certainly the centre of a seething mass of humanity of tourists and locals alike, is the Sydney Opera House. This year the festival saw the iconic building covered in a series of living and breathing imaginary creatures come to life for the Lighting of the Sails. 'Audio Creatures' is the work of acclaimed cinematographer, editor and graphic designer Ash Bolland together with content house, Spinifex. The soundtrack to accompany the animation is by musician, composer and producer of electronic music, Amon Tobin. Nightly from 6pm – 11pm.
Above: the majestic sails of Sydney Opera House lit up with animated moving illuminations.
BENNELONG 
While at the Opera House, where better to dine than literally inside it under the sails? Bennelong restaurant is such a unique experience you can't find anywhere else in the world. It's located inside the concrete beams of the Opera House, with the entrance located beneath the forecourt steps. We had a dinner of small plates at Bennelong's Cured and Cultured Bar counter with a view of the chefs at work and it was fun and delicious food.
GOLDFRAPP
The award-winning Goldfrapp is a band we already have on our iTunes, so I was so happy they were in town for Vivid Music. Their sound is described as underground electronica, sensual melody with mental machine pop at its core. We cabbed out to Carriageworks – where I definitely want to return to for Sydney Fashion Week – and stood waiting and waiting for the band to come on and when they did – pow! The haunting, rich voice filled the warehouse with beauty. The crowd was fairly chill, despite the best efforts of a young man next to use trying to get everyone to dance with their hands in the air like they just don't care. Seeing Goldfrapp live was a real highlight of my trip to Sydney.
DAY 2: Saturday 3 June
I made a friend at the Gowings restaurant entrance at QT Hotel Sydney. After an amazing breakfast, we're off to check out The Intersection fashion precinct and Barangaroo.
BARANGAROO
The Streets is one of Sydney's newest neighbourhoods, offering a collective of local chefs and sommeliers at a range of waterfront restaurants, casual eateries, all-day cafes and laneway bars. Top suggestions to try out here include NoLA Smokehouse and Bar, Cirrus Dining, Anason, and Born by Tapavino.
Above: Devon cafe Barangaroo.
The Intersection fashion precinct
'The Intersection' is a strip of fashion for the stylish shopper who likes something a bit different to the offerings in the local Mall. There are so many incredible boutiques at The Intersection fashion precinct, including Camilla and Marc, Ginger and Smart, Josh Goot, Rachel Gilbert, Sass & Bide, and my favourite, Zimmerman.
Sydney-based designer boutiques in 'The Intersection':
·       Camilla and Marc: 16 Glenmore Road, Paddington, NSW, 2021 T: 61 (0)2 9358 5177
·       Ginger and Smart: 16a Glenmore Road, Paddington, NSW, 2021 T: 61 (0)2 9380 9966
·       Josh and Goot: 138 Oxford Street, Paddington, NSW, 2021 T: 61 (0)2 9356 2233
·       Rachel Gilbert: 128 Oxford Street, Paddington, NSW, 2021 T: 61 (0)2 9332 3455
·       Sass & Bide: 132 Oxford Street, Paddington, NSW, 2021 T: 61 (0)2 9360 3900
·       Zimmerman: 2/2-16 Glenmore Road, Paddington, NSW, 2021 T: 61 (0)2 9357 4700
FREDS
After a day of walking and shopping, we were more than ready to enjoy an early dinner at Fred's  at 380 Oxford St, Paddington. Fro the road outside you wouldn't know what lies within. The door opens you up to a large, bleached wood and white walled French country style restaurant where guests can sit at tables or even at the Chef's table right where the cooks are preparing the meal amongst you, on open fires, which kept the room very warm! Incredible food and hearty portions and friendly service; would love to return there.
NICK MURPHY 
After dinner, we caught a cab to the Sydney Opera House to see Nick Murphy fka Chet Faker presents Missing Link.
I didn't know too much about this music producer before the show, but we have bought his music since coming back and been playing it at home. The Australian musician is extremely talented and charismatic and played 2 and 1/4 hours in a round theatre managing to entertain all angles of the circular theatre, and had everybody on their feet out of their chairs and waving their phone torches.
MARTIN PLACE
After the Nick Murphy gig we decided to walk home via Martin Place to see the grand, interactive light installations. Highlights include a new version of the multi-award winning 3D mapped projection Urban Tree 2.0, and Deep Forest, an urban jungle for feasting featuring an open flame fire-pit with barbeque treats from Porteño and some of NSW's best fire chefs.
Sky Tree 2.0 illumination turns an urban tower into a living tree before our eyes in Martin Place.
Museum of Contemporary Art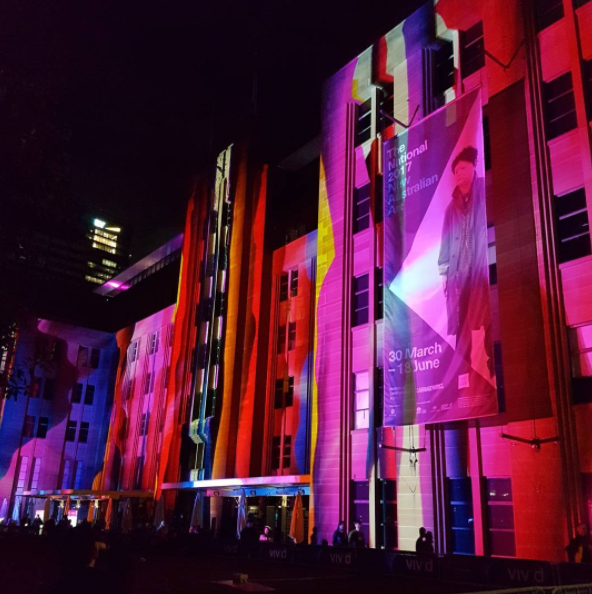 Above: The Museum of Contemporary Art illuminated beautifully on the Sydney Harbour waterfront.
Day 3: Sunday 4th June
VIVID IDEAS ART EXHIBITION
After another amazing breakfast at Gowings inside QT Sydney (truffle scrambled eggs, anyone?) we caught a cab to Redfern to check out the Vivid Ideas exhibition, Cause & Effect: Artists for Social Change, at 107 Redfern St, Redfern.
Above: the artwork, 'Negative Opinions Go Here', at MCL Gallery exhibition 'Cause and Effect: Artists for Social Change.'
As part of Vivid Ideas 2017, Carnival of the Bold and MLC Gallery is presenting "Cause and Effect", a two-week visual arts exhibition by six artists, designed to shine a spotlight on some of the more current and pressing social issues faced by Australian society: War & Conflict, Environmental Destruction and Racism.
Art Gallery of NSW
Mmmm mozzarella and tomato salad at Chiswick at the Gallery, Art Gallery Road, The Domain.
At home in one of the most beautiful art collections in the world, Chiswick at the gallery offers charming casual dining within Art Gallery NSW. High culture meets agriculture with many ingredients grown in the adjacent kitchen garden, supplying a delightful seasonal menu in true expression of Matt Moran's 'garden to plate' philosophy.
The National 2017: New Australian Art
After lunch, we viewed the National 2017: New Australian Art exhibition.
The National 2017: New Australian Art presents the latest ideas and forms in contemporary Australian art, curated across three of Sydney's premier cultural institutions: the Art Gallery of NSW, Carriageworks and the Museum of Contemporary Art Australia.
And so my trip came to an end, after three action-packed artistic days. I thoroughly recommend you visit it soon – there's something for everyone, whether you like food, art, music, and culture.
Disclaimer: I was not paid for this article. We were hosted for the review and opinions are all my own.
Megan Robinson
5th May 2017
Recommended