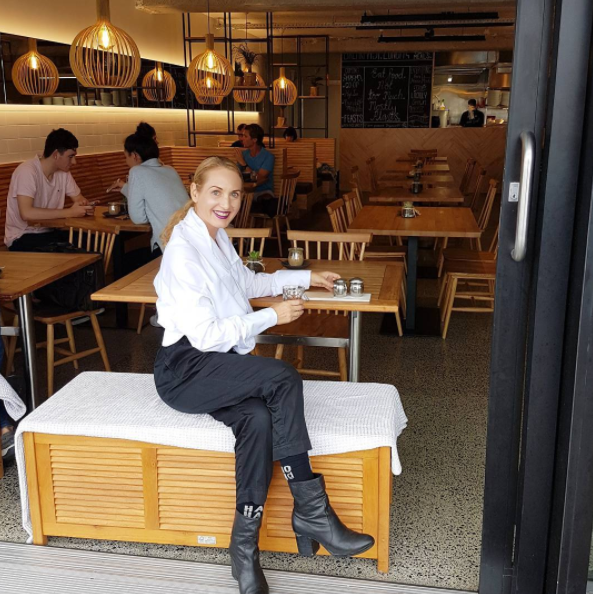 Editor's Pick: What's new and cool in Takapuna
In this latest Editor's Pick column, I check out what's new and cool in Takapuna on Auckland's North Shore, including hot new cafe Street Organics, local produce retailer Gourmet Heaven, Royal Enfield motorcycles at Experience Motorcycles, Japanese-style spa treatments at Ikoi Spa, and famous New Zealand fashion at Federation Clothing.
Street Organics 
I checked out the fabulous Street Organics cafe at 1 Byron Avenue today for the first time, and met the lovely owner Nicky. She is the co-owner, and it is a separately-run offshoot of the iconic Street Organics in Australia. I had the famous chocolate egg coffee, pictured above, which comes with hot espresso and a jug of milk, which you pour over an Easter egg! Lots of fun. My favourite dish was the garlic and apple salad pictured above which I had for lunch today and LOVED. I shall be back, and I will be recommending this place to everybody. 
Street Organics Cafe & Wholefoods Store. Specialising in vegan, paleo, low FODMAP, gluten-free cafe and take home meals. www.streetorganics.com | Mon-Fri 6:30am-4:30pm, Sat-Sun 7:30am-3:30pm
Experience Motorcycles
Bike fan? Check out Experience Motorcycles with its classic Royal Enfield motorbikes, is new in the 'hood in Northcroft Street.
Ikoi Spa
Ikoi spa on Huron Street is a Japanese-style spa with Japanese spa technicians to make you feel relaxed and refreshed in the calm environment which is an urban oasis off the streets of Takapuna. I met owner Michael today and I'm looking forward to heading in soon to experience a facial. For more info see ikoispa.co.nz
Gourmet Heaven
Gourmet Heaven is special in that everything in the entire store comes from the Auckland region. There are many healthy and organic specialties from local producers as well as sweets and treats, teas, and chocolates. When I called by today, owner Lynda Sclater was making gift boxes, which you can order to be delivered as a lovely gift for someone. After all what's nicer than getting delicious food – plus, it is all locally-produced so it has no food miles. It is located at 8 Anzac Street. Phone: 09-489 6184. For more info see www.gourmetheaven.co.nz
Federation
Federation Clothing are back in Takapuna, at 16 Northcroft Street. Established in 2000, Federation is one of NZ's most iconic streetwear brands, with fun, youthful designs made with quality workmanship. Phone: 09-488 0906. For more info see www.federation.co.nz
Photos by Megan Robinson
13th April 2017
Recommended