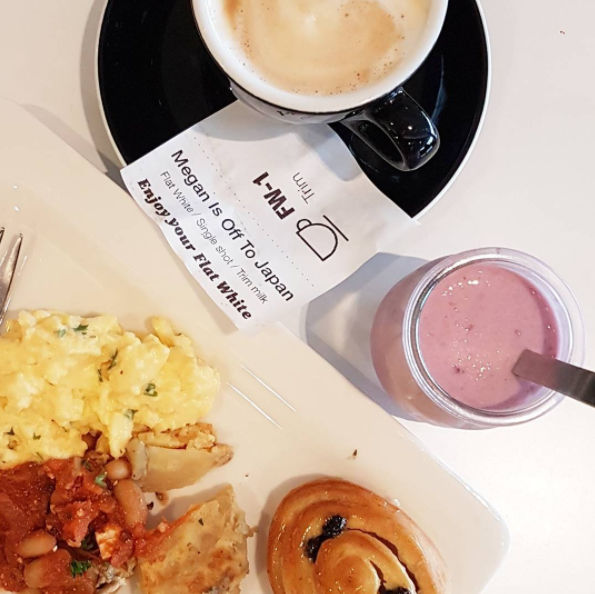 Highlights of Japan in Winter in March 2017
Here are highlights of Japan in Winter in March 2017. I'll include place names and times and some prices in NZ dollars in case that's helpful for anybody planning their own trip. I highly recommend you go! Last time I went to Japan two years ago I bought a JR Rail Pass but this time it worked out cheaper to just buy separate rail passes which cost Y27900 ($NZ353) for the 8 days, which I bought at the train station when I arrived.
Intro image above: I typed my coffee name at Air New Zealand Koru Lounge in so the barista laughed when she called out my coffee order as "Megan Is Off To Japan"!
Konnichi wa from Japan! I had a great trip over on the SkyCouch with was a big surprise from @airnz! I watched three films, and managed to get some lie down time. I saw Doctor Strange, Lion, and Edge of Seventeen, and drank bubbles. The flight from Auckland to Narita Airport Tokyo, is about ten hours. On arrival we took the Skyliner from Narita Airport to Nippori Station in Tokyo, which takes 36 minutes.
Jigokudani Snow Monkey Park in Nagano 
We took the train from Tokyo to Yudanaka (2 hours 30 mins; 9,460 yen/ $119) and changed at Nagano to the Nagano Dentetsu Limited Express and you get off at Yudanaka. There are buses to the Monkey Park carpark, but our hotel actually included a free shuttle there which was nice and they dropped our luggage at the hotel. The walk to the monkeys is a 25 minute easy stroll up through the forest, below.
This is the path through the forest to the snow monkeys hot pool, isn't it beautiful?
A mother and baby macacques monkey at Jigokudani Snow Monkey Park. There are about 200 wild monkeys here. It's Y800/ NZ$10.80 to go. 
Above: some of the pretty things that come included in a Japanese Inn. Many people do the trip to Nagano and back to Tokyo on the same day but we decided to stay for a traditional hot spring town experience staying in a ryokan, or Japanese Inn. The inns have a western style toilet and bathroom in your room or you may choose the communal onsen hot pool bathroom on the ground floor with separate men's and women's baths. Yamanouchi has kept its traditional feel, and is nestled in a small valley beside the Yokoyugawa River, with Yudanaka Onsen located below and the Jigokudani Monkey Park above. Guests of the ryokan may walk around outside on the cobbled streets in their yukata robes (pictured above, provided for your use) and geta sandals (in reception, as you don't wear shoes inside). There are nine public bath houses close by in the village with nude hot pools separated for men or women in each.
A 10 course traditional dinner was included in the hotel stay in our package ($NZ189 for hotel, huge dinner and hot pools and shuttles), and we bought hot sake (Y500 NZ$6.33 for a bottle to share.)
Karuizawa
Karuizawa resort area has chic restaurants and cafes on a contemporary architecturally-designed Harunire Terrace dining and shopping area, with the best coffee we found in Japan, Maruyama Coffee.
The highlight for us though, was the INCREDIBLE Stone Church built by a famous architect. Free entry, walk from the bus for 3 minutes.
Above: The stunning architecture of the Stone Church in Karuizawa constructed from these massive overlapping concrete circles that form the church and the arches over the pathway up to it. This place was breathtaking, inside and out. 
Shiraito Waterfall
Behind me is the white silk waterfall that completely surrounds a large open valley in the snowy mountains in Karuizawa, Nagano. It's a famous waterfall for its beauty, and measures three meters high and 70 meters wide. Shiraito no Taki literally means "the waterfall of white threads". We caught a bus from Karuizawa Station to Shiraito Waterfall (25 minutes, 710 yen one way, 1-2 buses/hour). Get off at "Shiraito no Taki" bus stop (白糸の滝) from where the waterfall is a five minute walk and has free entry.
We caught the bullet train Hokuriku-Shinkansen back to Tokyo for 1.5 hours.
Tokyo City Flea Market
Ohi Racecourse Flea Market, known as Tokyo City Flea Market, is a must-see on the certain days it runs, and it was a 45 minute train ride changing at Shinagawa Station to monorail and then onto Oikeibajomae Station, BUT SO VERY WORTH IT! We got loads of bargains in kimono, fans, crockery, ceramics, clothing, and children's toys. It's a mix of professional antique dealers and people's household flea market car-boot style stalls.
Harajuku 
Harajuku is amazing of course for shopping, and for people-watching. We went to the recycled fashion stores to look at second-hand designer clothing which is so great to buy in Japan. My top store for secondhand shopping is called RAGTAG, and another excellent one is called Kindl. They have stores in cities throughout Japan.
We also went to Harry Harinezumi Cafe which is a petshop rather like how we have pet guineapigs here, where you can buy hedgehog food and feed the hedgehogs there (NZ$16 including feed and a coffee for the human). They have rest periods for the animals to avoid over handling. They are just adorable.
From Tokyo we caught the bullet train Shinkansen down the country (3 hours 45 mins; 18,850 yen $NZ238) and were delighted to see a great view of Mt Fuji heavily capped with snow. You can ask the train guards at what time you will pass by Mt Fuji, as they have it written down on their schedules as it's such a big deal.
Kyoto 
From Tokyo, we caught the bullet train to Kyoto on Nozomi 103, and checked out the Kyoto City Flea Market outside city hall, as I just love secondhand markets as may have guessed by now. I got some traditional wooden geta and some pottery and cups here. Many things are $1 to $3 each and there is a LOT of cheap clothing.
There are countless festivals constantly on, and we were there during the week of the Lantern-Lit Road at Higashi Yama mountain in Kyoto in early March. Above: a river of bamboo lanterns, at Higashiyama Hanatoro illumination with 2,500 lanterns decorating the 5km path of Higashiyama Mountain.
This is our small and cosy room in a guesthouse in Kyoto. Instead of a hotel room that has an ensuite, your room has tatami mats and futon beds you lie on to sleep at night, and you share a communal Western style bathroom. It's quite cheap, around $NZ55 a night twin share, and bike hire was Y500 / $6.33 a day.
In Kyoto we cycled for twelve hours around the Philosopher's Walk cobbled path alongside a river lined in cherry blossom trees, and explored a massive national heritage garden and temple site at Nanzen-ji founded in 1291 (Yes! 1291) and the historic Suirokaku Kyoto Aqueduct built in red brick in 1889. This area is free to enter and you can pay $6.30 to go up the Sanmon (gate building) which is one of the few Sanmon in Japan that you can go up in.
Above: The Stone Tortoise crossing, over the Kyoto River where you cross the river jumping on the backs of turtles.
Osaka
A robot salesperson at a bookshop in Osaka. It understands commands in Japanese. They are programmed with different personalities.
A bookshop cafe department store where you may read all the books, to encourage reading, as reading books is on the decline in Japan.
Gion 
So I am buzzing! We are back from Gion and saw not one but FOUR Maiko-san (geisha)! You are usually lucky to see any; I think we caught them just off to work at the theatres around Gion.
Nara 
Deer kisses! Wild deer roaming free, at Nara Deer Park. Free entry, from the Nara train station, and surrounding the Todaiji Temple area.
Kawaii kids on a school trip deer watching at Todaiji Temple Nara.
So happy to visit the place I stayed when I was 16 years old as a homestay student, Todaiji temple, in Nara – the biggest wooden building in the world, with a ginormous Buddha inside. Surprisingly not very crowded! Entry is Y500 (NZ$6.33).
Above: an absolutely stunning traditional garden with a moss garden, water features and stone bridges, and tea house buildings, near Todaiji temple, with free entry for foreigners (Y250 otherwise). It was next door to Issien Garden which we had intended to go to but was Y900 each, and then we stumbled across this one next door which was completely lovely so that was serendipity.
And from Nara, we caught the Limousine Bus from opposite Kyoto Station (Y2000) direct to Kansai airport in Osaka, and a direct flight to Auckland – on the Skycouch once more. What a trip, can't wait to go again!
Megan Robinson
9th March 2017
Recommended