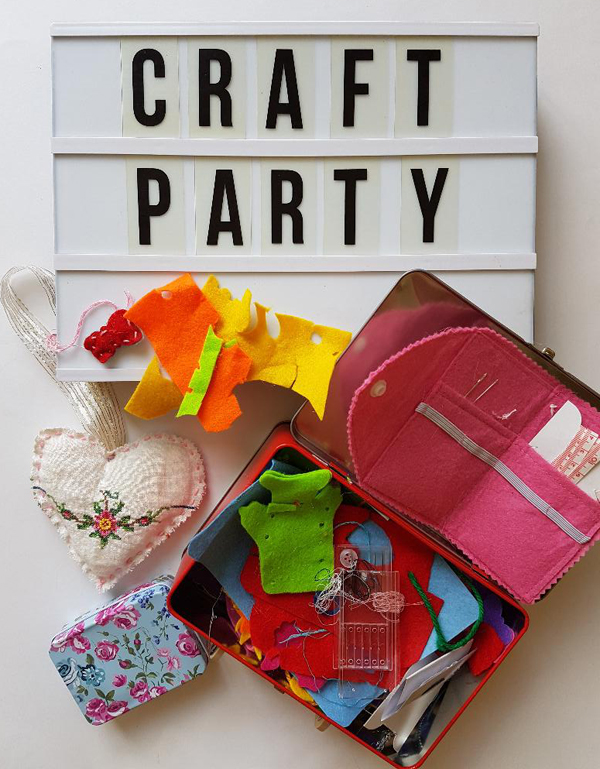 How To: a kids craft party with printed bunting and light jars
When you are about to have children, they tell you lots of things. They tell you that you will lose sleep. And your figure. And hair. And all clean furniture and walls. This is all true.
What they don't tell you about, is children's parties. Children's parties are a thing unto their own. Back in the day, we were all happy with pin the tail on the donkey, the chocolate game where you rolled a six and cut a king size with cutlery on yesterday's newspaper to save their carpet, and a take-home bag of a soggy napkin of birthday cake with bonus burnt candle if you were lucky.
Nowadays, there are goody bags, professional entertainers, and birthday catering companies. Which are all fine and dandy as cupcakes and candy, but it doesn't have. to. be. this. way. If you're like me, and want a simple yet fun party, you can get creative, and sneakily get kids to even make their own take home gift. How, you ask? Read on, my friend…
The secret I am going to impart to you, is to make the party theme an activity, where they create something they take home. Boom. You save on buying and making goody bags and they are kept busy and their parents appreciate something homemade and not more plastic tat. I threw a craft party for 8 year olds, with invites and bunting made before the party, and light jars made by kids at the party.
Firstly: the invites.
No party is complete without guests. We need to make invitations. You can buy these but it's way more personal to make them, or better yet, have the birthday child make them.
The other thing people never tell you when you have children is how much printer ink you start going through. Everything needs to be printed, and don't get me started on laminating, that's a whole other ballgame. Imagine never having to buy expensive ink cartridges; it should be the missing lyric from the famous Beatles song. Guess what? There are now printers that don't use ink cartridges, including the fabulous Epson ECO Tank Printers, who have provided me with one for this article, meaning no more spendy printer ink cartridges.
Next, the bunting.
What you need – white paper, bias binding, props and lettering to photograph, scissors. If you don't have a sewing machine, just staple bunting to bias binding or a ribbon.
Setting up the printer to run without ink cartridges was easy. There are no cartridges to replace; simply top up the tanks with Epson ink bottles and keep on printing. Each bottle yields up to 7,500 pages in black and 6,000 pages in colour, and come with enough ink when you buy them to print for 2 years.
I also like that the bottles are environmentally beneficial as it means less cartridges in landfill.
The finished bunting, sewn onto bias binding, and hung at the party to set the scene for the crafty goodness to follow.
Next up, the party activity: making the light jars. These are a night light for kids with a glass jar they decorate containing battery lights. You need a large jar, string of fairy lights, paper, scissors, glitter glue, sequins, and things to photograph as props.
I took a photo of some favourite art my daughter made, and printed it out, to use as paper illustrations for the outsides of the glass jars.
I printed them on the Epson printer. No problem about lots of colour, so no colourful language.
Everything you need.
Decorating the jars with the cut out pictures using glitter glue, and sequins and rubber stamps if you like.
Embellishing the pictures stuck to the jars.
Putting the battery fairy lights into the jar after it dries for a while, perhaps while they open presents or cut the cake.
If you don't want to put fairy lights in it, it makes a cute storage jar, or you could fill it with party treats or lollies or balloons to take home. You could also fill it with soil and a small succulent inside. Possibilities are limited only by your imagination!
Making the Light jars was a huge success! Here's to your own fun children's party.
Megan Robinson
13th January 2018
Disclosure: This post is brought to you by Epson and all opinions are my own.
Recommended