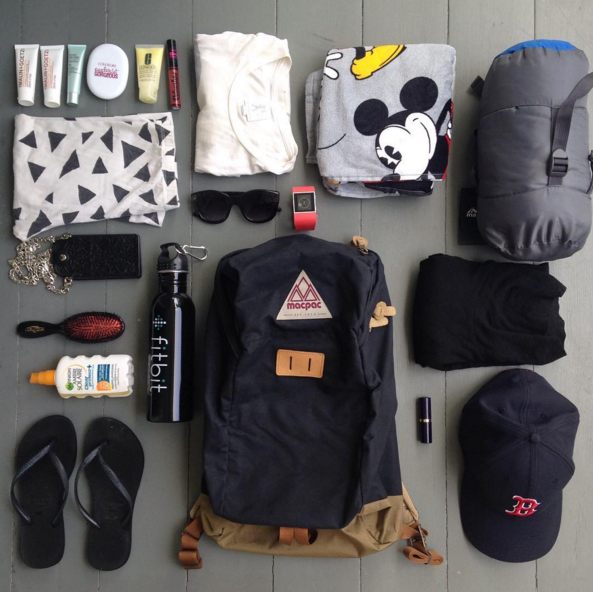 I go camping at Festival One
Despite you knowing me as a very urban fashion blogger who doesn't go out in anything less than a four inch heel and bright lipstick to match my nails, I have a secret: I adore camping. There's something about leaving the city and getting away from it all (read: electricity and wifi coverage) for the Great Outdoors. Who's with me? So I packed up and set off with the family to enjoy the music festival Festival One, in its second year down at Hamilton's Mystery Creek over Auckland Anniversary Weekend.
Below: Here's my #packlay for this weekend! I'm going camping and taking the essentials: I can get everything into my Macpac backpack; my tip is packing no extra shoes just jandals, one small towel, and taking mini toiletries and leaving the heavy makeup in the city. Also this Macpac sleeping bag is the most compact I've found.
Even the non-camping husband is into it now we have this cool Macpac tent to camp in! Thank you Macpac for the loan of the fabulous tent and the amazing quality gear. You can visit their website at www.macpac.co.nz and I see they're currently on sale so there's even better deals and bargains to be had right now. 
Below: putting up the tent, or the Hamilton Hilton as I'm going to call her. It made SUCH a huge difference to the enjoyment of camping having a top quality tent that a) didn't leak b) didn't fall down and c) was easy to put up in the first place. The curved light poles were easy to slot together and very strong yet light. I would definitely recommend getting one of these and the children loved it and even in sweltering heat didn't want to get out of it, they were having so much fun playing house.
FESTIVAL FASHION
Beautiful day for camping. Lace dress by Capture, sunglasses by Le Specs, Fitbit Surge, phone case pendant by Karen Walker, hat by Max, Vintage Condor backpack by Macpac. I really like its vintage styling with the two-tone black with brown base and leather detailing as well as the durable and weatherproof fabric, and the zippered top pocket for putting small items in. 
FESTIVAL SOUNDS 
Above: Strahan (Strahan Coleman, also in New Zealand band Avalanche City), performing on Saturday night on the Market Place stage which was my personal fave with its singer-songwriter and folksy-meets-electronic vibe.
I really liked Young Lyre with their three keyboards too, pictured below.
Below: The brother-sister trio Fare Thee Well – whom you'll remember from TV reality contest X Factor NZ – played on a truck on Sunday afternoon. They sounded fantastic; great harmonies and voices.
FESTIVAL FOOD 
Above: Mt Atkinson Coffee kept us caffeinated at Festival One. Below: Breakfast time at camp… Nice of Sanitarium to put on a free feed for all 5,000 campers.
I really loved all the design work on the recycled timber general store and the handcrafted wood tables around the site. It added so much charm and rustic good looks.
Below: the incredible purpose-built Argentinian BBQs that were fired up for the BBQ dinner put on for free on Saturday night with two tonnes of generously-donated beef.
CAMPING KIDS 
Camping children… or land tortoises! My kids in their Zeus and Mars day packs. They were perfect for a short stay and would also actually be ideal school bags due to their height and the easy-open zippers for kids. The colourways were very cool and the children loved them and were so proud carrying them around – which made it easy for mummy. To be honest they're not just for kids – I can see teens and adults using these too – in fact my husband borrowed the camo one. 
Megan Robinson
1st February 2016
Recommended