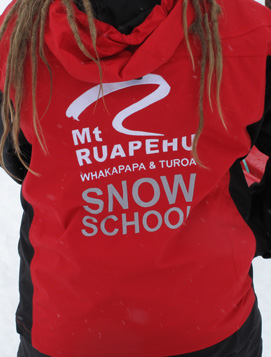 I learn to snowboard at Whakapapa at Mt Ruapehu
Armed with my Snow Virgin Discover Package, I set off to learn to snowboard at Mt Ruapehu as a beginner boarder with nothing to lose but my pride, dignity and dry clothing. But by the end of the lesson, to my surprise, I can stay upright…
Armed with my Snow Virgin Discover Package, I set off to learn to snowboard at Mt Ruapehu as a beginner boarder.
I think to myself at the outset that I have nothing to lose but my pride, dignity and dry clothing. This was pretty much the case for the first hour.
But by the end of the lesson, to my surprise, I can stay upright.
After three hours of intermittent snowboarding and cups of fortifying strong tea, I find I can slide downhill with a modicum of speed – I wouldn't go so far as to say grace – and not fall over.
Have you ever thought about learning to snowboard? Here's what I did…
On a fairly patchy day weather-wise, I showed up at Whakapapa Ski Area. The Customer Services can sell you tickets and day passes, and Tessa and Freya there were incredibly helpful and lovely and know everything.
I booked a Whakapapa Snow School for a 1 1/4 hour beginner lesson. The snow school really makes it easy as everyone is at the same skill level as you (complete novice) and they take things nice and slow. I thought $108 was good value for the passes, lesson and rental.
I recommend allowing at least 20 minutes for renting gear as the first time you need to try on a few for size. The staff were friendly and helpful.
Below: Our group lesson with ski instructor Pablo.
I like this sign (I'd like it even more if I was called Cliff.)
Below: Chair lifts in Happy Valley learner area at Whakapapa Ski Area at Mt Ruapehu.
Below: Now boarding, at gate one.
For more information on Whakapapa Snow School, see their website www.mtruapehu.com
Megan Robinson
Recommended