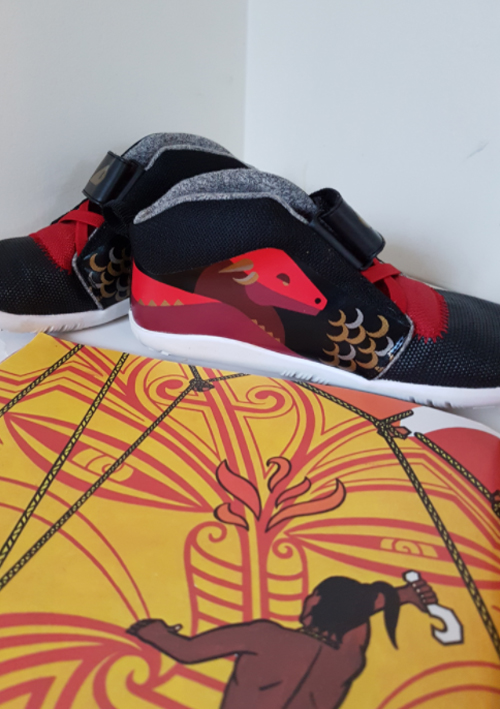 I took the kids rock climbing at the amazing Bobux Kids launch at Extreme Edge
I took the kids rock climbing at the amazing Bobux Kid+ launch at Extreme Edge in Panmure on Friday to experience the new shoes in action being put through their paces by a tribe of youngsters and their blogger mums. The New Zealand shoe brand loved by young children is now available for kids up to a size 33- yippee! That's about age 8. They are top quality and have stunning graphics you will die for. Out online now at bobux
The range for 5 to 8 year olds means families can keep buying as their child grows, and stick with them, as the new Kid+ shoes cater to a more mature foot shape. There are over a hundred styles of Kid+ which is enough for 25 zebra to zoom in, or five score of cheetahs to choose from. The animal sneakers are a hit with children, as well as metallic trainers, mary janes, school shoes, and leather boots.
Bobux Kids launch at Extreme Edge
Here's what went down at the media launch party on Friday night.
Delicious dinner was provided by Bird on a Wire for the Bobux Kids media launch party.
Here are the hashtags to follow the story on social media: @bobuxshoes, #bobuxshoes, #bobuxkidplus
It's not Vanilla Ice, but vanilla iced! Delish shoe cookie with the Bobux logo.
Dragon shoes in my son's hot little hands. Oh my goodness Bobux you have outdone yourself; the excitement from my son is palpable. They are unboxed and on his feet.
Climbing at Extreme Edge
The instructor training the children in climbing. Safety first, always.
Off and climbing in gold metallic leather trainers.
My incredible goody bag from today's Bobux Kids media launch party. Such a beautifully organised event and a fun concept to have us climb rock walls wearing the new shoes.
Loving the new styles
Bobux's Marketing Manager Greg Parmenter says "Stylistically, we are moving towards a more refined look across the Step Up, I-Walk and now Kid+ 'stages', especially in the more craft driven styles.  In designing for older kids, however, we had to look at how these kids use their shoes and make sure we met their developmental needs – that's what we're about after all.
"So we started from scratch, made new custom 'lasts' that reflect a more developed foot and set out to make the best shoes in the world for four to eight years old. All the key strengths of the I-Walk are there, like the abrasion-resistant micro armour textile and the super lightweight and flexible sole unit; they're just tuned up for older kids.
"Like the other stages, in Kid+ you'll find the high performance Play shoes, some awesome street style trainers and the refined leather classics Bobux is famous for. There's a seriously cool shoe for every occasion."
The Kid+ range is priced at $95 for sneakers and $100 for leather.
By Megan Robinson
13th February 2017
Recommended