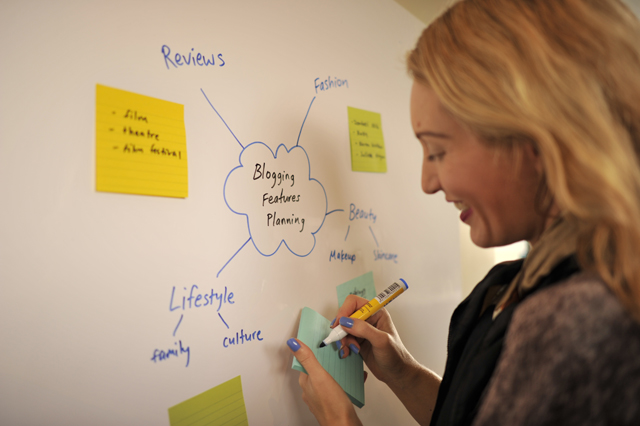 Let's get creative – we try the Post-it Dry Erase Surface Flexible Whiteboard
Let's get creative! I try out this amazing Dry Erase flexible whiteboard Post-it sent us to have a play with and share with readers so that it might inspire you to get creative, too. The two main things I used it for were playtime with the children, and for blogging planning, and I took some photos to share with you.
WHAT IS IT ANYWAY?
The Post-it Dry Erase Surface is a flexible whiteboard that can be cut to size, hung width-ways or length-ways (I did length-ways) and can be stuck onto a variety of surfaces in your home or office such as paint, steel surfaces, glass, finished wood, and even your old existing whiteboards or chalkboards, making it also practical for schools and sportsclubs that have old whiteboards or blackboards that need a new lease on life.
GETTNG STICKY WITH IT

The husband helped me (this is absolutely a Do With A Friend activity, do not try this yourself!) and he said "That was easy to put up" which he has never said about our tent when we went camping. You decide where to put it, mark the top with some pencil dots and unpeel about 30cms of backing plastic. Then hold the top up and press it onto the wall and use the cleaning cloth to smooth it down form the centre outwards. Then you just unpeel more and more at a time and smooth from the centre outwards until it is all up It took us about 6 minutes to put up. The hardest part was stopping the children drawing on it while we were hanging it!
FUN TIME A.K.A DRAWING ON WALLS!
The children instantly fell in love with this because it went against all my parental training up until now; i.e. Do Not Draw On The Walls! They get to draw on the walls. With PENS. This is actually child heaven. I can see this being really great in a child's room, or family or kitchen area, where you could draw or write notes to each other as a kind of notepad the size of a single bed. Another idea could be to use a vivid permanent marker to draw boxes or titles such as a menu list or the family member names and then add or erase notes you make in whiteboard pen.
FASHION BLOGGING TOOL
Sure, everyone thinks fashion blogging is mostly drinking Champagne and attending launches and fashion shows. Okay that is true to a large degree on Instagram, but in Real Life, the less fun and harder work side is planning and loading articles, features and reviews. This whiteboard really came into its own as a creative and fun way of getting all my brainstorming out on display, and an ideal way to do mind-maps or diagrams in front of you on the wall.
It is also perfect for blog planning, as I could put sticky notes on it and they would stick properly, plus I could move the sticky notes to my desk if necessary, then back to the wall again.
OTHER COOL STUFF
We also had a play with Big Pads from Post-It, sticky paper in a gigantic size and Post-It notes in pretty colours. This set the scene for a mermaid underwater castle drawing.
The sticky flags are usually used in business for flagging attention to signing papers and so on, but we used them as flags on a castle on the whiteboard and they could be unstuck and used again.
You can find out more about Post-­it Dry Erase Surface and the other Post-­it products we used on their website at www.post-it.co.nz and buy them in New Zealand from Warehouse Stationery ($99), Staples Advantage, and Office Max.
Megan Robinson
6th July 2015
Recommended