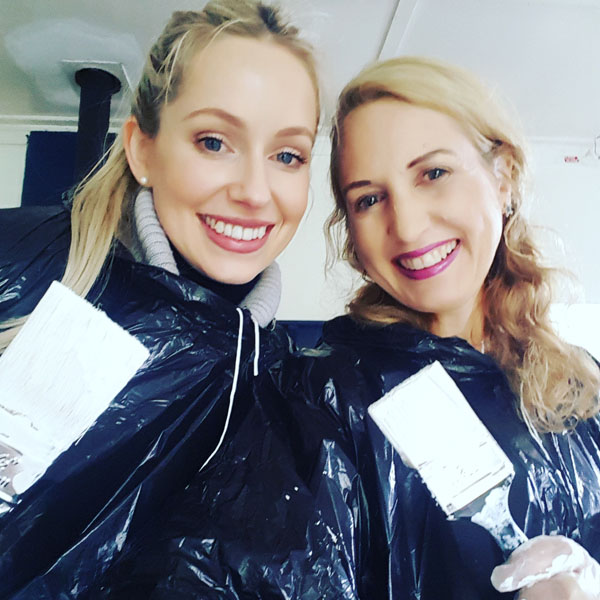 L'Oreal Citizen Day helping foster kids
On Thursday I was incredibly lucky to take part in L'Oreal Citizen Day with two hundred of their New Zealand employees and two other bloggers, on a working bee in the Coromandel helping foster kids and pampering refugee women.
So excited to take part 
I was genuinely very excited about going along on the road trip and meeting the team, and helping the foster care organisation. I organised daycare for my children, and got together my gardening gloves, gumboots, and old clothes for painting in. I did underestimate how cold it was down there, though! I was quite moved when my daughter asked if I wanted to take some toys for the foster kids.
What is L'Oreal Citizen Day? 
Now run here for a number of years, the annual Citizen Day is a community-focused volunteering day when employees work with paint brushes rather than makeup brushes, and plant trees, paint houses, and more, to make a difference in the community. Thursday 27th July 2017 marked the 8th L'OREAL Citizen Day run in over 65 countries with over 700,000 hours donated to good causes to date.
Making a difference
Last year the L'Oreal New Zealand staff helped 65 children living in foster care by building sustainable gardens.
Past participants have said this is one of the most pivotal days in their lives – it truly is a magnificent way to give back and make an impact.
Photos from the day 
Below: on the bus to the Coromandel with L'Oreal employees.
Below: the other bloggers along for the day; Leah Vine of leahlovesmakeup, and Hannah Carson, of hanniecarson.
Below: From Hanniecarson's Instagram Stories
Below: All those makeup skills translating to facepainting.
Below: L'Oreal staff preparing to pamper women from Refugees As Survivors with make-up, and hand massages.
Below: Hannah Carson and L'Oreal employees creating art masterpieces for the walls of the home.
Below: The delicious lunch boxes by Eat My Lunch.
Below: on tree planting detail, digging holes and planting native trees and seedlings around the Dingwall site.
Below: With L'oreal's Tanya Abbott, one of the key people instrumental in making the whole day come together so beautifully.
Below: L'Oreal employees renewing the bark in the playground they built two years ago at Dingwall.
It was a highlight of the year for me and a privilege to be invited to attend, and I thank L'Oreal for having me along and commend them on the amazing work they do on Citizen Day.
Megan Robinson
27th July 2017
Recommended