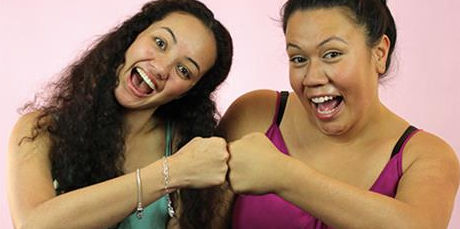 NZ Comedy Fest Review: Get It Girl
We review NZ Comedy Fest show Get It Girl
It's much harder to be insightful and funny than people realise. It's not simply sufficient to have a different perspective on life, or to be able to turn a witty phrase – and it's certainly not sufficient to be able to act the goat on stage. Comedy is difficult. It takes practice. It takes talent. It takes polish. It takes more polish still if you're doing your comedy as a proper stage-show, with characters, and different voices, and a whole energetic pizzazz.
Kolopa Simei-Barton and Denyce Su'a are two twenty-something girls from South Auckland, who describe themselves as "a triple minority" – young, brown, and female. This, they tell us, gives them a unique outlook on the world and its problems, and it's this unique outlook that they've packaged into a comedy stage-show especially for the 2015 Comedy Festival called "Get It Girl."
This, I suppose, is true – everyone has their own unique outlook on the world, and everyone has their own take on the problems that they've faced growing up and trying to survive. It's all "dog-eat-dog, and this is what I learned." However, if you're going to go on stage and present your unique outlook on the world to the world, you better make sure your performance is sufficiently engaging and practised to hold the world's attention. Simei-Barton and Su'a had a frenetic routine, and some flashes of good wit, but the whole thing lacked polish and finesse. It seemed hastily flung together, and it was quite difficult to follow the thread of the show.
I was also unsure why it had been included in the line-up for the Comedy Festival – it wasn't very funny at all. It wasn't comedy – it was performance theatre, and would've been better placed in the Arts Festival. There were some moments of brilliance buried in the dross of not-comedy, but these two women need more work, more practice, and more polish before they take on the world on the world again.
By Michael Tarry
12th May 2015
Recommended