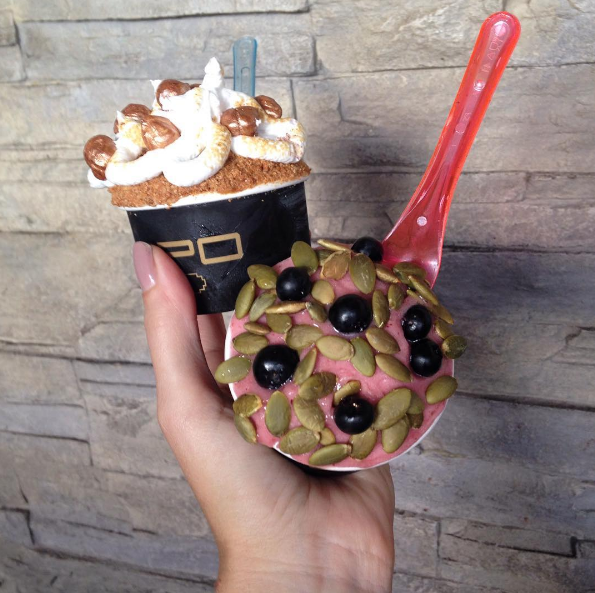 ON MY DESK: New Food & Drink I've Tried in May 2016
ON MY DESK: New Food & Drink I've Tried in May 2016…
Incredible icecreams – Giapo Bueno salted caramel icecream and Aotearoa Kitchen fruit sorbet gelato at @giapokitchen
Lunch miso noodle soup by Naked Kitchen – Oishii desu ne!
How cool; this invite is a flagon for beer, which I need to take to Deep Creek Brewery in Silverdale to be filled! They're a local success story that started in their garage and is about to be sold in supermarkets for the first time. The Deep Creek Brewery Tap Room is located at 4i Titan Place Silverdale and opens up to the public from 13th May.
New doughnut probiotic yoghurt from The Collective Dairy tastes of jam and cinnamon doughnuts.
I think Nandos upper Queen Street, opposite Auckland Town Hall, must have the nicest interior fit out of a fast food restaurant in the city.
Yum thank you peri-peri much for dinner Nandos it's my first @nznandos and it's so good! Winner winner chicken dinner.
Great balls of ice- it's the Ice Age Live characters trapped in ice got us to smash and rescue! I also like these cute bags made from recycled AnchorUno packaging. Very 'cool' idea!
Organic milk for breakfast or healthy baking, by Puhoi Valley.
Very cute marketing touch by Puhoi Valley organic milk, sending me a M Robinson engraved vintage spoon with this amazing hamper!
Yum smashing a limited edition venison and blue cheese 'Blue Velvet' burger at Burger Fuel.
Pineapple & Chipotle cake and Peanut Butter & Caramel cake Muffin Break 'muffin lab' creations ☕️👌
I guess these are UNcornflakes cos they're made of brown rice

Special K grain flakes are now in gluten free which people can use as cereal and to bake with. Sugars are 13.8grams per 100grams.
Yum! Spoiled by L'Or espresso and Vaniye Patisserie.
Megan Robinson
10th May 2016
Recommended