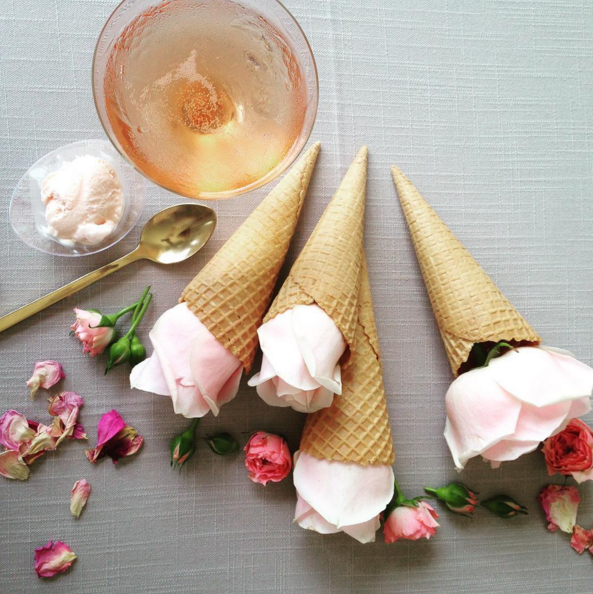 ON MY DESK: What's new in Food & Drink in February 2016
ON MY DESK: What's new in Food & Drink in February 2016. Nespresso bakes coffee cakes with The Caker, Lewis Road Creamery releases their first ice creams, Phoenix Organics turns 30, Kellogg's give away Free Books, The Collective yoghurt pouches supports Forest & Bird, New Zealand's first official rose wine day in on 5th February, and Cuisine Artisan Awards 2016, as well as my photos of Manna cafe, Chantal Organics, California Madjool dates, Blackmores, Lifestream, and Tequila Mockingbird.
NZ Rose day is official- it's 5th February. This should actually be a public holiday in my opinion, there'd be dancing in the streets, girls wearing pink skirts, pink lipstick on collars, and laughter in the air. This bespoke candle was created by Mark Antonia Candles for #SipNZwine to embody rose wine. It smells amazing! Pictured: Snapper Rock rose and Akarua RUA Rose.
OMG Lewis Road Creamery has Icecream! Above: their brand new artisan ROSE PETAL icecream; I've tasted it and it tastes and smells amazing – you have to get it for Valentines or weddings. Or just to eat by yourself because why not. The rose icecream is the first of their handmade artisan flavours (lavender, orange blossom and strawberry may follow ) and it's $14.99 at good supermarkets. The regular @lewisroadcreamery icecream is $11.99 a tub.
An artisan rose icecream bar YES PLEASE I want this installed in my home.
Beautiful venue- the Officer's Mess at Fort Takapuna Devonport navy barracks for the launch of @lewisroadcreamery icecream in vanilla, hokey pokey and chocolate.
Holy Toledo the most amazing food hamper has arrived containing the winners of Cuisine Artisan Awards 2016! Little known fact, I used to work in the office at Cuisine. I was even a hand model in the food photos, ha ha! The winners are Wellington Chocolate Factory, The People's Bread, Pembroke Patisserie, Duck Island, icecream, WabiO The Headless Kombucha, Bonnie oatcakes, Kapiti Artisan Bakehouse ghost chilli ciabatta, Alderson's kawa kawa salsa verde, Ludbrook House Merlot grape jelly, Frank's sausages frankfurters. Dinner sorted! Thanks, Cuisine Artisan Awards and Kelli Brett.
Mmm thanks Phoenix Organics for the summer drinks on a hot day- the new organic, GE-free fruit juice soda waters with no added sugars are so yum.
So pretty! Phoenix Organics, I was surprised to learn, is 30 years old, and is celebrating with a new look label and the first ever launch of a Zero Sugar Cola.
A gorgeous birdhouse of kids probiotic yoghurt suckies by The Collective that support Forest & Bird and their Kiwi Conservation Club. I like that they've launched a new recycling initiative with a recycling scheme to recycle the empty packets and schools get money for them. In addition, there's an improved suckies recipe with overall lower sugar including the new smaller sized li'l suckies. I have given them to my children this week in their lunchboxes and they've been a huge hit. 
I think Tequila Mockingbird is the best restaurant pun I've ever seen. My husband took this shot when he ate there in Christchurch and we loved the food – and the title. I see there's another one with the same name in London.
This stunning cake by @thecakernz has arrived infused with the limited edition Nespresso coffees hailing from Rwanda and Mexico. The Caker, aka Auckland-based baker Jordan Rondel, used the new coffees in this divine coffee cake. 
Manna Cafe is my fave local to pop into for a flat white and chocolate pastry.
I was asked what my favourite childhood book was recently and this is why- you get a free book when you buy two Kellogg's cereals. Simply buy two marked Kellogg's Free Books packets and keep receipts when you go on their website to order from their selection of 30 titles.
It's summer now, but winter's coming! Keep taking your vitamin C for immunity, and probiotics for gut flora health- particularly if you've had antibiotics. Certified organic vitamin C, and advanced probiotics, both by @lifestreamwholefoods and made in New Zealand. See their website lifestream.co.nz for where to buy. 
Hot date. Californian Medjool dates, Color Tattoo Leather and Master Brow makeup by @maybellinenz
My smoothie today is Blackmores Vitality Super Greens, giving me a healthy boost for my busy week. I think I'll try blueberry, matcha green tea, and coconut water next- there's lots of nutritious and delicious powders to add to smoothies. I put a banana and half apple in with mine in the NutriBullet to blend. The matcha is so good for matcha lattes and I'm going to stir it into vanilla icecream to make matcha ice cream.
Who's made their own hummus? These are the ingredients for me to try, thanks to Chantal Organics. I did make up a corny hummus joke though, and it got in a British newspapers Funniest Women On Twitter article: What do you call it when you kill a vegetarian? Hummus-cide.
Megan Robinson
14th February 2016
Recommended