Semi-Permanent Wellington 2014
We sent Morgan Ashworth of Hyacinth Girl along to Semi-Permanent Wellington 2014 for Thread.co.nz and she has reported back with this story of her highlights of the international Creatives conference…
Last week Wellington hosted the latest Semi-Permanent event – a two-day symposium on all things creative bringing together art and design superstars from across the world. It was my first Semi-Permanent so I didn't really know what to expect, but I was excited to head along and gather some inspiration from global leaders in the creative world.
Below: two images from this year's Semi-Permanent book.
Wednesday was conference day and, as I was going alone, I was delighted to discover it wasn't the type of conference where I needed a name tag and was expected to participate in round-table discussions. Instead, the Embassy Theatre was packed to capacity with an audience for the eight speakers of the day. Can I take this opportunity to ask why all conferences aren't held in cinemas? The massive screen and sound system were perfect for showcasing what the experts had to share.
Tom Uglow from Google Creative Labs (pictured above) kicked off the day. He talked about some of the successful projects he has worked on, including the YouTube Symphony Orchestra, as well as some unsuccessful, like the online staging of A Midsummer Night's Dream. Tom believes that personal computing devices aren't the be all and end all of the twenty-first century. What people really want is information, available all the time, no matter where you are, and screens are just a medium for that. I felt like I was getting scolded when he told us that screens (mobile devices) shouldn't be allowed in theatres or situations with performers and an audience, as I was live tweeting the whole event. His reasoning rings true, though: that as soon as you go to take a photo or write a tweet, you're no longer fully engaged with the performance. Instead, you're thinking about how people will respond to what you're sending out into the world.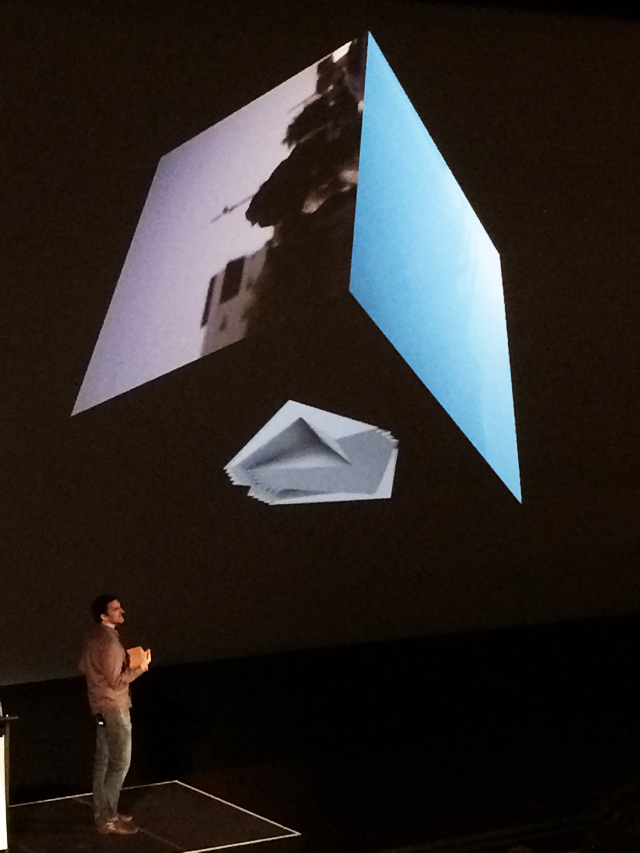 Uglow also shared the Cube: a box you hold which controls a six-sided virtual cube on screen (pictured above). The virtual cube's faces show video and audio content that changes as you rotate the object. It's a really exciting idea that's still in its infancy but holds lots of potential for artists, filmmakers and musicians.
Next up was Tony Brook, founder of London design firm Spin and publisher at Unit Editions (pictured above). The work he showcased was strikingly thoughtful and minimal. His advice for those working on design process is to print things out and work with them in physical form – this gives your ideas permanence and invites you to consider them in context with one another. Brook also talked about Unit's design books, which they sell online rather than through traditional publishing streams. This allows them full control over the market and it means they get the money right away, which in turn allows them to make more beautiful work.
After the break and a good fifteen minutes spent in the queue for the ladies' bathroom it was time for Carin Blidholm Svensson from Swedish design agency BVD. Carin's advice was clear and powerful: simplify to clarify.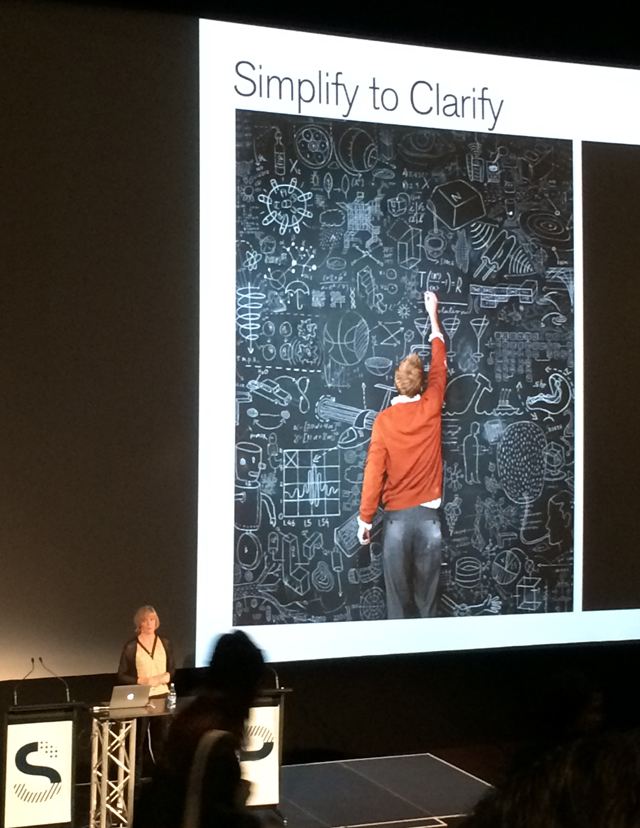 This model rings true with the minimalist Scandinavian design we know and love, and BVD's sustainable strategy comes up in every aspect of their work. The CEO tried the 333 project, where she chose only 33 clothing items and accessories to wear for three months (I wonder if it included underwear?)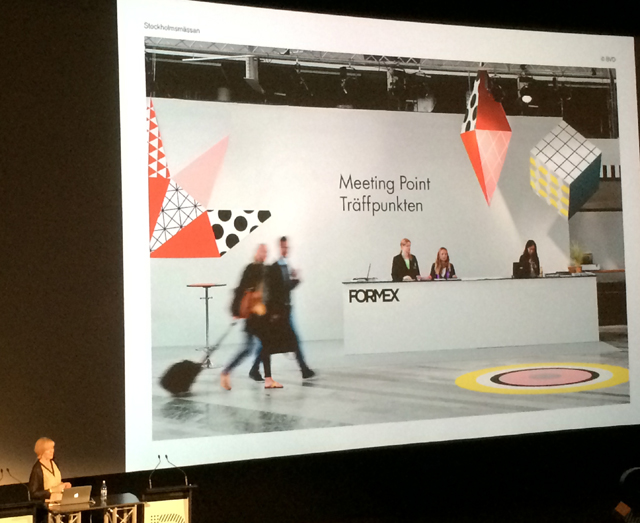 Reg Mombassa, the fantastically frank and bizarre Australian artist and musician behind Mambo's graphic design, was a complete change of tone. He showcased a range of his paintings and larger projects from across his career, including the album cover that got him started working with Mambo. Although never a fan of Mambo myself, I remember clearly t-shirts and posters from my childhood with its iconic imagery. Mombassa's work is entertaining but highly considered; packed with art historical references and social criticism.
Below: Mombassa's mental health awareness artwork.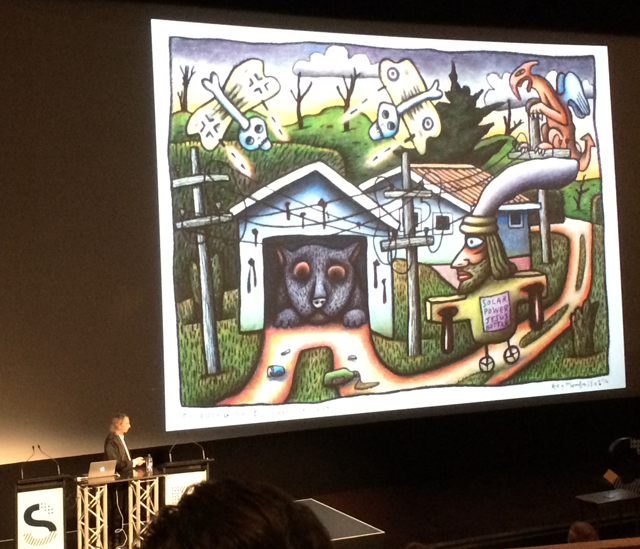 Below: Mombassa's album cover artwork.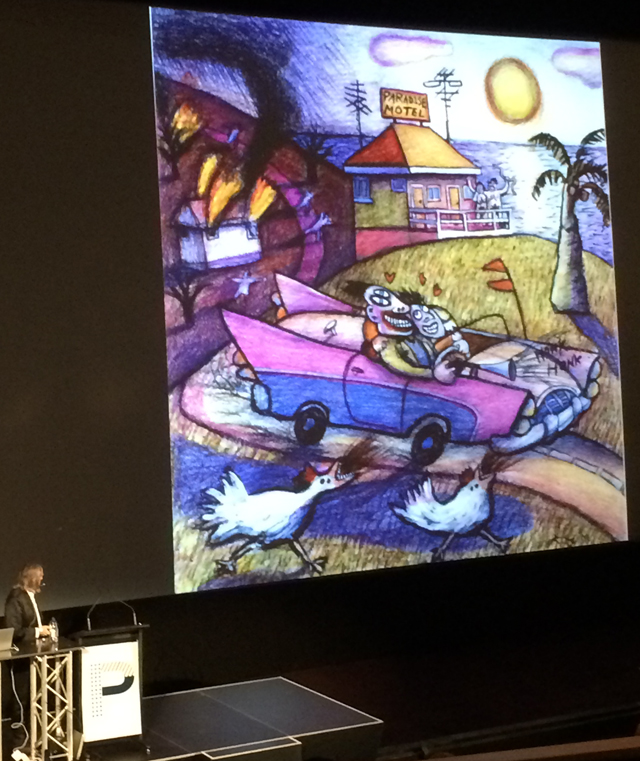 When the over 800 people that fit into the Embassy all leave at the same time, it makes for pretty long lunch lines, so I missed most of Resn's talk. (I had a cheeseburger at Prefab, and it was delicious.) I got back in time to discover they're pretty fun guys, in fact, "if you're not having fun, there's not much point." Below: Resn.
After that was Antonin Kratochvil, who over three decades of photojournalism has seen his fair share of less-than-fun times. He has covered global conflicts everywhere from Lebanon to Haiti, capturing the gritty underbelly of humanity through confrontational black and white photography. Kratochvil's talk was peppered with the dark humour necessary for someone who has seen as much as he has.
Below: Antonin Kratochvil's Mongolian street children.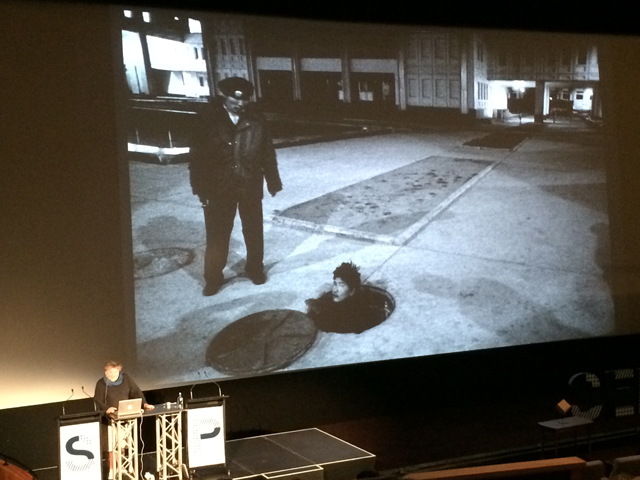 Philip Andrew from Clemenger BBDO Wellington gave an insight into what makes good advertising so successful – it turns out there is a chemical formula. Advertising big wigs rely on dopamine, the hormone causing euphoria, or oxytocin, the hormone associated with intimacy and empathy. Essentially, the best ads are either heaps of fun, or tug on your heartstrings.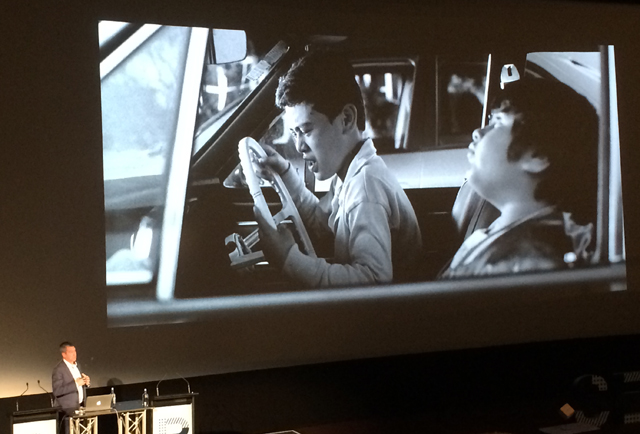 Last up was the guest most people had been waiting for – the ever-endearing Jessica Hische.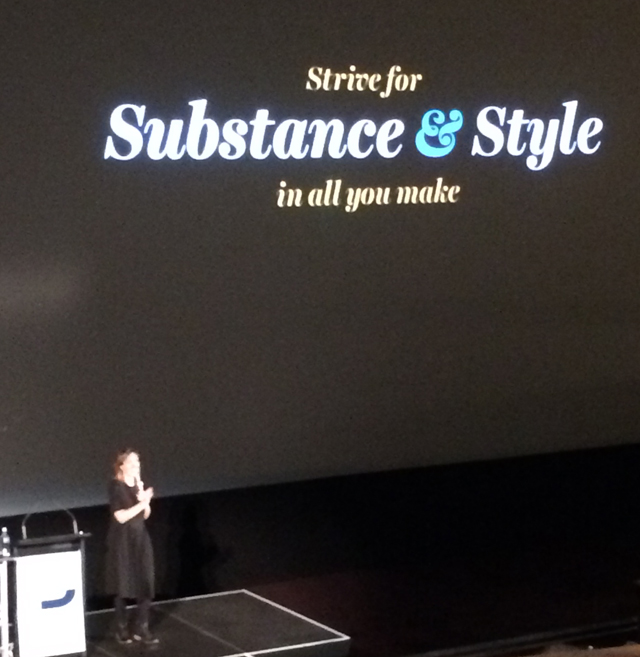 You may be familiar with Jessica's lettering and illustration work, particularly her Daily Drop Cap project, which sparked her growing popularity online. She now works freelance designing and advising on logos and typefaces for clients from Penguin Books to Starbucks.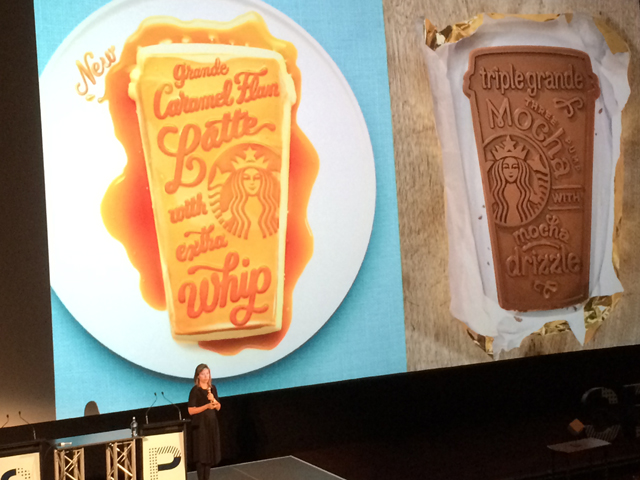 She designed all the text for Moonrise Kingdom, and no, she won't hook you up with a connection to Wes Anderson.
She's delightfully hilarious and gave heaps of great advice, including the fact that if you want to be successful as a designer, you need to love the process of creating, as well as the finished product.
After all, working with clients you rarely see the outcome until it's on a poster or in a magazine. She advised that as your career grows, your eye must evolve as well, so you can learn from your mistakes and always get better. Her best piece of advice? Sometimes she judges her work based on whether or not she'd feel embarrassed if someone got it tattooed on themselves.
Day one of Semi-Permanent Wellington culminated with a party at CGR Merchants that I had to miss, although I hear it's a great spot for a drink! Day two saw a series of workshops for dedicated participants who were lucky enough to work closely with Jessica Hische, Tony Brook and Antonin Kratochvil on their own projects.
Storify URL with all my tweets from the event: https://storify.com/morganeleanor/semi-permanent-wellington
Words and photos by Morgan Ashworth, Hyacinth Girl for Thread.co.nz
7th November 2014
Recommended