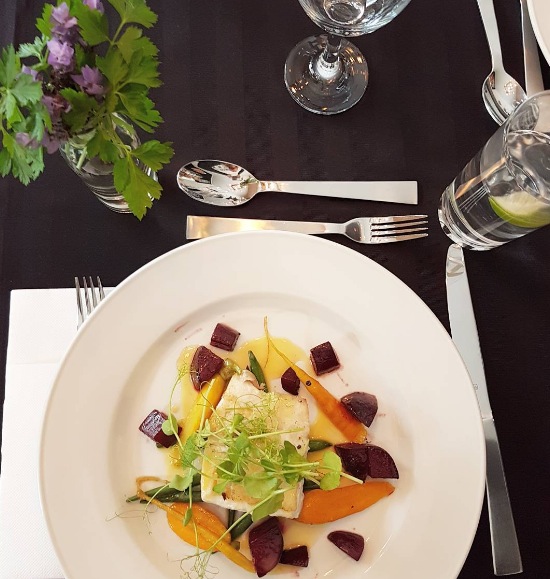 The Local Food Kitchen cooking school Matakana
I've had a fabulous day at The Local Food Kitchen Matakana meeting the artisan producers at Matakana Farmers Market and then cooking a meal in @thelocalfoodkitchen, in which you can book a cooking experience in a group or by yourself.
Pictured above: Fresh fish with beetroot and glazed carrots; the delicious lunch that we created ourselves from locally grown artisan produce at the cooking school under the helpful tuition of Chef and former AUT Chef Lecturer, Mark Griffiths, who together with his wife Carmel Draper runs the unique kitchen.
Their point of difference is that clients can book a full day and tour the Matakana Farmers Market across the street, and meet the actual growers, artisans and farmers, and then create a meal using their produce to make a gourmet three course meal. You can book this by yourself or for a team-building exercise for corporate groups.
Some of the artisans they have relationships with – some of whom use their commercial kitchen to make their items in – include Swiss Bliss Chocolate, Matakana Nut Butters, Harry's Organics, Whangaripo Valley Buffalo Cheese, Matakana Olive Co-Op, Plume Bakery, Matakana Honey, Mandy's Organic Herbs and Seedlings, Mahurangi Oysters, Sunwalker Chillies, and Matakana Estate Vineyard (grapes for which Carmel and Mark used to grow, and I tried some of their Pinot Gris today at lunch!)
I particularly loved their passion for their local community and the encouragement they so clearly give to those they come in contact with, working together to share resources such as their kitchen, and building relationships.
Carmel also belongs to the local Greenswap groups, a food bartering group of the local public who chat on Facebook and meets to swap homegrown produce.
When Carmel and Mark speak about their cooking it's full of respect and admiration for the producers who created it.
A selection of some of the amazing local produce used at The Local Food Kitchen Matakana where you can book.
We had so much fun, so why not book to go with a group or by yourself for a healthy cooking experience? To book, see their website, www.thelocalfoodkitchen.co.nz
I was a guest of the cooking school but all opinions are my own.
Megan Robinson
8th April 2017
Recommended