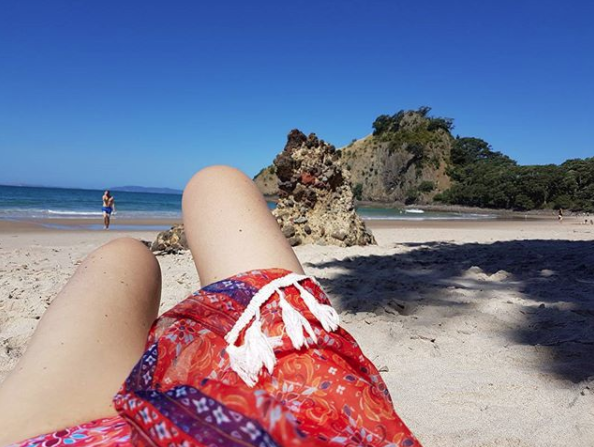 Travel: My top 5 Things To Do in the Coromandel with kids
If you are considering travelling to the Coromandel peninsula in New Zealand – especially with children in tow- I have a few recommendations of things I personally enjoyed from taking my own family there this month, January 2018. Here are my top five things to do in the Coromandel with kids, with pricing, as I find that can be super helpful when planning a trip.
Editor's Picks: fun things to do in Coromandel 
Driving Creek Railway
I was recommended the Driving Creek Railway – New Zealand's only narrow-gauge mountain railway – but wasn't sure how good it would be and how well the children would enjoy it, but boy it was amazing, and I would highly recommended it to anyone. The hour trip in a tiny train travels through native forest with pottery sculptures, and recycled beer bottle walls and old car tyre walls lining the track, created by the visionary, nature-loving and ahead-of-his-time potter as a clay-sourcing train, over about 40 years until his death last January. You go through tunnels, zig zags, and it climbs up the hill to the punny 'Eyefull Tower' with a stunning view of the Hauraki Gulf islands. Our family pass was $83 in summer season; less in off-peak season.
380 Driving Creek Road, 3 km north of Coromandel Town. Ph: (07) 866 8703. For more info and bookings see www.drivingcreekrailway.co.nz
Shelly Beach Holiday Park
If you like camping but still want some of the comforts of life, a holiday park has the best of both worlds for you. Shelly Beach holiday park is a beachfront park that we chose because it wasn't in the middle of Coromandel town, it had its own beach, and had kitchen cabins so we could cook our own meals. The staff are especially friendly and helpful at all times. The children really enjoyed the spring-free trampoline and the giant jumping pillow.  There's a range of accommodation to suit your style and budget – plots of grass for tents, lodge rooms for groups, cabins and self-contained units. Our kitchen cabin with two children additional, was $160 per night in peak summer season. The 6 year old says, "I liked exploring the hideouts in the trees, and the trampoline, and the tree rope swing was good, but it's really just a giant knot."
For more info and bookings, see www.shellybeachcoromandel.co.nz
New Chums Beach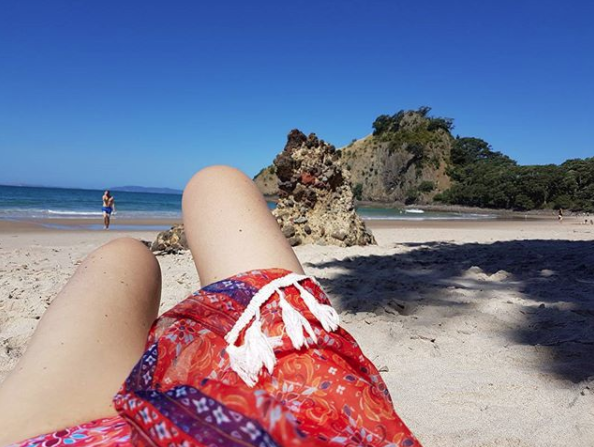 New Chums Beach is the most beautiful beach ever, and rated worldwide as one of the top beautiful beaches in the world.
The secluded white sandy 1km long beach fringed in pohutukawa cliffs and forest is a beach in the Wainuiototo Bay on the northeast coast of the Coromandel Peninsula. You walk over rocky coastline for half an hour from the carpark at Whangapoua. My 6year old says "I didn't really enjoy the walking over rocks part, because it was a pretty long way, and tiring, but the beach? YES." Its charm is that it is completely undeveloped, so there are no toilets or rubbish bins or shops there just gorgeous sand, waves, and sunshine.
Waiau Falls and Kauri Grove
We didn't even know about Waiau Falls before we went there, and I am SO GLAD we did. It is honestly one of the best natural features I have visited in the North Island. You have the downside of an extremely windy gravel road out of Coromandel Town but honestly it is worth it, plus you go past a dump with wild piglets running around; bonus.
Waiau Falls can be viewed from the roadside track 7 km along the 309 Road. You can rock hop and actually swim in the waterfall pool.
Another 1 km up the road,Kauri Grove Lookout Walk is an easy track that takes you to the most accessible and mature kauri stand on the Coromandel Peninsula. Of special note is the Siamese Kauri which are trees joined together.
For more info see the Department of Conservation website. No admittance charge.
Wharf Road Cafe
And lastly, food! Wharf Road on the main road in Coromandel town just along from New World supermarket was our pick of the cafes in terms of both style and substance, with a full cake and savoury food counter, great Allpress coffee, friendly service, and lovely decor including a garden bar out the back with charming plants tumbling over everything. Prices are the same as in the cities; scone $4, kids 'fluffy' hot milk drink $1, flat white coffee $4.50, homemade chocolate chip cookie $3.50. Delicious and cool.
Wharf Road cafe, Wharf Road Coromandel Town ph 07 866 7538. Photo credit: www.instagram.com/wharfrd
Next time…
On our next trip, we would go check out Waterworks, a kind of interactive sculpture park of hands-on water activities made from recycled materials, and equally fun for adults as kids.
Have fun in Coromandel
I hope your family has fun on your trip to Coromandel, we loved it, and can't wait to go back.
Words and photos, Megan Robinson
18th January 2018
We were not hosted at any places and paid our own way. This is my own opinion.
Recommended