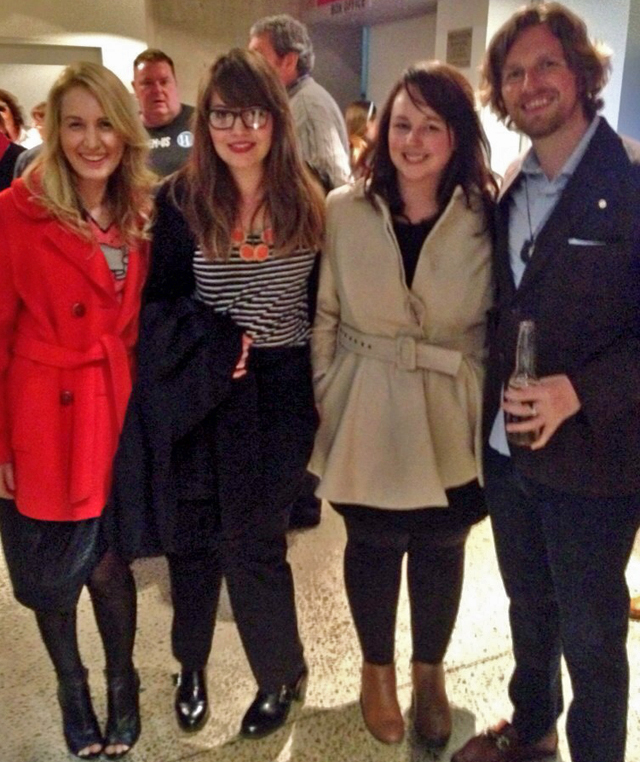 WordPress co-founder Matt Mullenweg in Auckland
Meeting someone who has effectively changed the world through their invention is pretty rare.
We had the privilege of hearing 30-year-old WordPress co-founder Matt Mullenweg speak in Auckland on 18th June at 'A Conversation with Matt Mullenweg.'
I was particularly inspired by the charismatic speaker's passion for Open Source as the way of the future and its capacity to share and give back. "We're not living a free and open life unless the software we build our lives around is also free and open."
I came away thinking a lot about how I could apply the philosophy of Open Source to things I do and create in life.
The talk, at Raye Freedman Arts Centre, was a free public lecture as part of the American online social media entrepreneur, web developer and musician's multi-country speaking tour, in which he's meeting with WordPress users, and even hiring a few in the Asia Pacific region. It was amusing that he hired one Auckland woman – Rachel Martin – did her interview, and hadn't even met her in person until she attended the talk last night!
Our #laptopclub from #bloggersbrunchclub got this photo with WordPress's @photomatt in the Silicon Valley of the South Pacific tonight. L-R Megan Robinson of Threadnz.com, Maddy de Young of Madicatt.com and Laura Lock of lauralaurablog.com with Matt Mullenweg of ma.tt from WordPress.com
Here are my notes and points I took away from the talk – they're not direct quotes, but contain the essence of his talk.
A Conversation with Matt Mullenweg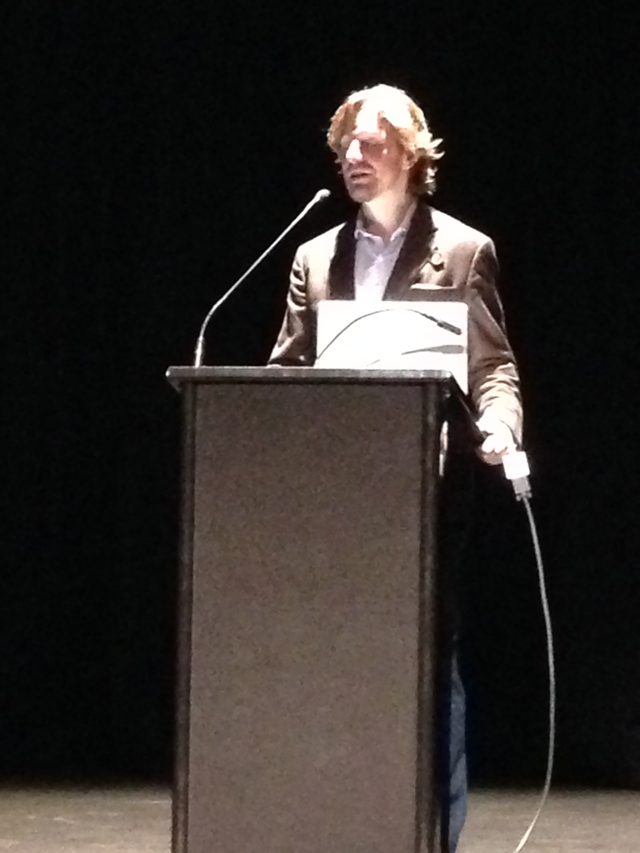 Blogging taught me you don't have to be a professional magazine to have a voice and to change the world.
Pizza + child labour = free tech support! He started out fixing people's computers in return for pizza and learned so much as he did so.
No matter how little you know about something, there's always someone out there who knows less, so go teach! Teaching is the best way to learn.
While in College in Houston Texas he studied the poetry of T S Eliot and was struck that so much meaning could be imbued in so few words. Could code be so poetic? he asked, with a desire for putting code as poetry. "I wanted to approach coding as a craft, rather than a means to an end." We still name each WP release after a jazz musician (Miles Davis etc) to honour the past while trying to create the future.
If you don't know what to do and you have a dilemma, write a blog about it.
Political science is way more important than computer science as it's all about the people.
The mission of WordPress is to democratise publishing.
Free software is like a digital Bill of Rights.
Free software ensures you may
– use it for any purpose you like
– have the ability to see how it works (i.e. its code)
– have the ability to modify that software
– have the freedom to distribute those modifications.
You can't listen to what people say you can't do.
If people say you can't do something, work harder on it.
I was told there was no room for any more blogging software. Now WordPress powers 22% of all the world's websites.
Open source is the future.
Everything else isn't necessarily immoral (it just has degrees of immorality!) What would an economy of Open Source look like, in terms of geonomics, healthcare…Head towards economies of abundance rather than scarcity.
It shouldn't matter with Knowledge Workers to have an office, so he made his company Automattic "distributed" with employees working from home. They have a headquarters in San Fransisco with 15,000 square feet and around ten employees in it at any time because they, including himself, prefer working from home.
In our pockets we have a computer more powerful than put a man on the moon; our phones.
Don't worry about being a small business, or based in NZ. Use Business Judo; ask how can we use our opponents' weight against them?
When he began WordPress there were 5 competitors in blogging software and only one is still around (Blogger owned by Google). The stone in David's slingshot was that WordPress used Open Source. Now, WordPress is a Top Ten world website and is bigger than Yahoo. In fact, WordPress's competitors will spend a quarter of a billion dollars this year on advertising, cos they don't have the people, i.e. open source.
The future
Want to be successful? Keep going. A lot of our success is just outliving our competitors.
The world is becoming divided by who's controlled by computers and who's controlling computers.
The future of the web is to provide value to customers. "The theme of my life is the more I've given away, the more I get back."
WordPress business models that excite me include:
1. Models around education; teaching how to use and create WordPresses.
2. Services – Building really cool WordPress sites, worth millions in consulting and project managing; there's huge opportunities there.
3. Cloud Services – in the things that are impossible to do in an Open Source fashion: hosting, storage and so on.
We found Matt knowledgeable yet humble! He looks for four qualities you can't teach:
1. Integrity
2. Work ethic – especially in a Distributed workplace where employees work from home not in a central office.
3. Taste – this is the 'fuzziest' one to define. Taste is expressed in business code, or in whatever it is you do.
4. Curiosity. The most important thing to him is having curiosity, as the skills people have now won't be important in a few years from now. Instead look for the things we can't teach.
Matt reckons he'd like Brad Pitt to play him in any future movie about WordPress!
In the question time, @DigitalMaori (TangataWhenua.com) gave Matt a pounamu (Maori greenstone jade pendant) carving on stage, which was a touching and thoughtful gift. Excuse my blurry phone photo.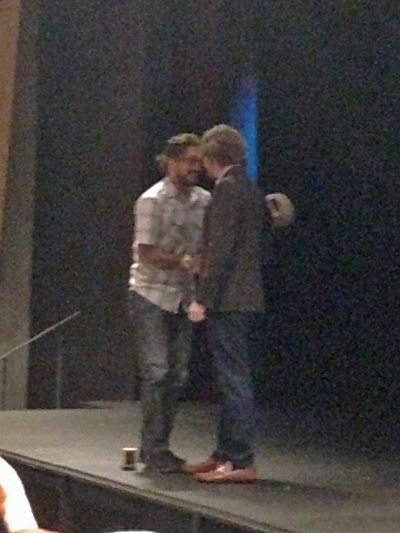 Below: Our Bloggers Brunch Club at the talk.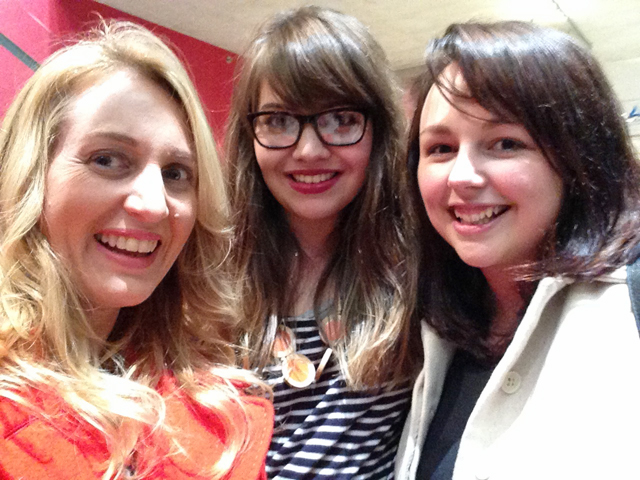 And lastly, this sign tickled me. Times must be tough for Katie Holmes since she divorced Tom Cruise.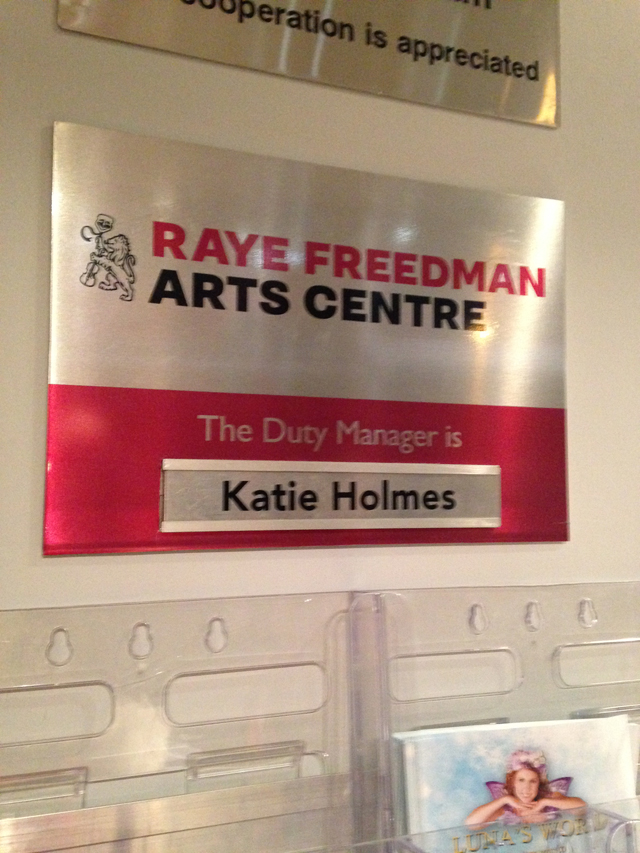 Megan Robinson
19 June 2014
Recommended